New Classical Tracks®
Time for Three explores old and new compositions written for the string trio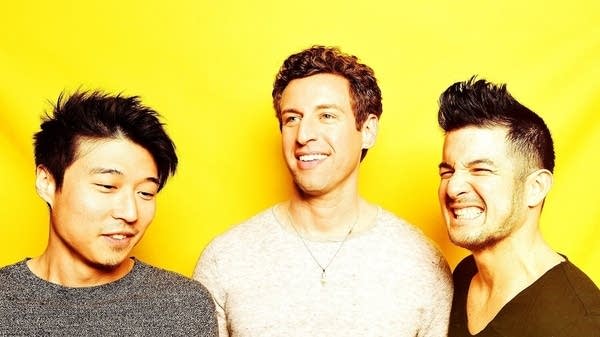 ---
---
Time for Three — Letters for the Future (DG)
"This is Kevin Puts; he's our new member, our composer in residence — 'Time for Four.'"
The members of the string trio Time for Three — violinists Nick Kendall and Charles Yang, and bassist Ranaan Meyer — are talking about Puts and his involvement on their latest album, Letters for the Future, which also includes music by composer Jennifer Higdon.
Meyer: "We've been on this journey for a while. When we started out, we were this band that was discovering a common ground with classical music. We had this desire and inquisitive nature of wanting to explore all different genres.
"Now fast-forward to today, and we're here to talk about our recording with the Philadelphia Orchestra, which features Jennifer Higdon's work that was also the very first concerto that was ever written for us back in 2008.
Here is an exclusive performance for YourClassical MPR of the Cadenza from Higdon's Concerto 4-3:
"We're also super excited about our latest concerto, Contact, by Kevin Puts. In addition to being a sensational composer and writing gorgeous music that is incredibly storytelling in nature, he is like-minded to our group, which pushes us forward on our instruments."
How is this album a homecoming for the group?
Kendall: "When Ranaan and I attended the Curtis Institute of Music in the late '90s, Mark O'Connor, Edgar Meyer and Yo-Yo Ma released Appalachian Waltz, which blew our minds. At that time, it also seemed natural for Time for Three to do the same. We had this incredible opportunity with the Philadelphia Orchestra with help from maestro Christoph Eschenbach.
"Eschenbach saw this energy from us and thought if he could put these virtuoso musicians in the hands of a master composer, who would that be? We had a meeting with him, and both of our lists had Jennifer Higdon, who was a teacher at Curtis. That is the story behind Concerto 4-3."
Can you talk about the creativity behind Contact?
Puts: "I thought it was an interesting idea to start with nothing but a three-voice chorale and then gradually elaborate on that. As far as there being a message, I didn't really think of it that way until later. We realized what we were working on a piece about all the different forms of contact."
Here's an exclusive performance of Puts' Gankino Horo, which is not featured on the album:
To hear the rest of my conversation, click on the extended interview above, or download the extended podcast on iTunes or wherever you get your podcasts.
Resources
Time for Three — Letters for the Future (DG store)
Time for Three — Letters for the Future (Amazon)
Time for Three (official site)