This weekend, the Minnesota Chorale and the Metropolitan Symphony Orchestra will present the world premiere of a new work by Minneapolis composer Jocelyn Hagen.
The Notebooks of Leonardo da Vinci is a seven-movement multimedia experience commissioned jointly by Minnesota Chorale and Metropolitan Symphony Orchestra. The co-premiere is a first for the organizations, which have an extensive performance history together. They have independently performed Hagen's work in the past, including the orchestra's premiere of her work Solar in 2012.
The co-commission/premiere was necessary for The Notebooks of Leonardo da Vinci because "the cost of creating a large-scale work involving video is incredibly expensive," Hagen said. "Not only did I need two organizations coming together and pooling their resources, I also needed to make this commission a consortium of ensembles from around the country. It was the only way to make it possible."
This has provided ensembles of all kinds the opportunity to give regional premieres throughout 2019 and 2020. In addition to the Minnesota premiere, the month of April alone will see the work performed in Michigan, Connecticut, California, Alabama and Montana.
Inspiration for this endeavor came from a few key experiences in 2015. Following the development of her dance opera Test Pilot, which featured choreography and video projections, Hagen went to an exhibit of the Codex Leicester at the Minneapolis Institute of Art. The exhibition presented one of Da Vinci's original notebooks, which was a vital tool in his creative process, and used it to "show how sketching helps ideas emerge in often dynamic, nonlinear ways," according to the museum, by pairing its imagery with contemporary works. This was a revelatory exhibition for Hagen, who knew that it was the perfect subject matter for a multimedia symphony.
"It had text, which I could use for the choir to sing, and a beautiful visual component for the projections," she said.
In the show notes for this weekend's performances, Hagen writes of Da Vinci:
"One of the biggest lessons I gleaned from studying his work was the importance of being willing to fail. He was a man known as much for his failures as his successes, and this did not dampen his creativity or his drive. More than anything he just wanted to understand the world around him, and he didn't let his pride or ego stand in the way of posing the tough questions or trying to answer them. He remained open to the possibility of new discoveries and allowed himself the freedom to change his mind. You can see this this attribute of his personality beautifully in the opening of the symphony, when his handwriting is scrolling across the screen. He very quickly crosses out a word, pauses, then continues on with his idea. Mistakes and practice were a big part of his creative process, as they should be. And did you know he wrote right to left, backwards, as if in a mirror?"
To get to this cohesion of image and sound, she wound up conceiving of the animation and music simultaneously. In a TEDx talk from February, she explained: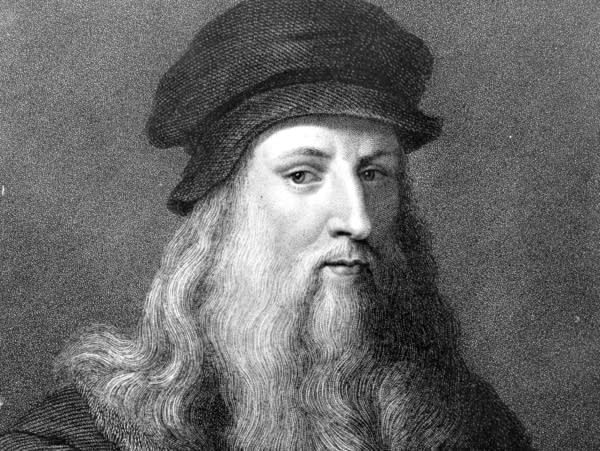 "Composers have tried various visual additions and multimedia productions throughout the years, some more successful than others. Many of them are missing the vital connection that film directors have been capitalizing on for years: the ability to sync the film and music to, in essence, perform together. A few years ago, I was introduced to a new software called Museik, created by Ion Concert Media, that allows for the syncing of video to music in live performance without the use of a click track. That's what we used right now!"
This is what separates this multimedia effort from anything that has come before in Hagen's career. Ever since she learned of the technology, she has been striving to use the software to create an integrated media experience that coordinates projections with the music.
The performance also will allow for audience engagement, thanks to Leonardo's Basement, a creativity workshop based in Minneapolis. Throughout the composing process, Hagen was inspired to make her own musical "automatons" or machines based on all his inventions.
"Lots of wheels and gears spinning that sounded like music to me," she said.
This inspiration will carry into the performances this weekend. Audience members will have the chance to create handheld inventions for display during the performance.
For Hagen, this process ultimately allowed her to see "an often-overlooked but extremely beneficial component of the creative process: playfulness," she said. It's play that allowed Da Vinci to think so far ahead of his time, and it's play that allows creators today to find something new in his dreams.
What should audience members look forward to this weekend?
"Honestly, being blown away," Hagen said. "This project has exceeded my expectations in every single way. I couldn't be more thrilled."
Find out more information about this weekend's concerts for The Notebooks of Leonardo da Vinci.
Love the music?
Donate by phone
1-800-562-8440
Show your support by making a gift to YourClassical.
Each day, we're here for you with thoughtful streams that set the tone for your day – not to mention the stories and programs that inspire you to new discovery and help you explore the music you love.
YourClassical is available for free, because we are listener-supported public media. Take a moment to make your gift today.
Your Donation
$5/month
$10/month
$15/month
$20/month
We can help you find classical music you'll love
Take a 2 minute quiz to share your taste

We'll recommend YourClassical programming just for you

Discover the power and joy of classical music