Classical Minnesota Stories
Minnesota bees inspire new classical work, film 'Bee-Sharp Honeybee'
---
Rae Howell: Bee-Sharp Honeybee - Excerpt 1
5:16
---
In 2014, Australian composer Rae Howell came to Minnesota to make some solo records. In the engineer's backyard was a stack of beehives.
"I was fascinated," Howell says. "I started to plan a project around them, working with beekeepers, the same engineer [Jared Miller], a string quartet, and got in contact with the University of Minnesota Bee Research Lab about the possibility of collaborating on an event of some sort." Fast forward to the summer of 2017, and Howell landed in the Twin Cities in search of new compositions.
"I started meeting people I'd connected to earlier, began field recording, analyzing, and jumped straight into workshopping my ideas with the strings," she says.
She also had an idea for a film, but until landing in Minnesota she had no idea how that would come about. In walked Minnesota filmmaker Deacon Warner.
As Rae recounts, "I met Deacon and his wife, Jenny, at an afternoon gathering where I had just rented a flat. (It was owned by a friend of theirs.) Auspiciously, Jenny works for the UMN Bee Squad (who I was also planning to work with), and Deacon, of course, a filmmaker, so upon an excitable conversation about what my project entailed, they both offered their services to help it come to fruition — a brilliant connection!"
"I was curious if she [Howell] had anything planned for documenting the project," says Warner, who works at St. Paul-based FilmNorth and is an educator as well as independent filmmaker. "It just seemed like a really compelling story."
With each self-funding their contribution, the two set out to make what became the music and short documentary film Bee-Sharp Honeybee.
Howell explains: "Bee-Sharp Honeybee is a work consisting of 13 Miniatures, inspired by the sound of the bee buzz. Each Miniature stems from research data and observations from the analysis of field recordings in the form of spectrograms and frequency graphs. I investigated technical and musical patterns in the data, and designed a graphic notation system based on the way a beehive functions. (The main objective is that the musicians read from the same page, encouraging them to interact, listen carefully, experiment with pitch and texture possibilities, and engage with more eye contact.)"
With an expert eye, Warner manages to present all of this in accessible snippets that allow viewers to see through the complications of Howell's work and into its process.
"Let's get inside, following this different process of making something," he says. "So I just kept in touch with her — followed her anytime she was doing something different or something I should be around for. I would just show up with my camera, all by myself."
Warner combined Howell's recordings in postproduction along with Miller, the engineer.
The film is a loving portrait of not only an artist at work, but the communities of Minnesota that came together at various points in the process to help Howell and Warner with their ambitions. Without their sound engineer and without the countless connections drawn from the local music scene and the University of Minnesota Bee Research Lab, Rae would have had no idea where to begin her creative efforts.
While the short film is making the festival rounds, including a screening at the recent Minneapolis-St. Paul International Film Festival, Howell and Warner are teaming up again this summer to continue her compositional efforts.
"As Rae's plans for coming back to Minnesota this summer have become more definite," Warner says, "I've decided to continue to film her process and possibly expand the film to a feature as she takes the work even further and creates a work for chamber orchestra."
This next step in Howell's process is no small feat, because she is thinking far beyond what she accomplished last summer.
"The plan is to expand the Miniature Sketches into a chamber orchestra work, possibly with electronics (samples and beats manipulated from the field recordings), a live stream of bees, accompanied by animated visuals derived from the hand-illustrated graphic scores of the music," she says.
She is turning the entire concept of composition into a multimedia extravaganza, and Warner is going along for the ride.
Bee-Sharp Honeybee is next set to screen on June 1 as part of the Duluth Superior Film Festival. Howell also is planning performances this summer in Minnesota as part of her continued compositional efforts. To support the project and to stay informed on its development, visit her official site.
Gallery
8 of 8
1 of 8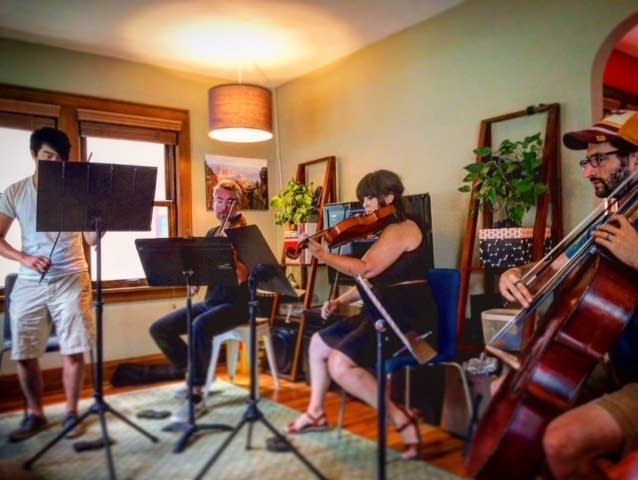 2 of 8