The 2016 Grand Teton Music Festival
For the past few years, the Grand Teton Music Festival has invited Performance Today to host a night of music. To be nestled in the Tetons, cozying up to moose and bears, all with some of the best musicians in the world... how could we refuse? Listen for highlights from our night at the festival, and while you're here, take in some of the breathtaking sights this magical place has to offer.
GTMF Day 1: Fairy Tales from the principal's office
Fred is joined on stage by Gregory Raden (principal clarinet with the Dallas Symphony), Brant Bayless (pricipal viola with the Utah Symphony), and Scott Holshouser (principal piano with the Houston Symphony). The trio joined forces to play a set of music by Robert Schumann based on fairy tales that don't actually exist.
Lia Kass: Paintings inspired by the 2016 Grand Teton Music Festival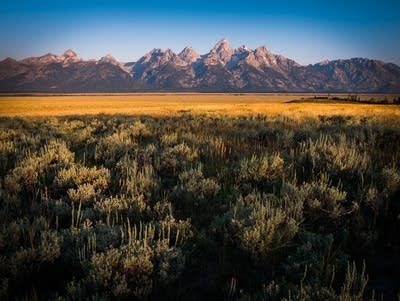 Before you go...
For all we have to offer – the Piano Puzzler, Young Artists in Residence, and the weekly performances themselves – everyone at Performance Today is thankful that you join us each day for this comprehensive musical experience. As a public media program though, we can only do this with your support. Make a financial contribution today to continue to power this program.