For the past few years, the Grand Teton Music Festival has invited Performance Today to host a night of music. To be nestled in the Tetons, cozying up to moose and bears, all with some of the best musicians in the world... how could we refuse? Listen for highlights from our night at the festival, and while you're here, take in some of the breathtaking sights this magical place has to offer.
GTMF Day 1: Fairy Tales from the principal's office
Fred is joined on stage by Gregory Raden (principal clarinet with the Dallas Symphony), Brant Bayless (pricipal viola with the Utah Symphony), and Scott Holshouser (principal piano with the Houston Symphony). The trio joined forces to play a set of music by Robert Schumann based on fairy tales that don't actually exist.
Lia Kass: Paintings inspired by the 2016 Grand Teton Music Festival
Gallery
3 of 3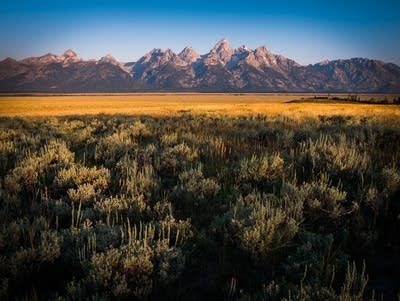 1 of 3
2 of 3
Love the music?
Donate by phone
1-800-562-8440
Show your support by making a gift to YourClassical.
Each day, we're here for you with thoughtful streams that set the tone for your day – not to mention the stories and programs that inspire you to new discovery and help you explore the music you love.
YourClassical is available for free, because we are listener-supported public media. Take a moment to make your gift today.
Your Donation
$5/month
$10/month
$15/month
$20/month
We can help you find classical music you'll love
Take a 2 minute quiz to share your taste

We'll recommend YourClassical programming just for you

Discover the power and joy of classical music