On stage at Grand Teton: Zemlinsky trio and Broughton for brass ensemble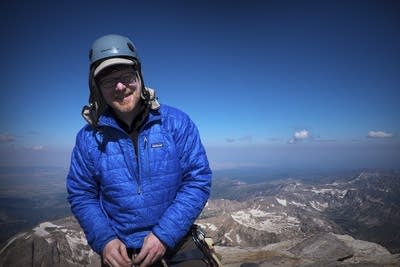 Recently, PT was on location at the 2015 Grand Teton Music Festival for 'A Night with Performance Today.' Listen to live music and conversation from that event, including on stage performances of a trio by Alexander Zemlinsky and music for brass ensemble by Bruce Broughton.
On stage with Thomas LeGrand, David Garrett, and Scott Holshouser
Hints of opera float through this piece by Alexander Zemlinsky. David Garrett plays cello with the Los Angeles Philharmonic; however, he's an alum of the Houston Symphony. Pairing him with current Houston Symphony clarinetist Thomas LeGrand and pianist Scott Holshouser was a mini-family reunion. Time and again musicians kept telling Fred about their long-lasting friendships that were either fostered or kept alive thanks to the Grand Teton Music Festival.
On stage with a boisterous brass ensemble
Conductor, and trombone player, Michael Mulcahy calls this Bruce Broughton piece "quintessential American music." The 17-member brass and percussion ensemble brought the house down with its rendition, which includes a flugelhorn, contrabass trombone and four mallet-wielding musicians making mad dashes to various drum and percussion stations.