New Classical Tracks®
Pianist Benjamin Grosvenor explores the relationship among Romantic composers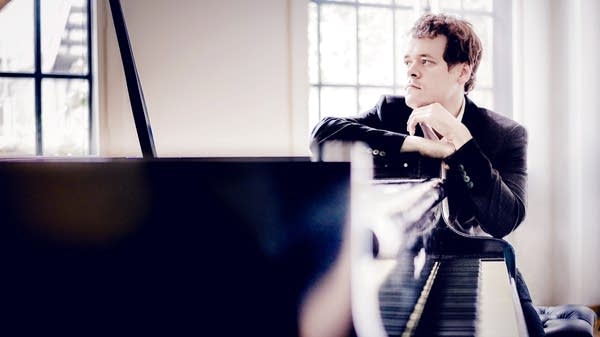 ---
---
Benjamin Grosvenor — Schumann & Brahms (Decca)
"They're so interconnected as figures and personalities. There are so many ways you can bring them together, because their whole lives are just interconnected in this wonderful way," British pianist Benjamin Grosvenor says about his latest recording, Schumann & Brahms, which explores the fascinating relationship among Robert Schumann, Clara Schumann and Johannes Brahms.
Can you tell us about the fictional character by E.T.A. Hoffmann that is the inspiration for the first track, Kreisleriana?
"Johannes Kreisler was a romanticized idea of a tortured artist, a musician with really high ideals and obsessed with the music of Bach. A temperamental musician prone to mood swings and fits of inspiration and then depression. Robert Schumann identified with him as a figure. I mean, there were many similarities between them. The most substantial movement of the set is the second. He told Clara that this piece was about their lives together. This movement is intimacy, longing and love.
"Clara only performed certain movements of it, and Franz Liszt did, as well. Although they admired the piece, they thought it was too much for the audience. I believe that Robert even suggested to Clara that when she plays the last movement, perhaps she should do a crescendo at the end so that the audience would applaud. The idea of a piece disappearing to pianissimo as it does was unusual for the time."
When you perform the work, do you do the pianissimo?
"Yes. It's a magical effect.  Everything dissolves, like in a puff of smoke."
Why did you choose Robert Schumann's Romance No. 2 for this album?
"When they were married, he wrote these romances. Clara requested that he dedicate them to her, and she greatly admired this second piece. She said she knew of nothing more tender than this love duet. It remained a special piece for her throughout her life. It was the last piece she requested on her deathbed. A grandson played it for her."
To hear the rest of my conversation, click on the extended interview above, or download the extended podcast on iTunes or wherever you get your podcasts.
Resources
Benjamin Grosvenor — Schumann & Brahms (Presto music)
Benjamin Grosvenor — Schumann & Brahms (Amazon)
Benjamin Grosvenor (official site)