New Classical Tracks®
Classical guitarist Christopher Mallett celebrates a legend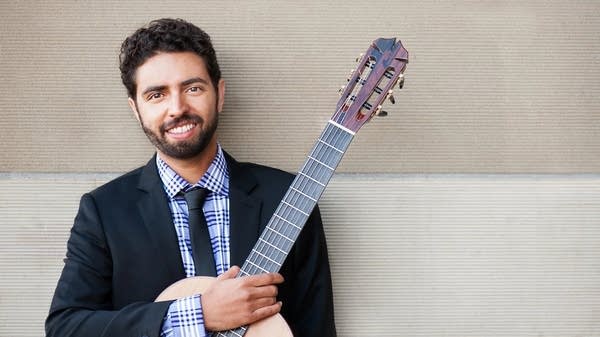 ---
---
Christopher Mallett — Justin Holland: Guitar Works and Arrangements (Naxos)
"For me, it's not just American music. It's music that a Black American arranged," classical guitarist Christopher Mallett said. "That's the most significant part of why I want to help spread this music and why I need to play it."
Mallett honors and celebrates the Black pioneer of American classical guitar music in his latest solo recording, Justin Holland: Guitar Works and Arrangements. 
He initially discovered Justin Holland's music while studying classical guitar at his local community college. He went on to study at Holland's alma mater, Oberlin College, and discovered more of Holland's music as a student at Yale. For several years, Mallett has been carrying around a stack of Holland's music playing it occasionally.
"It wasn't until 2020 that people started to take notice of Holland's music. It was around the time of George Floyd," he says. "People started looking up Black composers and classical guitarists. Suddenly, people are writing articles about Holland and reaching out to me and saying, 'Can you record Justin Holland?'"
"I sat down and read through every single piece," he says about creating the album. "I spent days and days putting my wife through the torture of just sitting there and saying, 'What do you think of this one?' I was whittling it down from 50 to 60 pieces down to 14 of what I thought would be something that would catch the attention of listeners."
What piece did your wife enjoy the most?
"The two that she said should be on the recording were 'The Maiden's Prayer' and 'Carnival of Venice.' My wife is from Indonesia, and 'The Maiden's Prayer' is prevalent throughout Asia and Southeast Asia. When I played it, she said, 'Oh my gosh, I used to listen to that all the time when I was a little kid. You have to record it.'
"It's an amazing arrangement. I've seen other guitarists play other arrangements online that I feel aren't even half as good as Holland's. Hopefully, this innovation will get out more because it is a trendy tune."
What sets the "Carnival of Venice" apart from other arrangments?
"There are variations with intricate and quick pull-offs reminiscent of metal music. He has variations with these quick, rapid arpeggios that fly up and down the neck. It's a culmination of all his method books into one piece. Everything he talks about scales, arpeggios, harmonics, pull-offs, slurs, it's all within that one piece."
Why was Justin Holland so influential as a guitarist in 19th-century America?
"It was his arrangements. He started making them for his students. They passed them around and they started becoming popular. It caught the attention of a viral publisher back then, S. Brainard & Sons. Any new popular tunes that would come out, Holland would be the person to arrange them.
"What made him a household name to guitarists in America were his two method books. There's this famous method book now called Pumping Nylon by Scott Tennant. As I look through Holland's method, I almost consider it the Pumping Nylon of the 19th century."
Resources
Christopher Mallett — Justin Holland: Guitar Works and Arrangements (Presto music)
Christopher Mallett — Justin Holland: Guitar Works and Arrangements (Amazon)
Christopher Mallett (official site)