New Classical Tracks®
Pianist Orli Shaham continues her Mozart piano sonatas project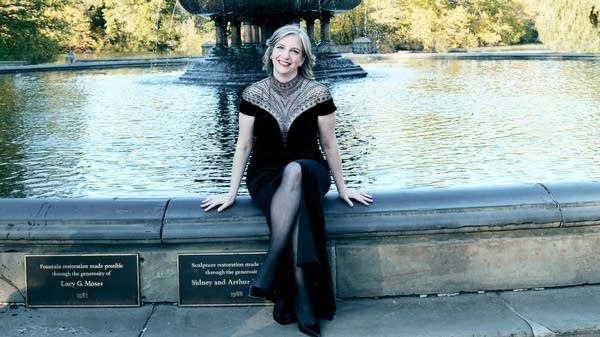 ---
---
Orli Shaham — Mozart: Piano Sonatas Vol. 2 & 3 (Canary Classics)
"Through the course of this project, I got a taste of what it would have felt like to be Mozart," pianist Orli Shaham said about recording all 18 of Mozart's piano sonatas. "It was probably exhausting because he had so many ideas running through his system all the time. It must have been a difficult brain to live in."
Continuing her Mozart project, Shaham has released the latest addition, Mozart: Piano Sonatas Vol. 2 & 3. Volumes four, five and six will come out later this year. 
Why is it important for you to record all of Mozart's piano sonatas?
"When I realized what the totality of the complete works signifies, a journey through his entire life, I was fascinated to see that journey. I've learned so much from this project that I would never have learned if I had just done a few sonatas."
What have you discovered about yourself during this project?
"I'm from the school of classical piano. I play the notes that are on the page. That's how I was taught and raised. Then people talked about improvising. I never really understood what that meant. In doing 18 sonatas and adding a little ornamentation to every repeat, except for the ones that were already busy, I've gained so much experience.
"It's completely transformed my way of looking at it. I feel informed by jazz musicians today who are always pushing boundaries and trying to figure out what fits without breaking the initial mold."
Can you talk about how Mozart brings the best out of performers?
"Those first six sonatas have very different styles from each other. I didn't know this before, but they had been written as a set for his first big European tours. Something about the fourth one is intimate and simple, yet lyrical and beautiful. You can't help but be drawn toward the opening of the work. Once you're sucked in — he's got you."
How did you make these sonatas your own?
"If I'm making a complete set, there should be at least one example of how to go wild. There's a deceptive quality to Sonata No.16. It's not as simple as it seems at first glance. The third movement is the precise repetition of the same simple idea. We know that Mozart would never have precisely repeated anything. But I just decided that if he were in a good mood at a party, he would not have held back."
What is interesting to you about Sonata No. 11?
"I find the first movement of the sonata so special. It's very unusual when Mozart writes a siciliana in variations. The first movement is the only one in variation form where he can plummet into the depths of our humanity."
To hear the rest of my conversation, click on the extended interview above, or download the extended podcast on iTunes or wherever you get your podcasts.
Resources
Orli Shaham — Mozart: Piano Sonatas Vol. 2 & 3 (Amazon)
Orli Shaham (official site)