New Classical Tracks
New Classical Tracks: Lara Downes celebrates Leonard Bernstein in 'For Lenny'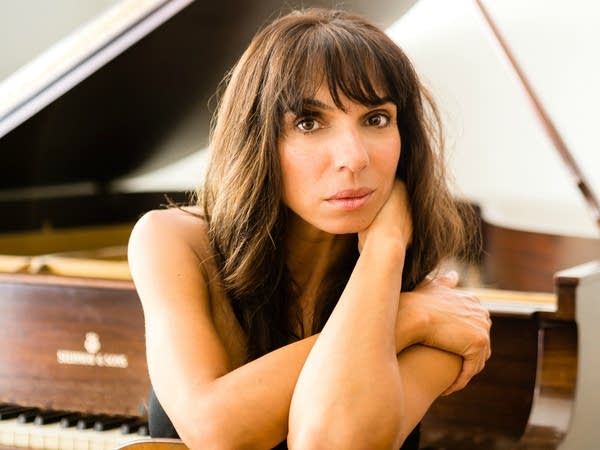 ---
New Classical Tracks: Lara Downes (extended)
24:25
---
New Classical Tracks: Lara Downes
---
Lara Downes & Friends — For Lenny (Sony Classical)
Leonard Bernstein was a game changer, and a rule breaker. Pianist Lara Downes says the impact he's had on American music over the past 100 years is incomparable.
"Everything that he did he did absolutely from the heart. I think that his life in music and his life in the world were driven by passion and commitment, he was always driven by curiosity and always reaching further. That's to me really inspirational and I think that he ended up accomplishing something that's so big, that has so many different aspects to it. I think that every American musician I can think of looks to him for guidance in one way or another."
Your new recording is called For Lenny — it celebrates his life, his music, and his imagination. And I'm wondering how his imagination inspired what we hear on this recording?
"I started with the idea of recording all of Bernstein's Anniversaries for piano which have really captured me for years because they portray a very different side of Bernstein. This very intimate, very private side, you know these were little pieces that he wrote over many years for his family, for his friends and colleagues, and they are miles apart from the big, brash West Side Story Bernstein that we know.
"I think that the project blossomed into more of a survey of what he means in the world of American music. It's very much about past and present and future. I've got his music, I have arrangements of his music that are kind of pushing outside of the box, and I have these new pieces that I've commissioned called Anniversaries for Lenny that are very much about looking back at his legacy and also looking forward into the future of American music.
"One of the really interesting little pieces is by Shulamit Ran, who was also very closely mentored by Bernstein when she was very, very young. And she sent me this piece, this very bright, big, bold piece of music. And I had been receiving a lot of lovely sort of more melancholy, lyrical pieces. I wrote to her and I said, 'Oh I'm so glad that you captured the exuberant side of Lenny.' And she wrote back right away and she said, 'That's it. That's the title — Exuberance.'"
I've heard you say that one of your favorite pieces is Eleanor Sandresky's Romance for Lenny. Why is that one of your favorites?
"It's so profoundly loving, this piece of music. I think it's connecting with the sweetness that he had."
When you were talking about how Lenny touched on so many aspects and changed the way we look at music — I wonder if that's why you started the recording the way you did?
"You're talking about this beatbox version of 'Something's Coming' from West Side Story that I recorded together with Kevin Olusola. I love it that the first sounds that we hear on this recording are not even my piano playing. It's the sound of beatbox and just pushing West Side Story, which was already ahead of its time when it was written, and we're just kind of pushing it now again into the future. It kind of represents everything that I wanted to say in this album about the past and present and future of American music and how they connect and all the things that we feel free to try because of the work that Bernstein did to break down boundaries.
"This courage that my generation has, to try new things and to reach out, I really think that we can all trace that back to Bernstein. To touch all of the people that he did through his TV programs, to have the audacity, the courage to try his hand at writing Broadway shows and symphonies, and conducting the New York Phil and we don't think twice about that now, but that's what he did for us. He made that possible."
To hear the rest of my conversation, click on the extended interview above, or download the extended podcast on iTunes or wherever you get your podcasts.
Resources
Lara Downes (official site)
Lara Downes — For Lenny (Amazon)