New Classical Tracks®
New Classical Tracks: Kantorei explores music of Arnesen in 'Infinity'
---
New Classical Tracks: Kantorei (extended)
24:17
---
Kantorei — Infinity: Choral works of Kim Andre Arnesen (Naxos)
Joel Rinsema spent 23 years wearing every hat imaginable with the Grammy Award-winning Phoenix Chorale. Four years ago, he headed to the Rocky Mountains to serve as the artistic director and conductor for Kantorei of Denver. They just released their first recording together titled Infinity. All of the works were written by Norwegian composer Kim Andre Arnesen.
"I literally stumbled across Kim Arnesen on, of all places, YouTube. I heard Anton Armstrong's recording of Even When He is Silent that the St. Olaf Choir performed as part of the St. Olaf festival in Trondheim, Norway. And I just fell in love with the piece and I thought I need to get to know more of Kim Arnesen and his music. And so I simply reached out to Kim via email and said, send me some more stuff.
"I loved his approach to writing choral music, his melodies, the way he set his text to his music. And before you knew it, we had entered into agreement that he would come out to Denver and spend some time with us. Not only that, but he would write a bunch of pieces for us. And so that was the beginning of this project, Infinity.
"Four of the tracks on this recording were commissioned and written specifically for Kantorei. What's really interesting is that all four of the pieces were commissioned by members of Kantorei."
I know the title track is one of those pieces, Infinity. Let's talk about that, which explores the challenge of the human condition.
"Infinity is text by the English poet David Roberts. And he shared with me that from his teenage years on he would look up into the sky and see the stars, and it really drove home how small a person we all are in this universe. But yet what great responsibility it is for all of us for the caretaking of the world we live in."
The recording opens with the piece of music you first discovered by Kim Andre Arnesen, Even When He is Silent. Would you talk about the text and how it is represented in this piece of music?
"This is one of those pieces that is incredibly powerful in its simplicity. It's a three line poem — I believe in the sun even when it's not shining, I believe in love even when I feel it not, And then I believe in God even when he is silent.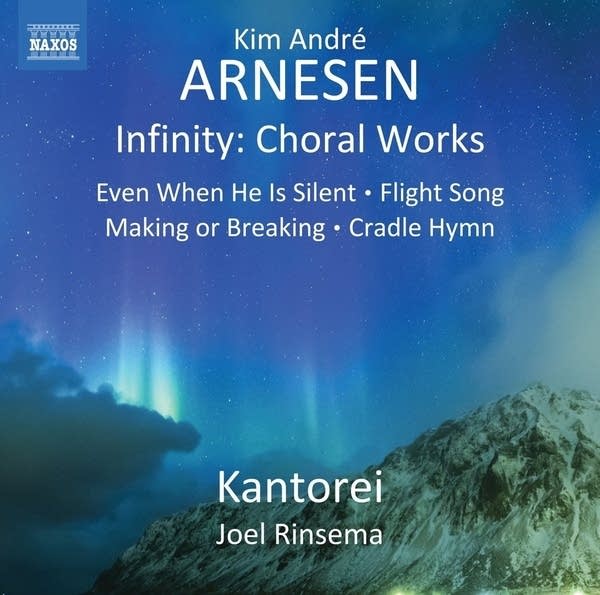 "He takes this simplistic text and over about four minutes just explores the entire range of the voice, adds texture through the harmony and just really brings the power of this text to life."
There are two pieces on this recording that have a connection to Minnesota. One is called Flight and it was a gift to Anton Armstrong to mark his 25th anniversary as the conductor of the St. Olaf Choir. What do you like about that piece? Why did you choose to have it on this recording?
"Well Kim turns to one of his favorite poets and librettists — Euan Tait. Euan is a Welsh composer who Kim has forged a very strong relationship with. He ends the entire poem, the last two phrases of the last two paragraphs talking about flying and taking flight. You don't hear birds flapping but you certainly hear the music swell and rise with those phrases. And this is one of those poems that I think Kim just does a magnificent job of capturing the spirit of the piece."
There's another piece on this recording which is dedicated to the memory of Steven Paulus called Child of Song. Tell me about this work and the meaning behind it as well as why it was written for Steven Paulus.
"Steven would come through Phoenix a couple of times a year. And I had just always treasured our opportunities to get together and have lunch and really not talk about anything specific, but just kind of goodness and music and how those were intertwined. And so, when I saw that Kim had dedicated this piece Child of Song to the memory of Stephen Paulus, I knew that I just had to perform it.
"And I just love the text that Euan Tait wrote. 'Child of song, your music sang from the bone. The music of a visceral dancer.' Then he finishes off the poem with 'No child of song falls into silence but into Love's rest.' And I thought what a fitting, fitting tribute to Stephen Paulus, one of our most prolific and celebrated composers in America."
To hear the rest of my conversation, click on the extended interview above, or download the extended podcast on iTunes or wherever you get your podcasts.