00:00
0
New Classical Tracks: Haimovitz and O'Riley pair up on 'Troika'
Matt Haimovitz & Christopher O'Riley - Troika

"Before we met we were doing similar things in different ways. Matt was playing Bach in coffeehouses, and I was bringing rock via Radiohead to the concert hall."
That's pianist Christopher O'Riley. He and cellist Matt Haimovitz are frequent collaborators. Their most recent recording, Troika, explores the music of the Slavic soul.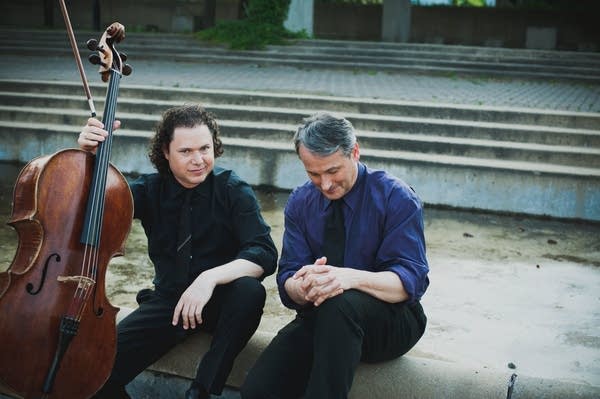 "I think Troika is distinctive in that it represents three separate generations of Russian music in exile and in protest," O'Riley says. "That's the broad statement to be brought away from the record. And, of course the Pussy Riot song, 'Punk Prayer,' was indeed the song for which they were arrested, imprisoned, and subsequently one of them was murdered."
That pop song is one of three that Haimovitz and O'Riley decided to feature on the second CD of this two-CD set, at the heart of which are three masterful sonatas by the great 'troika' of composers: Sergei Rachmanioff, Sergei Prokofiev and Dmitri Shostakovich.
To hear the rest of my conversation with Christopher O'Riley about Troika, download the extended podcast on iTunes or wherever you get your podcasts.
Resources
Matt Haimovitz, cello - official site
Christopher O'Riley, piano - official site
Love the music?
Donate by phone
1-800-562-8440
Show your support by making a gift to YourClassical.
Each day, we're here for you with thoughtful streams that set the tone for your day – not to mention the stories and programs that inspire you to new discovery and help you explore the music you love.
YourClassical is available for free, because we are listener-supported public media. Take a moment to make your gift today.
Your Donation
$5/month
$10/month
$15/month
$20/month
We can help you find classical music you'll love
Take a 2 minute quiz to share your taste

We'll recommend YourClassical programming just for you

Discover the power and joy of classical music