New Classical Tracks®
New Classical Tracks: John Lunn, 'Downton Abbey - the Ultimate Collection'
---
John Lunn - extended interview
25:39
---
John Lunn, Downton Abbey - the Ultimate Collection (Decca)
"It doesn't feel like it's dead," says composer John Lunn. "It took a while. We had almost six months of parties. There was a wrap party when they stopped filming. There was a post-production party, a party for the screening of the final episode. It's never felt like the end because there's always been another party about the end of it."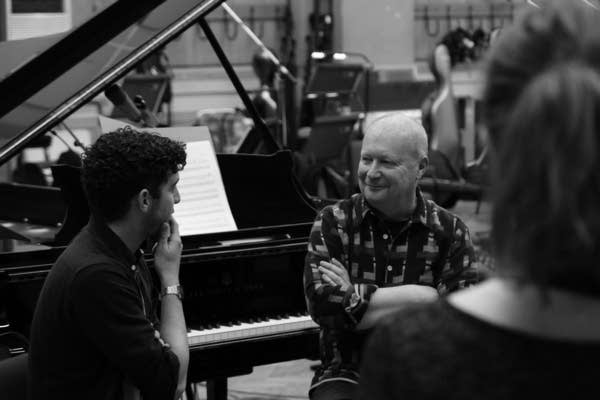 Evidently, that's how you say goodbye to one of the most popular PBS shows ever, Downton Abbey. Composer John Lunn has been immersed in the series for the past six years, and has compiled Downton Abbey, The Ultimate Collection as a musical souvenir. He says you'll recognize plenty of these melodies which symbolize your favorite characters, like Mary and Matthew Crawley. " 'Such Good Luck' was actually a massive theme that came in the beginning of series two, and it was when Mary and Matthew were on a train station and they'd been together at the end of series one and they'd kind of fallen out and were no longer together, and obviously there was a germ of something still there. She says goodbye to him and he's going off to the First World War, he's going off to fight. And the producers wanted me to give people an idea that not only was she saying goodbye to Matthew; I knew at the end of that series he was going to propose to her and she was going to accept. And so I had this sort of idea of trying to make a piece of music that would actually cover both. And there's a hint in the train station cue that actually some good might come out of this. And I was really sort of pleased with that tune. And consequently, the more I've been asked about the music, the more and more I've sort of realized that actually the music is not specifically about one character or about one emotion, but it's about the relationships between people."
Fans weren't the only ones upset when the Matthew Crawley character died at the end of season three. "Oh, he took some of my best tunes to the grave with him," Lunn mourns, "but there is a scene, I think it's the penultimate episode for you, where Mary does go back to his grave and she needs to ask him a question. I mean, realistically, she knows she's not going to get an answer, but it's a symbolic moment. And it was just ideal to bring back that tune. But I was very angry with him when he left; in fact, I've told him that as well, he made my life hell once he'd gone."
Your other favorite couple is probably Anna and Mr. Bates. You'll hear their relationship represented in a piece titled, "Damaged." "I was looking for an idea to signify Bates, and it was before [he and Anna] were even remotely together," Lunn says, "but there was a hint that there might be something, and she sort of took pity on him more than anything else. And he had a limp. And I don't know why — it's kind of slightly odd thinking back on it now — but I came up with this sort of piano tune sort of thing had a sort of stutter to it, a bit like a limp. And it was a bit slower than that, actually. And then I did a sort of viola tune to that which was sort of Anna in a kind of English sort of folk element to it. And the combination of those two things, that tune and that lilting, slightly stilted piano, repeated piano refrain, has actually been there since episode one, series one, and has gone all the way through to series six."
There are certainly elements of classic English composers in this music. Lunn cites Edward Elgar and Ralph Vaughn Williams as major influences. You'll hear hints of pop music and jazz. While much of the music is carried over from each series, Lunn says there's also a new element in each episode. For series six, it's the New Gladiators. "I think that's one thing about the whole of series six, there's this idea that the world is changing and it's still almost 100 years ago but it's becoming more familiar to us now, whereas when the series started in 1912, you could say it was like a foreign country," Lunn says. "Whereas things like having a Formula One race, something we still have now … so there was a feeling that the music should kind of reflect that change as well. So in fact, I slightly changed the orchestration, had some trumpets, French horns. And actually the music is probably more like 1950s film score. It could be James Bond-ish if that makes any kind of sense."
John Lunn commented that the final series doesn't end the way he expected, so I asked him if he could elaborate on that? "I think I was expecting us to … leave the house. Or the house gets sold or … something happens to bring it to an end. And actually, it doesn't. But it's no less satisfying. In fact, in many ways, it's more satisfying the way it does end."
As you prepare to say goodbye to the colorful characters, the gorgeous costumes, and the vintage cars, John Lunn reminds me that this period PBS program has made a lasting impression. "The theme tune has just become so famous now that it just seems to be instantly recognized the world over. ITV, who televise it, who broadcast it here [in the U.K.], they've been going for 60 years and they've had a whole television series about the best theme tunes … and Downton was number six. And I just … I think that's probably quite an achievement. I never thought that would happen. Of all the things I've done … I think I've written something that people will remember me for years."
(Listen to Julie Amacher's extended interview with John Lunn by clicking the audio player above.)
Gallery
1 of 1