New Classical Tracks®
New Classical Tracks: 'Joyce and Tony - live at Wigmore Hall'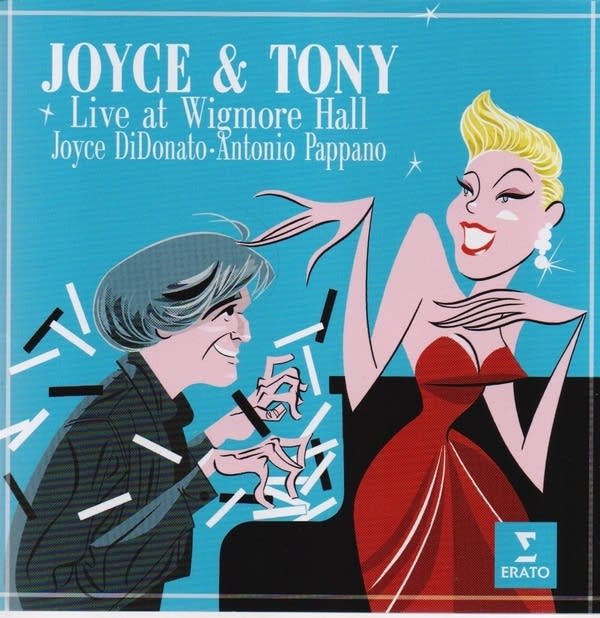 ---
New Classical Tracks: Joyce and Tony - live at Wigmore Hall
4:59
---
Joyce DiDonato and Anthony Papano - Joyce and Tony - live at Wigmore Hall (Warner Classics/Parlophone)
Mezzo-soprano Joyce DiDonato was born just outside of Kansas City, but she's not in Kansas anymore. These days, she's globetrotting the opera and recital circuit. On her latest recording, she's performing live in London's Wigmore Hall, and it sounds as if she's clicked her heels and found her way home.
"I have a long history with the Wigmore Hall," Joyce explains, "so it was a bit like coming home, in terms of my recital home there, which I love. Having the chance to partner with Tony Pappano, the music director of the Royal Opera House, at the keyboard is something really indescribably inspiring because you have somebody who is such an incredible conductor and musician. He knows my voice now so well because we've had the wonderful privilege of working together a lot that he knows how to help shape the phrases that support me in a way that very few people know how to do. And he does it instinctually. So we put together this album.
"It's a double CD," Joyce continues, "and the first disc is all Italian art song with Rossini, Haydn and a strange, obscure composer named Francesco Santoliquido. And then in the second half, it's American songbook pieces, pieces I've always wanted to sing, some well-known, like 'My Funny Valentine, Can't Help Lovin That Man,' and some that haven't been heard much in modern day."
Rossini's Cinderella has been a signature role for Joyce DiDonato throughout much of her career. The music of this Italian opera composer fits beautifully in her voice. Two art songs by Rossini are featured on recording. These, too, fit the agile voice and fingers of this dynamic duo. "Well, one for sure. La Danza," Joyce says. "It requires somebody extraordinary at the keyboard. It's a tarantella and it's meant to go quite fast and it's nearly impossible to play. And I thought, 'OK, if I've got Tony Pappano at the keyboard, let's give him a workout and let's let the world hear how dexterous he is and how incredible he is at the keyboard.' And sure enough … I'm pretty fast at this stuff, and sometimes I'll catch a pianist or conductor off guard about how fast I can sing things. And he went like a bat out of hell and I looked at him and I was like, 'OK, maestro. We're doing this, let's go.' It was so much fun, it was a whirlwind and he certainly captures the exuberance of that piece."
As she was researching material for this recital program, Joyce unearthed a few hidden gems from a 20th century Italian composer named, Francesco Santoliquido. "I thought, this is like Puccini," she says. "And anyone who knows my repertoire and certainly the repertoire of mezzo sopranos, there's very little Puccini for us. He gave it all to the sopranos and tenors. And I got so excited because I heard references to sort of Bohème and Butterfly and it was this liquid, romantic, plush world that I rarely get to enter into as a singer and I said, I have to sing these. And it's funny … he was a Fascist with very strong political leanings. And he wrote the text and music for these and they are the most nostalgic, melancholic, romantic pieces … it's such a juxtaposition to what his life was. And I find them quite unusual and beautiful and they capture the audience right away because it's a gorgeous melody and a deep sentiment to them that I really treasure."
On the American Songbook side of this two-CD set, Joyce includes several pieces by Jerome Kern. One that grabbed my ear is titled, "Go Little Boat."
"Oh, I'm so happy to hear you say that," Joyce says. "Tony was blown away by that as well. I'd brought it to him and he did not know the piece. And that's, I think, if he had to choose a favorite on the second half it might be that piece. He kept saying, this is like Schubert. It's like a Schubert song, only American style. And he is right. A very simple, strophic piece … a bit melancholic but deeply beautiful. And … ah, Jerome Kern. I'm sorry, but there's nobody better as a songwriter."
Joyce and Tony also captured the mood beautifully in Jerome Moross's Lazy Afternoon. "Oh thank you," Joyce says. "That was also a suggestion from David Crane because I knew he was going to do arrangements of a few pieces for this and I said, what other repertoire is out there? And he brought me this — I did not know the piece. And I fell in love with it immediately. And this is again the power of having somebody like Tony at the piano. Somehow he could make that keyboard become smoky. And when you listen to it, it really has this air of summer and haze and smoke and ease. And so I was able to really try and capture those colors with the voice as well and there was Tony right there with me. And we sort of just went there, trying to create this atmosphere of absolute decadence &ehllip; lazy decadence."
For Joyce Di Donato, there's no place like Wigmore Hall; it feel likes home, so it makes perfect sense that this recital closes out with an enchanting arrangement of Harold Arlen's, "Over the Rainbow."
"Well, if I'm doing a section of American music," Joyce explains. "There's part of me that just felt that I really needed to get the chance to sing that and record it. And the arrangement … I tell you, it was different every time we did it because Tony was just improvising at the piano and he was responding to me and every time we did it he was throwing different things into it and shaping it slightly differently. I don't remember which take we have that ended up on the disc but it was a rather magical one."
Gallery
1 of 1