New Classical Tracks®
Pianist Leif Ove Andsnes shows his love for Dvorak's 'Poetic Tone Pictures'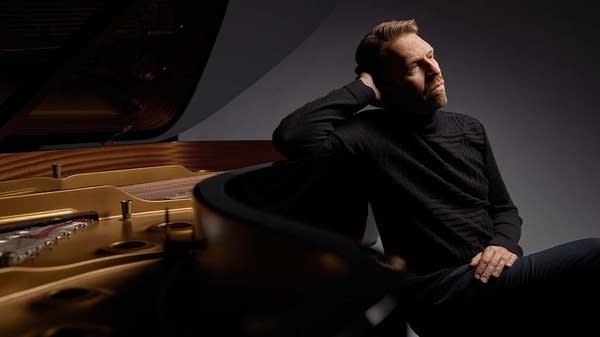 ---
---
Leif Ove Andsnes — Dvořák: Poetic Tone Pictures (Sony)

"It's similar to life with its highs and lows. That's what I love about this cycle. It's so contrasting and varied," said Norwegian pianist Leif Ove Andsnes, who recently fell in love with Antonín Dvořák's Poetic Tone Pictures. It's an ambitious and unusual cycle of piano pieces by the Czech composer featured on Andsnes' latest recording, Dvořák: Poetic Tone Pictures.
"He has this reputation for not writing very well for the piano because he was not a pianist. He was a violinist and didn't own a piano until he was about 40," he said about Dvořák. "It's strange. I've known these pieces since childhood because my father came home from London once and brought a bunch of his pieces. One of them was the cycle played by the Czech pianist Radoslav Kvapil. So I listened to these pieces when I was little, and I especially liked some of the first ones. I played some of them in a youth competition when I was 12.
"I studied the whole cycle during the pandemic, and now I'll give the whole cycle a chance," he said. "Let's see if Dvořák is right because he wrote in a letter to a friend that he thought one could only experience his real intentions about this music if one played the whole cycle, all the 13 pieces together. That's almost an hour of music. I do feel a difference. I feel it's a great journey when they are played together from beginning to end."
What pieces did you play at that competition?
"I played the first piece, 'The Night Journey,' which is also one of the more ambitious pieces and one of the more difficult ones."
What did you find challenging when revisiting the cycle?
"It's a mixture of homecoming and challenging passages that exist. It's such a wonderful piece because it opens like a novel. It's saying, 'I'm going to tell you a story.' It just opens this personal world to enjoy."
Can you give me an example of the range of unique colors in these pieces?
"The second piece, 'Toying,' is unassuming. It's full of surprisingly short staccato notes in the main section, with a conversation between the right and left hands. Then it has, in contrast, a very legato middle section. That means that the notes are bound together, and it's full of pedal. It feels like a brook or river you might find in Schubert's music. It's fluid with wonderfully beautiful bell-like colors."
To hear the rest of my conversation, click on the extended interview above, or download the extended podcast on iTunes or wherever you get your podcasts.
Resources
Leif Ove Andsnes — Dvořák: Poetic Tone Pictures (Amazon)
Leif Ove Andsnes (official site)