New Classical Tracks®
Conductor JoAnn Falletta rediscovers composer Florent Schmitt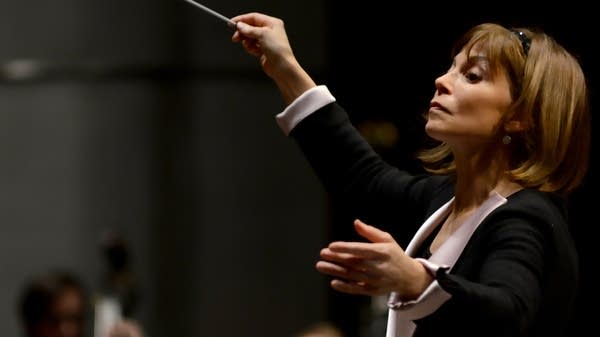 ---
---
New Classical Tracks - JoAnn Falletta
---
JoAnn Falletta and the Buffalo Philharmonic Orchestra — Florent Schmitt: La Tragedie de Salome/Musique sur l'eau/Oriane et le Prince d'Amour/Légende (Naxos)
"It was like a treasure box of music that I didn't know at all," said conductor JoAnn Falletta after scholar Phillip Nones introduced her to the musical scores of Florent Schmitt. "A true colorist, but with more vivid colors, perhaps, than Debussy and Ravel. He's red blooded and he's French, but he's borrowing every way of making music from the German and Russian masters. It just has to be heard to be believed."
Faletta's new album, Florent Schmitt, celebrates the composers 150-year birth anniversary, which was in 2020. Luckily, the Buffalo Philharmonic Orchestra had just performed Florent Schmitt's music in concert before the pandemic started and that performance became this new album.
Could you talk about his ballet that was influenced by Salome and how he approached it? 
"It is a tragic tale, and he was inspired by Richard Strauss's opera. There's no question that might have been the genesis for it, but his Salome is quite different. It's more French and less brutal.
"Salome sings a wordless song in Schmitt's version. We had a beautiful mezzo soprano, Susan Platts, sing that with a chorus of young handmaidens. We used our Buffalo Girls Choir for that. There still is a tragic end, but it's very sensuous music."
Can you talk about how the music reflects the storyline of Oriane et le Prince d'Amour?
"Oriane is an incredibly beautiful woman or maybe the most beautiful woman in the world. Men are drawn to her, but she herself never falls in love. She never gives her heart to anyone. She feels nothing for them. At one point, the prince of love arrives at the palace, and she falls in love with him. But he does not give his heart to her, and she is destroyed by that.
"He clothed these wonderful, seductive scenes and wild dancing. I've never seen the ballet. I can only imagine what it was like because the music is so powerful. It's about this woman who was dancing with one man after the next and then it's finally undone by love itself."
Do you know the story behind Légende?
"I know that there was this woman who asked for the work to be made. She also commissioned Debussy to write his famous piece for saxophone. The original version is beautifully written for saxophone. The French have a special feeling for the saxophone, but then he rewrote it for viola and finally for violin.
"He is the most important French composer that you have never heard of. People are intrigued by that because we know so many French composers. We've never heard of him. He is so important and wonderful."
 To hear the rest of my conversation, click on the extended interview above, or download the extended podcast on iTunes or wherever you get your podcasts.
Resources
JoAnn Falletta and the Buffalo Philharmonic Orchestra — Florent Schmitt: La Tragedie de Salome/Musique sur l'eau/Oriane et le Prince d'Amour/Légende (Amazon)
JoAnn Falletta and the Buffalo Philharmonic Orchestra — Florent Schmitt: La Tragedie de Salome/Musique sur l'eau/Oriane et le Prince d'Amour/Légende (Naxos)