New Classical Tracks®
New Classical Tracks: Minnesota masters Mahler
---
The Minnesota Orchestra and Mahler
4:59
---
Osmo Vänskä and the Minnesota Orchestra - Mahler Symphony No. 5 (Bis)

It all began with Beethoven. When that symphony cycle was complete, Finnish conductor Osmo Vänskä forged a new cycle of critically acclaimed Sibelius Symphonies.
The second recording in that series earned Osmo Vänskä and the Minnesota Orchestra a Grammy Award in 2014 for Best Orchestral Performance. Music Director Osmo Vänskä says these two earlier recording projects helped to set the stage for the latest endeavor, a complete cycle of symphony recordings by the late great Romantic, Gustav Mahler. "During the process of the Beethoven symphonies we started to play Beethoven better and better Beethoven. The same with Sibelius, " Osmo says. "They have been a foundation for Mahler and we try to build from it and to make this kind of Mahler tradition."
The Minnesota Orchestra's Mahler tradition begins with his Symphony No. 5 in C-sharp minor. This five-movement work began a single movement, a scherzo, composed in 1901. The woodwinds and strings are showcased throughout this movement; however, Osmo says it's the principal horn that really gets a chance to shine. "Mahler wrote a solo part for the principal horn," he says, "but it's just interesting to see the one moment where the horn is playing a big solo. And I'm very happy with how Mike Gast did that piece. I'm sure it's a big challenge for every horn player."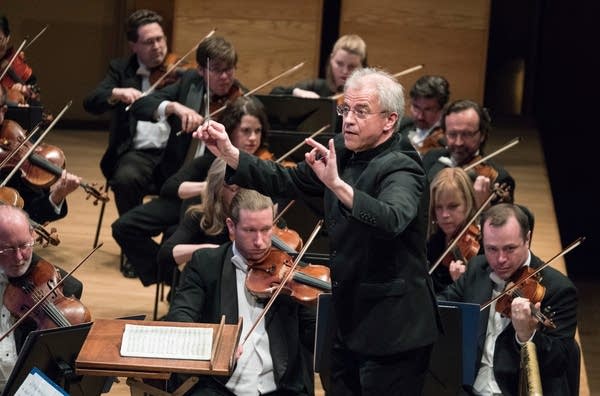 The beautiful Adagietto, which follows the Scherzo, is probably the composer's most familiar piece. It's a tender love letter, written while Mahler was enjoying professional success as a conductor in Vienna. That's also when he met, married and had a child with Alma Schindler. "Well, it's a love song to Alma Mahler. To his wife," Osmo explains. "And it's a beautiful love song. Lots of this kind of quiet … like just almost breathing emotions and then some strong emotions … the thing is that you're barely breathing, the music is very soft and very slow. And we try to keep it alive as he wrote it, and that's one of the biggest challenges, so yeah, it's a beautiful letter."
It's takes about 75 minutes to perform Mahler's Symphony No. 5 in its entirety. Osmo says it does take its toll on the lips of the brass and woodwind players, and on the fingers of the string players; however, the end reward is worth it. "Yes, we are tired in the end," Osmo admits. "And you have to play extremely loud and extremely soft, so it's even more demanding than to play loud music. But there are people who like to do marathons and I'm sure there are other people who are thinking, 'Why do you do marathons?' Well, yes, there are reasons for this and that. If the music is good enough, you are ready to even suffer because of that."
Gustav Mahler once said, "Whoever listens to my music intelligently will see my life transparently revealed. Death is there, of course, and suffering." Mahler's works also reflect the beauty he saw around him. Osmo Vänskä says for many, this all-inclusive approach is either loved or not. "It depends on who you ask," he says. "There are people who believe they are perfect, who believe they are perfect pieces of art. There are people who believe something else. That's the question about personal taste."
Osmo Vänskä and the Minnesota Orchestra, forging a new trail with another big recording cycle celebrating the symphonies of Gustav Mahler.
Resources
Minnesota Orchestra - official site