New Classical Tracks®
New Classical Tracks: 'Invisible Stars' - Choral works of Ireland and Scotland
---
New Classical Tracks: 'Invisible Stars' - Choral works of Ireland and Scotland
4:59
---
Invisible Stars - Choral works of Ireland and Scotland; The Choral Scholars of University College Dublin, Desmond Earley-conductor (Signum Classics)
"My name is Desmond Earley and I'm director of UCD Choral Scholars, which is known internationally as the Choral Scholars of University College Dublin. I'm also a harpsichordist and arranger and a composer and I work with different ensembles around Europe, playing music and directing. Today, we're talking about Invisible Stars, choral works of Ireland and Scotland and that's our latest achievement and one of which we're very proud."
Desmond Earley and the UCD Choral Scholars have every right to be proud. They're now included in the Signum Classics catalog, which is also where you'll find recordings by the legendary King's Singers and by the British choir Tenebrae.
The Choral Scholars' ensemble formed in 1999. Desmond told me that next year, they'll have quite a shindig to mark their 20th anniversary. What's even more special about this group of 18 singers is how they're selected. "The singers chosen for the UCD Choral scholarships come from all disciplines in the university: music, medicine, architecture … from music, of course, we have a music program," Desmond explains. "We've had really interesting students who have had no previous choral experience venture forth and apply and be successful. For example, our lead singer on the first track of the disc, his name is Mark Waters and Mark is from a place called Wexford in Ireland, which is on the southeast coast. Many of your listeners might know. It's famous for its strawberries. And Mark grew up on a farm and he currently works for the department of agriculture in Ireland. And he is a fantastic traditional singer. Ornamentation, real earthy sound, really from the heart and you can hear that on the track.
"One of my favorite songs on the album and one of the first songs I arranged for the choir for the 2014 tour is the song The Parting Glass, which is famous and particularly famous in the U.S. And it is a Scottish song, a Scottish text, but it's a not a Scottish tune as we know it. The Scottish song was Goodnight and God Be With You. But it uses now a song tune from Ireland which is called 'Sweet Coothill Town' which was found in an early 20th century collection … that tune is from County Cork in Ireland, and it's quite an interesting example of how songs can migrate between territories and take on new characteristics. And what Mark Waters makes of that song in his soulful earthiness is something extraordinary. And being a harpsichord player, I do love harmony, and I got to delve and shape the harmonic accompaniment of that and I think the result is pretty good, all around."
The concept of Invisible Stars was built around the idea of soloists and choral ensemble with individual instruments. It's the instrumentation that enriches the textures of these Irish and Scottish songs. "Yeah, I think a choir in itself provides so much without having any other instrument accompanying it," Desmond says. "I mean, we have the harmonic element obviously. We can split up to eight or more parts with that choir, and with that you get rich harmonies. But sometimes it's useful to add the timbre of another instrument, and it provides for an aural relief or variety. When you're looking at the list of music on this — there are a couple of tracks with harp — OK, that's a harmonic instrument — but it has a delicacy and I think it's suited to the lullaby. But one of the pieces I actually like most of all and was impressed by was Bill Whelan's Sun, Moon and Stars, which was written for cello and soprano solo and chorus. And the cello changes everything."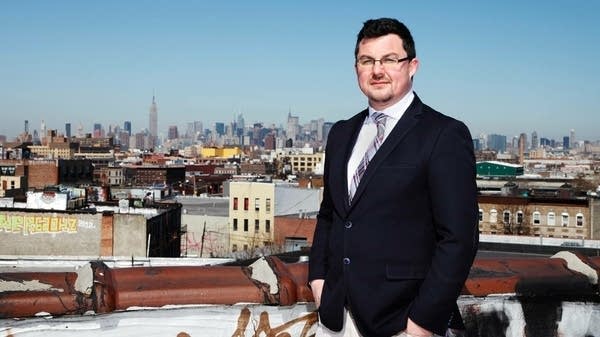 I want to ask about "Peace," the ninth track on the recording. I know there's a reason why you included war and peace on the disc, and the oboe accentuates the theme. "We wanted to commission three pieces of music that would mark the decade of centenaries in Ireland, that included the beginning of the first World War, all the way through to the 100th anniversary of the 1916 rising against the British," Desmond explains. "They will include the ending of the first World War, of course Ireland was part of the British Empire at the time and Irish troops fought in France and in Turkey and in other parts of the world … and it was quite important that we found a text that would actually honor, I suppose, each of the traditions of Ireland because there have been the Irish Gaelic tradition and the intermixing then of the Anglo-Irish tradition and our history is deeply entwined with that of our neighbor, the U.K. And peace of course is such an important aspect of what happened after those struggles. And everybody longs for peace in the world today, I think — certainly any reasonable person. And just to honor that and to mark that using an Irish text, the poetry of Eva Gore-Booth [1870 - 1926], who was herself an Anglo-Irish poet and activist … and we approached Evo Antonini who's a Swiss composer known for his jazz music with the idea of a sort of plaintive and soulful sound of the oboe sort of mixing with the choir both the texts peace and war. The title of the recording comes from the poem by Eva Gore-Booth, 'Peace': invisible stars shine / over the sea and the white calm of Maeve. And of course, our university has a motto: 'To the stars.' And I thought, there's a little play on words here in relationship to the motto of the university. But also the students themselves are stars — they are very gifted. And what better way to title a first disc: Invisible stars."
Desmond Earley leading his, Invisible Stars, the Choral Scholars of University College Dublin in a beautiful collection of choral works of Ireland and Scotland.
Resources
Choral Scholars of University College Dublin - official site