When I was seven years old, I acted in my first play — in my elementary school gymnasium. The Little Prince was based on the book by the famous French author Antoine de Saint-Exupéry, but I did not know that, nor did I care. What I cared about was remembering my lines and the dreamy piano music that played throughout the show.
The music transformed the production. Parents cried at the end of it — maybe from seeing their kids perform, or maybe from seeing the kindergarten teacher everyone loved break down as the pilot said goodbye to the prince. I think it was a combination of both, but without the music, the faces would have stayed dry.
Now, 15 years later, the music still haunts me and I still do not know anything about it. I currently live in Saint-Exupéry's country: I'm working as a nanny in Paris, where I babysit a French girl who just turned seven. When I was her age, music just...existed. I grew up thinking the song was unattached to any names; just a beautiful array of sounds my drama teacher had chosen from a box of CDs.
Then one evening, as the little girl's bath filled up and I re-heated a quiche for dinner, familiar notes came floating through the walls of her family's Haussmann-style apartment. A neighbor sat at a piano, playing the piece that normally just played in my head. I wanted to run down the stairs and knock on the musician's door and ask in my shaky French who wrote the song.
Instead, I just stood there. Two thoughts crept into my mind. One: I had to finish making dinner. Two: It was time for me to find out the name of this song.
The search began late at night after babysitting. I opened my laptop and caught the family's weak Wi-Fi signal, searching classical music websites and YouTube for piano playlists. Looking for good Internet and new leads, I went across the street to Parc Monceau and sat listening on the grass one Saturday afternoon. (Yes, Paris's parks have Wi-Fi.) Still empty-handed, I went to a used CD store. I found a classical piano album and snapped a picture of the back cover. Searching the songs on my computer, I got a sampler course on Chopin, Liszt and Schumann, but did not find what I was looking for.
Then one Sunday, window open to the rain, door open to the stairwell to catch that signal, I tried again. I turned to Spotify because I thought its playlists might get me into deeper territory than YouTube videos like, "This Song will make you cry, i promise it will!"
I had started to doubt the song even existed. What was my neighbor playing through the walls, then? Was I hearing things? Maybe, at 22 years old, I was losing my mind.
Then I skipped to a new song, and with the first few notes, I knew I had found it.
---
Hailey Colwell is a St.-Paul-bred writer and recent University of Minnesota graduate who is currently living in Paris. You can read about her experiences as a Minnesotan in Paris on her blog, Des Mots du Monde.
Gallery
6 of 6
1 of 6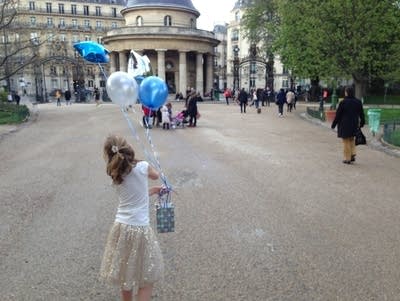 2 of 6
Love the music?
Donate by phone
1-800-562-8440
Show your support by making a gift to YourClassical.
Each day, we're here for you with thoughtful streams that set the tone for your day – not to mention the stories and programs that inspire you to new discovery and help you explore the music you love.
YourClassical is available for free, because we are listener-supported public media. Take a moment to make your gift today.
Your Donation
$5/month
$10/month
$15/month
$20/month
We can help you find classical music you'll love
Take a 2 minute quiz to share your taste

We'll recommend YourClassical programming just for you

Discover the power and joy of classical music