Editor's note: From the Top airs at noon central Sunday on YourClassical MPR.
This week, From the Top will feature four talented young musicians who are disabled or neurodivergent. Acclaimed violinists Itzhak Perlman and Julia LaGrand will perform and guest-host alongside host Peter Dugan.
In 2021, LaGrand, 16, spoke candidly on From the Top about being a musician who also is blind.
"I'd like to raise awareness — and expectations — for musicians who happen to have disabilities," she said. "We deserve opportunities to shine and From the Top is the perfect platform to highlight these young artists, allowing them to share their stories of being a musician and a person living with a disability in today's world."
After that episode, she approached the organization to spotlight musicians who are disabled and neurodivergent. From the Top executive director Gretchen Nielsen agreed.
Perlman, who performs while seated following a childhood bout with polio, joined the event as a long-time disability advocate. When asked how his disability impacts his music-making, he said matter-of-factly, "I can't walk very well, but I'm not onstage to do walking. I'm on the stage to play."
Nielsen added: "We have a responsibility to use From the Top's platform to bring important ideas and issues to the public. We also recognize that this is a tremendous opportunity for us to learn. Our alumna Julia LaGrand, the young musicians featured on the broadcast, and our partners at the Kennedy Center are all helping guide our journey toward increasing access in our work."
Watch this sneak peek of the upcoming performance, including excerpts from Capriccio by Joaquín Rodrigo, performed by LaGrand.
The four other performers who will join Perlman and LaGrand are Joshua Thrush on double bass, Tristen Chen on piano, Adam Mandela Walden on cello and Grace Novacheck on piano.
Gallery
4 of 4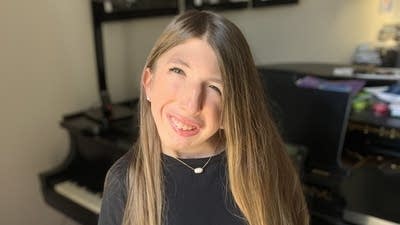 1 of 4
2 of 4
Love the music?
Donate by phone
1-800-562-8440
Show your support by making a gift to YourClassical.
Each day, we're here for you with thoughtful streams that set the tone for your day – not to mention the stories and programs that inspire you to new discovery and help you explore the music you love.
YourClassical is available for free, because we are listener-supported public media. Take a moment to make your gift today.
Your Donation
$5/month
$10/month
$15/month
$20/month
We can help you find classical music you'll love
Take a 2 minute quiz to share your taste

We'll recommend YourClassical programming just for you

Discover the power and joy of classical music