Choral Stream
Michael Culloton takes over choral program at Concordia College amid new challenges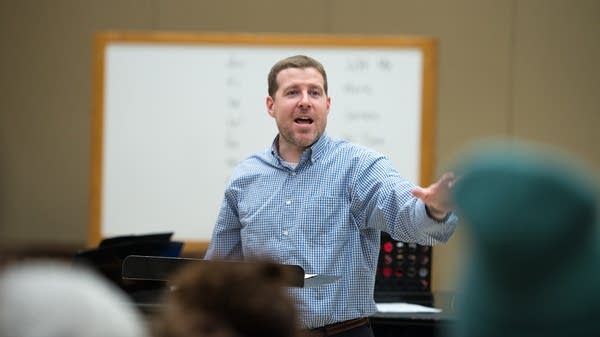 "There was a month there when I was really happy."
Michael Culloton is joking, of course. But there is a grain of truth in what he says.
In January, he received news he had been dreaming of for more than two decades: Concordia College, where he studied as an undergraduate, had appointed him its new director of choral activities, replacing the legendary René Clausen.
For a while, Culloton was elated. Then came the coronavirus, and the especially dark pall it casts over choral activities, with the increased risk of airborne infection they bring.
Since COVID hit, Culloton has been crazily busy.
"I've never been to as many webinars or read as many scientific documents about aerosols, choirs in rehearsal and spacing," he says. "So that was my summer."
It was, in retrospect, a summer usefully spent. The new semester has started on schedule at Concordia, students are back on campus, and rehearsals for the college's storied choir have started.
They are, though, rehearsals with a difference.
"Our first couple of days were spent outdoors, socially distanced, wearing masks and with a keyboard, amplifier and microphone," Culloton explains.
"And now I've divided the choir up into three equally balanced ensembles, rehearsing each for 30 minutes at a time in a room, which is widely seen as the maximum for indoor rehearsals at present."
But what are they rehearsing for? With no live concerts or audiences possible in the foreseeable future, where do Culloton and his singers find the motivation to forge on with rehearsals regardless?
"Our capstone project for the fall semester is still a recorded Christmas concert," he says.
Concordia's Christmas shows are famous for their exceptional quality, and are broadcast on Classical MPR, as well as radio and television stations across the United States.
Culloton is determined that the 2020 concert will happen despite coronavirus restrictions, although it will inevitably look different from usual.
"Normally, we put 350 kids up on risers, shoulder to shoulder, with an orchestra in front of them," he says.
"This year it will be one ensemble recording at a time in Memorial Auditorium, and we'll stand in the permanent seating, socially distanced and with masks on. And we'll do our best to put up decorations."
It is, as they say, a plan — but one which depends heavily on whether Concordia College can stay open to students as the coronavirus pandemic unravels.
"We have every best intention of still being on campus in November to do the recording," Culloton says. "But who knows what will happen?"
Despite the extra burden of responsibility that COVID has placed on Culloton's shoulders, his enthusiasm for what he calls "the dream job" of directing Concordia's choral activities has in no way diminished.
And it turns out he did literally dream about it while he was a student at the college and Clausen was one of his teachers.
"Yes, I did dream about replacing René," he says with a smile. "But so did every other choral major in the choir at that time!"
The path back to Concordia has taken Culloton through master's studies at the University of Arizona, a doctorate at North Dakota State University, and jobs with the National Lutheran Choir, Honors Choirs of Southeast Minnesota, and others.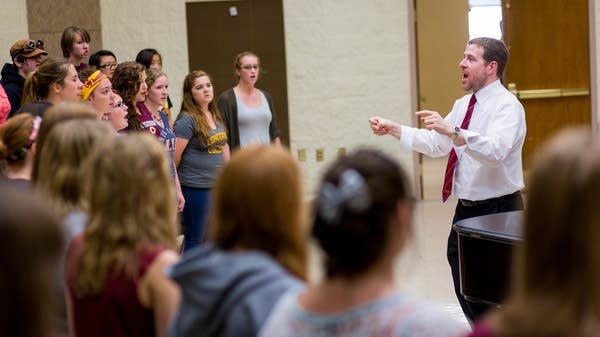 When he returned to Concordia eight years ago as associate director of choirs, he wasn't sure it was the ideal way of fulfilling his ambition to succeed Clausen.
"I did have a sense that I was actually lessening my chances," he says. "But I thought that maybe someday a door would open at Concordia or some place else."
That door opened in January, and since then Culloton has been bubbling with ideas about how the immense legacy of Clausen — "one of the world's greatest music makers," Culloton calls him — can be taken forward.
"One of my goals in these first days of rehearsal is to wake up the rhythmic integrity a bit, and pass on rhythmic responsibility to the singers," he says.
He also has specific ideas about how he wants each of the four voice-parts in the choir to develop.
"I want a very mature, robust bass presence, a nice bright, pingy tenor sound, altos like Mother Earth herself, and sopranos who are clear and resonant in every part of the range."
These stipulations are not just personal preferences, he emphasizes. They answer a need for the contemporary choir to be more versatile stylistically, as music from different countries and cultures is performed ever more widely.
That broadened awareness also will help Culloton's choir address the social justice issues currently roiling America.
"That's a major call to action for the choral world at present, and one that it is certainly capable of answering," he says.
All of which adds up to an exacting wish list for this year's cohort of Concordia Choir singers. Yet in a world where the number of flickering digital distractions seems infinite, Culloton has no doubt there is still an appetite for in-depth excellence among the younger generation.
"There are still students that care greatly about being a part of something that is excellent, whether it's an athletic team, music ensemble, or social club on campus," he says.
"Excellence still feeds young people. So when we're rehearsing five bars over and over in choir rehearsal, and then we get it, I'm not the only one in the room whose eyes light up."