Members of the African diaspora, in the United States and around the world, have contributed to classical music since there was a "classical music." Here are nine notable performances of black pieces of music to explore.
William Grant Still: 'Summerland'
The first classical composer whose name usually comes up every Black History Month is William Grant Still. As the first African-American to have a work performed by a major orchestra, his legacy is strong. He also was the first Black man to lead a major orchestra, and the first to have an opera produced in New York. Known as the "Dean of Afro-American Composers," Still's most famous composition is his 1930 Afro-American Symphony. There's so much more in his catalog, though, including this arrangement of a piano work he wrote in 1936, Summerland.
Astor Piazzolla: 'Libertango'
It's important to understand the ways in which the African diaspora has influenced all of the Americas. From the icy forests of northern Canada, to the tip of South America's Cape Horn, the black experience has influenced nearly all cultural music. The chamber ensemble, Imani Winds, gives a particular focus to Afro-Latin music in many of its recordings. This one, in particular, features music from Argentine composer Astor Piazzolla.
Joel Thomson: 'Seven Last Words of the Unarmed'
What is the role of classical music in a world mired in racial inequity and societal bigotry? Composer Joel Thompson answered that question with a work he wrote in 2016, recounting the final words of seven victims of police brutality. This performance was the finale to the 2017 Sphinx Connect Conference, a national convening of classical music professionals concerned with diversity in the field.
Florence Price and Langston Hughes: 'At the Feet o' Jesus'
If William Grant Still is the father of African-American classical music, Florence Price is without a doubt its mother. She fell into relative obscurity after her death in 1953, but orchestras around the world are slowly beginning to rediscover what she's done for classical music. This recording is an example of Price tipping her hat to the Afro-American tradition of spirituals.
Julius Eastman: 'Crazy N-----'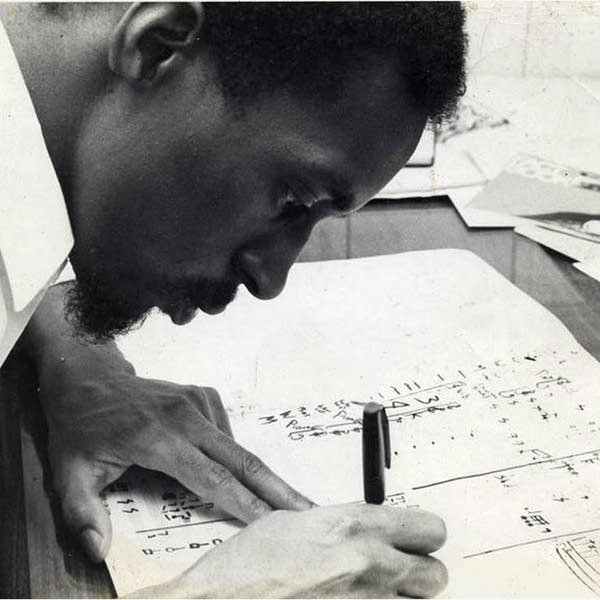 Some composers die with grand fanfare, while others leave this world almost unnoticed. New York-based composer Julius Eastman died in 1990 of cardiac arrest, following years of homelessness and drug abuse after his career began to slow down. These days, his most famous work is one with a highly controversial title — one he justified at the work's January 1980 premiere with the words:
What I mean [by the racial slur in the title] … is that thing which is fundamental, that person or thing that obtains a basicness, a fundamentalness, and eschews that thing which is superficial or, what can we say, elegant.

You can watch a video of the work, but note that the title does include the racial slur.
George Walker: 'Lyric for Strings'
The world lost trailblazing composer George Walker in 2018. He achieved many firsts in his 96 years, including being the first Black person to graduate from Philadelphia's Curtis Institute and the first Black person to win the Pulitzer Prize for Music, in 1996. His 1946 Lyric for Strings remains his most performed and most celebrated work.
Undine Smith Moore: 'Watch and Pray'
Undine Smith Moore was a self-described "teacher who composes, rather than a composer who teaches." She touched the lives of countless students at Virginia State University before she died in 1989; the catalog she left is a beautiful 20th-century look back at the spirituals that gave hope to so many.
Chevalier de Saint-Georges: Symphony Concertante in G
Widely known as "the Black Mozart," Joseph Bologne, Chevalier de Saint-Georges, was so much more. This famous fencer of the mid- to late 18th century led the French Revolution's first all-Black unit and wrote music that perfectly matched, and sometimes innovated, the styles and aesthetics familiar to music fans during his time.
James Weldon Johnson: 'Lift Ev'ry Voice'
There's no Black History Month without a shout-out to James Weldon Johnson. History celebrates him most for his leadership of the NAACP in the late 1910s, and his outside work included writing, practicing law, teaching and composing. In 1899, he wrote the poem "Lift Ev'ry Voice," which his brother set to music. Today, it's still celebrated as the Negro National Anthem.
Related links
Black History Spotlight: Great figures in classical music
Regional Spotlight: Choral classics by black composers
Florence Price: Revisiting the pioneering composer
Love the music?
Donate by phone
1-800-562-8440
Show your support by making a gift to YourClassical.
Each day, we're here for you with thoughtful streams that set the tone for your day – not to mention the stories and programs that inspire you to new discovery and help you explore the music you love.
YourClassical is available for free, because we are listener-supported public media. Take a moment to make your gift today.
Your Donation
$5/month
$10/month
$15/month
$20/month
We can help you find classical music you'll love
Take a 2 minute quiz to share your taste

We'll recommend YourClassical programming just for you

Discover the power and joy of classical music