Christmas With Cantus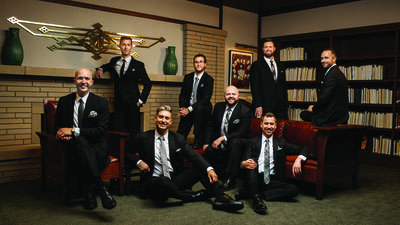 Christmas With Cantus is a beloved holiday tradition for Classical MPR listeners featuring the eight voices of the male vocal ensemble live in concert.
This year, there's a little twist: The men of Cantus have reimagined for our times the famous 100-year-old Festival of Nine Lessons and Carols from Cambridge, England. The program will be announced from the stage, so prepare for some surprises and a bit of holiday silliness. But one thing is always certain: breathtakingly beautiful singing from one of America's premiere male vocal ensembles.
Listen now to this holiday treat, hosted by Brian Newhouse.
Program
Part 1
Noel - arr. Brad Holmes
Alleluia, Into the Light - Cheryl Camm
River - Joni Mitchell
Feed the Birds - Sherman/Sherman
Gabriel's Message - John Rutter
Noel Nouvelet - Sofia Soderberg
Aguinaldo Carols - Saunder Choi
Mis on Inimene - Part Uusberg
O Magnum Mysterium - Brian Schmidt
Still, Still, Still - Trad. Austrian Carol
She Rises - Catherine Dalton
Part 2
We Toast the Days - Linda Kachelmeier
I'll Be Home for Christmas - Gannon/Kent
Fairytale of New York - The Pogues
Mensaje de Paz - Francisco Grau Vegara
I Wonder as I Wander - John Jacob Niles arr. Paul John Rudoi
Words of my Father - Cary John Franklin
Children Go - Joe and Eddie
Encore: Ave Maria - Franz Biebl