Christmas With Cantus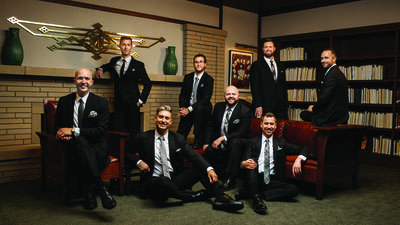 Christmas With Cantus is a beloved holiday tradition for Classical MPR listeners featuring the eight voices of the male vocal ensemble live in concert.
This year, there's a little twist: The men of Cantus have reimagined for our times the famous 100-year-old Festival of Nine Lessons and Carols from Cambridge, England. The program will be announced from the stage, so prepare for some surprises and a bit of holiday silliness. But one thing is always certain: breathtakingly beautiful singing from one of America's premiere male vocal ensembles.
Listen now to this holiday treat, hosted by Brian Newhouse.
Program
Part 1
Noel - arr. Brad Holmes
Alleluia, Into the Light - Cheryl Camm
River - Joni Mitchell
Feed the Birds - Sherman/Sherman
Gabriel's Message - John Rutter
Noel Nouvelet - Sofia Soderberg
Aguinaldo Carols - Saunder Choi
Mis on Inimene - Part Uusberg
O Magnum Mysterium - Brian Schmidt
Still, Still, Still - Trad. Austrian Carol
She Rises - Catherine Dalton
Part 2
We Toast the Days - Linda Kachelmeier
I'll Be Home for Christmas - Gannon/Kent
Fairytale of New York - The Pogues
Mensaje de Paz - Francisco Grau Vegara
I Wonder as I Wander - John Jacob Niles arr. Paul John Rudoi
Words of my Father - Cary John Franklin
Children Go - Joe and Eddie
Encore: Ave Maria - Franz Biebl
Before you go...
Thank you for choosing YourClassical as your go-to for your classical music. In addition to the variety of music streams we have, we're proud to offer features like the one you're reading right now. Help us continue to give you what you love by making a gift today, in support of YourClassical.