Hosted by Mindy Ratner, Candles Burning Brightly is a delightful hour for everyone to celebrate the Jewish Festival of Lights! There is lots of music from Jewish communities worldwide, a hilarious lesson on preparing a classic Hanukkah dish, and a timeless and touching holiday story that brings light into every home.
Playlist
Traditional Sephardic: La Fiesta de la Hanukia (Ladino) – Yale Strom's Broken Consort; Elizabeth Schwartz, vocals
Traditional: Blessing Melody – Andrea Stern, harp; recorded at Maud Moon Weyerhaeuser Studio at American Public Media, July 2014
Traditional (arr. Ellstein; choral arr. Jacobson, orch. Gelber): Candle Blessings (Hebrew) – Cantor Morton Shames, Aram Demirjian, vocals; New England Conservatory Chorus and Orchestra/Tamara Brooks, conductor
Shelley Olson: A Chanukah Cantata: Blessing – Rosemary Quinn-Milch, cello; Deborah Scholem, violin
Theodore Bikel reads "The Lost Menorah" by Howard Schwartz from Adam's Soul: The Collected Tales of Howard Schwartz (published 1992 by Jason Aronson; now out of print); used with the kind permission of the author
Scott Robinson: Great is the Miracle: Mi Ze Hidlik (excerpt) – Eaken Piano Trio
Judith Clurman and David Chase: Eight Days of Lights (Hebrew/English) – Essential Voices USA/Judith Clurman, conductor James Cunningham; piano
Chaim Parchi (arr. Jacobson): Aleh Neri (Hebrew) – Chaim Parchi, soloist; Zamir Chorale of Boston/Joshua Jacobson, conductor
Traditional (arr Clurman, Hochman, Stokes Mitchell): Songs of Freedom: Likhvod HaChanukah (English) – Ron Raines, soloist; Essential Voices USA Chorus and Ensemble/ Judith Clurman, conductor
Flory Jagoda: Ocho Candelikas (Ladino) – Rebecca Shrimpton and Marissa Steingold, vocals; New England Conservatory Jewish Music Ensemble/Hankus Netsky, conductor
(break)
Traditional (arr J Tyzik): Chanukah Suite: I Have a Little Dreidel (excerpt) – Rochester Philharmonic Orchestra/Jeff Tyzik, conductor
Traditional Sephardic: Azeremos una Merenda (Ladino) – Derek Burrows, vocals; Voice of the Turtle
Chasia Segal: Latke Cooking Demonstration
Judith Shatin: Nun, Gimel, Hei, Shin (Hebrew) – New London Children's Choir/Ronald Corp, conductor
Folk Song (arr M Helfman): S'vivon (Hebrew/English) – Western Wind Vocal Ensemble
Avrom Goldfaden (arr EZ Levine): Drey Zikh, Dreydele (Yiddish/English) – Western Wind Vocal Ensemble
Traditional (arr A Binder): Maoz Tzur (Hebrew) – Zamir Chorale of Boston/Joshua Jacobson, conductor
Italian chant: Maoz Tzur (Hebrew) – Zamir Chorale of Boston/Joshua Jacobson, conductor
Hugo Chaim Adler: Maoz Tzur (By the Waters) (Hebrew) – Zamir Chorale of Boston/Joshua Jacobson, conductor
Traditional/David Bouzaglo: Am Ne'Emanay (Hebrew) – Galeet Dardashti, vocals; Divahn
Traditional Sephardic: Psalm 30 (instrumental/excerpt) – Western Wind Ensemble
Menorahs/Chanukiot (Hebrew)
The candelabrum is a central object in the observance of Chanukah because the holiday is all about light! But what this item is called can be the source of friendly debate. It's common in the United States to refer to the candelabrum used at Chanukah as a menorah. Technically, it is... but a menorah can have any number of branches, while the menorah used at Chanukah – called a chanukia (plural: chanukiot) – has branches for eight candles, plus one for the shamash, the "helper" that is used to light the rest of the candles. The candles should never be extinguished, but should be allowed to burn down by themselves.
Mindy writes about a special menorah
Gallery
18 of 18
1 of 18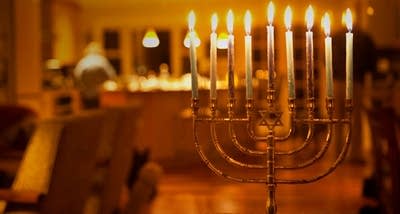 2 of 18
Dreidels
The dreidel is a four-sided spinning top used for a little low-level gambling game played at Hanukkah.
The sides of the dreidel show the Hebrew letters נ (nun), ℷ (gimel), ה (hei) and ש (shin), which stand for the words "nes gadol haya sham" — meaning, "A great miracle happened there."
So what's at stake? Pennies, or nuts-in-the-shell, or small pieces of chocolate.
See more on dreidels in the photos below.
Gallery
4 of 4
1 of 4
2 of 4
More music for Hanukkah
Enjoy these additional features and stories to enhance your experience of Candles Burning Brightly®.
Love the music?
Donate by phone
1-800-562-8440
Show your support by making a gift to YourClassical.
Each day, we're here for you with thoughtful streams that set the tone for your day – not to mention the stories and programs that inspire you to new discovery and help you explore the music you love.
YourClassical is available for free, because we are listener-supported public media. Take a moment to make your gift today.
Your Donation
$5/month
$10/month
$15/month
$20/month
We can help you find classical music you'll love
Take a 2 minute quiz to share your taste

We'll recommend YourClassical programming just for you

Discover the power and joy of classical music