YourClassical Children
Virtual Class Notes Concerts: The Dream Songs Project
Welcome to Virtual Class Notes Concerts!
Each year, Classical MPR reaches tens of thousands of students across Minnesota through the Class Notes Concerts program. Designed to engage and inspire elementary students through live musical performance, these concerts help cultivate active listening skills and allow students to experience the joy of classical music.
Due to current circumstances, we have adapted the concert content to provide a virtual Class Notes Concert. Today's Classical Kids Music Lesson will be a virtual Class Notes concert featuring The Dream Songs Project.
Target age range: Grades K-8
1. Meet The Dream Songs Project!
2. Do you remember some of the things that Joe and Alyssa need to do to play well together? See if you notice them do some of those things as they perform Platting, Roseville Township, by Christopher Gable.
Do you remember why the composer asked Joe to play percussively, or tap on his guitar? What were those sounds supposed to sound like? Write down your answer or tell someone.
3. Alyssa is a singer. Listen to her explain her voice type.
Follow-up questions for reflection, discussion, or journaling:
• What is Alyssa's voice type?
• What are two things Alyssa needs to do so she can sing well?
• Altos can use two different kinds of voices. Can you name both of them? (Hint: they refer to parts of the human body.)
• What did Alyssa do to get better at singing?
4. The next piece is "Drink Deep," from Songs of Cowboys and Hobos, by Daniel Nass. First, watch and listen.
At the beginning of the piece, Joe explained that the text of this song is about enjoying what you have today because you don't know what you will have tomorrow. Reflect, journal, or discuss your thoughts on this idea. What things do you enjoy today? How do you express your gratitude?
5. Joe plays guitar. In this video, he will talk a little about his instrument.
Follow-up questions for reflection, discussion, or journaling:
• How many strings do most guitars have?
• Can you explain how a guitar makes a sound?
• Joe demonstrated many different kinds of sounds that a guitar can make. Did you have a favorite?
6. The next piece is called Finch, Worm by composer Randy Bauer. Look at the pictures below, first an earthworm, then a finch. Can you write or say out loud a few descriptive words for each animal? How do you think the composer will make music to sound like each of these animals?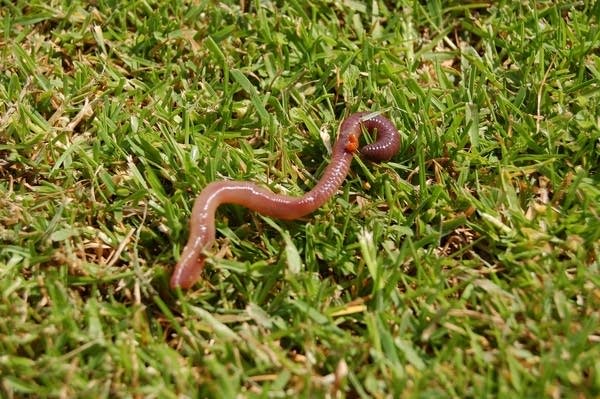 7. The last piece of music in this virtual Class Notes Concert is called "Bread," from by Daniel Nass. This song is about being hungry. The text lists a few foods that the singer wants to eat. As you listen, think about what foods you would sing about when you are really hungry.
8. Finally, Joe and Alyssa will review a few key ideas from their Class Notes Concert.
Learn More
• Find out more about The Dream Songs Project.
• Listen to more of the Minnesota composers you heard in this concert: Randy Bauer, Christopher Gable, and Daniel Nass.
Tell us what you learned!
Getting feedback from our audience helps make this program possible. Students, teachers, and parents, please take a minute to complete this short survey about this Virtual Class Notes Concerts.
Have a question or suggestion? Contact Katie Condon, music education specialist.