Major themes: Our top picks in classical music, from new American works to a groundbreaking podcast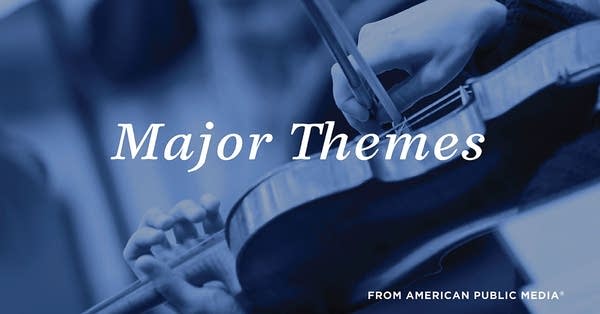 Welcome to Major Themes, a monthly feature in which classical music experts recommend a must-hear recording based on what's happening at classical stations and programs around the country. This month, we checked in with friends in New York, Ohio, Michigan and Minnesota. Here are their top picks for must-hear recordings.
American Rapture; Rochester Philharmonic Orchestra, conducted by Ward Stare; Yolanda Kondonassis, harp (Azica)
The excitement in Kodak Hall was palpable on that September night in 2018. The Rochester Philharmonic was recording the world premiere of Jennifer Higdon's Harp Concerto with Yolanda Kondonassis and RPO music director Ward Stare. By the end of the night, we knew we were in for a very special release. That CD, American Rapture, is now out, and, as it turns out, we were right. Higdon's concerto — at times funky and lyrical — is well matched by Barber's Symphony No. 1 and another world-premiere recording: the tone poem/overture Rapture, by Patrick Harlin. We couldn't be happier about it. In fact, you could say we're rapturous. — Julia Figueras, music director at WXXI's Classical 91.5 (Rochester, N.Y.)
LISTEN — Hidgon: Harp Concerto I. First Light

Leshnoff: Symphony No. 4 (Heichalos); Nashville Symphony, conducted by Giancarlo Guerrero; Jason Vieaux, guitar (Naxos)
Grammy-winning classical guitarist Jason Vieaux can frequently be heard on 90.9 WGUC. He recently was featured on a new release from Naxos that contains music by Jonathan Leshnoff, including his Guitar Concerto. The piece is splendid, taking some influence from the music of Joaquin Rodrigo, but also very much its own. The second movement, in particular, is a standout, featuring a stripped-down orchestra so that the soloist can really shine. Vieaux recorded the piece alongside Giancarlo Guerrero and the Nashville Symphony, and 90.9 featured it on a new weekday segment, New at Noon. WGUC also had the privilege of interviewing Vieaux for a special feature in its music blog, Clef Notes. — Jessica Lorey, classical music director at 90.9 WGUC (Cincinnati, Ohio)
LISTEN — Leshnoff: Guitar Concerto: II. Adagio (Live)

Decomposed: Episode 1 — "A Fallen, Abominable, Wicked Girl"; hosted by Jade Simmons
I'm experiencing a convergence of many opportunities touching on the 200th birthday of Clara Schumann in September. If you haven't yet listened to it, I recommend the episode of the podcast Decomposed devoted to the "fallen, abominable, wicked girl." It's all about Schumann and dives into many aspects of her life, including her decision to be a performer rather than a composer. Alongside that is the new 2019 album featuring pianist Isata Kanneh-Mason. Romance: The Piano Music of Clara Schumann is a great example of her work — starting off with her underappreciated Piano Concerto. — Brad Althoff, managing producer of national classical programs, American Public Media (St. Paul, Minn.)
▼ Decomposed: Episode 1
Jazz Nocturne: The Collected Piano Music of Dana Suesse; Sara Davis Buechner, piano (eOne)
These lazy, hazy summer days call for a bit of Jazz Age elegance on the radio … why yes, mix me another G&T, thank you, dear! What was I saying? Oh, yes. You know, a bit of Gershwin, Porter, Arlen, Cole … and Dana Suesse, of course. Sparkling, inventive, on trend — you know she was dubbed the "Girl Gershwin" by all the rags in the '30s, darling — I'm sure you can sing every note of her Jazz Nocturne, which was hugely fashionable, simply inescapable! But on a day like this, Afternoon of a Black Faun is the perfect tease, with its lazy stride — or Serenade to a Skyscraper, which really sets off her harmonic genius, dear. Do you know, she studied with Boulanger? I have a soft spot for Swamp-bird, — such an unattractive title! — but I follow that sweet creature from branch to branch every time I hear it. I'm afraid I can't bear Midnight in Gramercy Square in company; sadly, it makes me think of the sweetheart I lost. Never mind, I found you. Shall we dance? Miss Buechner is playing You're the Surest Cure for the Blues! So is Suesse, and don't you forget it, darling. — Cara Lieurance, producer and host of Let's Hear It, WMUK (Kalamazoo, Mich.)
LISTEN — Suesse: Afternoon Of A Black Faun

The Hope of Loving: Choral Works of Jake Runestad; Conspirare, conducted by Craig Hella Johnson (Delos)
This is the most highly anticipated choral album this year. Why? Conspirare, led by Craig Hella Johnson, is arguably America's finest mixed-voice choir. And no one is writing music that addresses our divisive and careless era like Jake Runestad. His choice of text, and his intricate and lush setting of it, reminds us, "There is nothing so wise, nor so beautiful, nor so strong as love." — Brian Newhouse, host and managing director of classical programming, Minnesota Public Radio (St. Paul, Minn.)
LISTEN — Runestad: The Hope of Loving

Before you go...
Thank you for choosing YourClassical as your go-to for your classical music. In addition to the variety of music streams we have, we're proud to offer features like the one you're reading right now. Help us continue to give you what you love by making a gift today, in support of YourClassical.