Major Themes: Our top picks in classical music, from 'The Messiah' to 'Christmas on Sugarloaf Mountain'
Welcome to Major Themes, a monthly feature in which classical music experts recommend a must-hear recording based on what's happening at classical stations and programs around the country. This month, we checked in with friends in Michigan, Minnesota, Ohio and Vermont. Here are their top picks for the holiday season.
Gabrieli Consort and Players: Messiah (DG Archiv)
Performances and sing-alongs of Handel's Messiah are part of the signature sound of the holidays in Vermont. From a small group of friends gathered around a piano, to full orchestra and gigantic choirs, folks from all walks of life find musical connection in Handel's masterwork. One of VPR Classical's annual traditions is the Messiah Watch, a listing of where and when people can find these musical convergences statewide. To complement, I'll often find myself turning to the Messiah performance from Paul McCreesh and the Gabrieli Consort and Players. It's tight, alive, energetic and thoughtful. I get my fill of Christmas music in general pretty quickly, but I never seem to get tired of this recording. Hallelujah! — Kari Anderson, program director, Vermont Public Radio (Colchester, Vt.)
LISTEN — Handel: Messiah - Hallelujah

---
Corrado Saglietti: Suite for Alto Trombone and String Quartet, featuring Joe Burnam (Gaydou)
I recently heard a performance of composer/horn player Corrado Saglietti's Suite for Alto Trombone and String Quartet. You will find the tango, lyrical and lighthearted music in this piece thoroughly enjoyable, and a spice you might want to consider for your library. You have your pick of several recordings, including the one featuring Joe Burnam, the trombonist who commissioned and first performed and recorded the work, in 1993. — Jack Perlstein, announcer and producer, WMUK (Kalamazoo, Mich.)
LISTEN — Saglietti: Suite for Alto Trombone and String Quartet - excerpts

---
Yo-Yo Ma: Six Evolutions (Sony)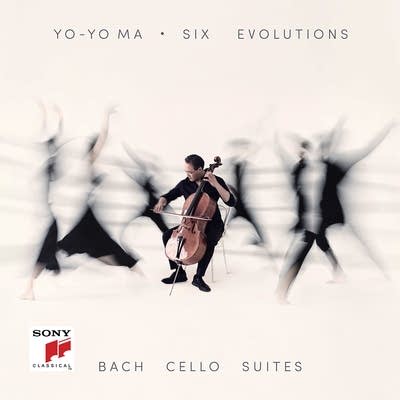 There aren't many classical artists who have recorded entire sets of works by a given composer twice. But how many can you think of who have made three recordings of a single composer's concertos, sonatas or suites during the course of their careers? In his new recording, Six Evolutions, Yo-Yo Ma returns to the complete Bach Cello Suites for the third time. He first recorded them in his 20s, and came back to them in his 40s for his acclaimed Inspired by Bach release. Now in his 60s, Ma revisits these pieces for unaccompanied cello that he says have been his "constant companions for six decades." All of the recordings of this peerless cellist playing these works are superior, of course; but to have such a remarkable record of one of the greatest musicians of the past 100 years playing them at three distinct periods in his life is a rare treat. — Steve Seel, host of Extra Eclectic, American Public Media
LISTEN — Bach: Cello Suite No. 1 - Prelude

---
George Szell: The Complete Columbia Album Collection (Sony)
"I set out to build an orchestra which would combine the best qualities of the fine European orchestras with the finest qualities of the American orchestras." — George Szell
Conductor George Szell built the Cleveland Orchestra into that and much more during his tenure from 1946 to 1970, and created a genuine legacy that the ensemble has sustained right up to Dec. 11, its 100th anniversary. Sony Classical celebrates with a 106-CD box set (!) of the complete recordings by the conductor who put Cleveland on the map, Szell. With all the original cover art in mini-LP jackets, and a cost slightly more than $1 per disc, this is an amazing value. Heck, it's worth the price of admission just to hear principal clarinet Robert Marcellus playing the Mozart Concerto, and the horn section in the Mozart Divertimento K. 131. Hours and hours of magnificence. — John Birge, host, Classical Minnesota Public Radio (St. Paul, Minn.)
LISTEN — Mozart: Clarinet Concerto - Adagio

---
Apollo's Fire and Jeannette Sorrell: Christmas on Sugarloaf Mountain (Avie)
Given the success of Apollo's Fire's 2015 release, Sugarloaf Mountain, which was a Top 5 Billboard classical crossover hit, it was almost inevitable that the ensemble would follow up with this release. But that inevitability doesn't make it any less fresh and compelling. For almost 70 minutes, Jeannette Sorrell leads Apollo's Fire, Apollo's Singers, Apollo's Musettes (children's chorus) and soloists in a well-crafted program that at times spins and rollicks (it's impossible to keep from tapping your toe), and at other times arrests the listener with its quiet beauty. Nowhere is this simple beauty more apparent than in "Christ Child's Lullaby," sung by soprano Amanda Powell. Stunning! And one can't help but be grateful that Sorrell decided to include the bonus track "The Parting Glass," a duet with Powell and tenor Ross Hauck. It seems a fitting way to close holiday celebrations. Goodnight, and joy be with you all. — Jenny Northern, station manager, WCLV 104.9 ideastream (Cleveland, Ohio)
LISTEN — Traditional: Christ Child's Lullaby

Before you go...
Thank you for choosing YourClassical as your go-to for your classical music. In addition to the variety of music streams we have, we're proud to offer features like the one you're reading right now. Help us continue to give you what you love by making a gift today, in support of YourClassical.