Major Themes: Our top picks in classical music for July, with a modern summer twist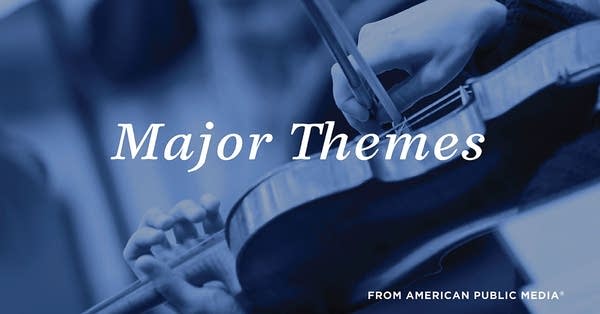 Welcome to Major Themes, a monthly feature in which classical music experts recommend a must-hear recording based on what's happening at classical stations and programs around the country. For July's installment, we checked in with friends in North Carolina, Ohio and New York, as well as the host of SymphonyCast. Here are their top picks, with a modern summer twist.
Third Coast Percussion: Paddle to the Sea (Cedille)
One of 2018's top classical releases thus far is Paddle to the Sea, from Third Coast Percussion. Cedille released the album in February from the Grammy-winning percussion ensemble. This dynamic quartet is one that those seeking a good "beat" must get to know. Its use of a wide array of pitched and nonpitched percussion and ability to seamlessly blend with one another is superb. Paddle to the Sea gets its name from the album's centerpiece, which is based on a 1941 children's book of the same name. The remainder of the album shares the water theme, containing music by others who have influenced the quartet over the years. 90.9 WGUC featured this disc in a recent fund drive. It adds something fresh to the daily playlist and is a great album to have on hand in the music library. — Jessica Lorey, classical music director, 90.9 WGUC (Cincinnati, Ohio)
LISTEN Third Coast Percussion: Open Water (from Paddle to the Sea)
Gil Morgenstern & Darrett Adkins: 20th Century Duos for Violin and Cello (ECR Music)
Every summer, WDAV showcases the many music festivals in the Carolinas with special programming. Beginning Memorial Day weekend with the Spoleto Festival USA in nearby Charleston, S.C., and including the Eastern Music Festival led by Gerard Schwarz in Greensboro, N.C., our region is treated to a succession of wonderful performance series, and WDAV has close relationships with several of them. Like Spoleto, An Appalachian Summer Festival (on the eastern end of the North Carolina mountains in Boone) features a broad range of genres, including theater, dance and visual art, in addition to classical music. One of the highlights is a chamber music series overseen by a specialist in cross-disciplinary collaborations, the New York City-based violinist Gil Morgenstern. Each year at the festival, he performs with the Broyhill Chamber Ensemble. The recording we've recommended of 20th-century violin and cello duets gives a good indication of the type of far-ranging programs the festival presents. — Frank Dominguez, general manager and content director, WDAV Classical Public Radio (Davidson, N.C.)
LISTEN Morgenstern & Adkins: Kodaly's Duo for Violin & Cello, Mvt. I
Anna Meredith: Varmints (Moshi Moshi)
On July 13, the new work Five Telegrams will have its premiere in London to open this year's BBC Proms, the largest and longest-running music festival in the world. I am so excited that SymphonyCast has been the U.S. broadcast conduit for as many years as I have been a host, bringing stateside each summer a dozen highlights. This year marks the 100th anniversary of the end of World War I. In a push to bring more women's voices into the mix — and to stay relevant in a time when the genre "classical" is beginning to get blurry — the smart folks at Proms Planning Central invited celebrated British composer Anna Meredith to create a new work for the occasion. She used the forces at hand as her medium — orchestra and chorus — for a piece based on letters home from young soldiers in the trenches. But to really bring things into the 21st century, she's teamed up with the Tony-winning designers at 59 Productions for a multimedia spectacular directly on the facade of Royal Albert Hall. You'll have to wait to hear the new piece when we broadcast on July 23, but in the meantime check out her mesmerizing debut album, Varmints. As critics at the Wire write, "Hearing a leading young classical composer, regardless of gender, leap ahead of the pack to make electronic pop that's both accessible and out there is something very special." — Alison Young, host, SymphonyCast
LISTEN Anna Meredith: Last Rose
Bela Fleck: The Impostor (Mercury)
From Tanglewood to Ojai, summer is a time of great music festivals, drawing musicians and vacationers from across the nation to make and enjoy music together in regional theaters and open-air venues. Western New York is home to some great summer music festivals, including the Glimmerglass Opera, Chautauqua, Finger Lakes Chamber, Canandaigua Lake Chamber, MostArts and the Xerox Rochester International Jazz Festival, which draws more than 200,000 people over nine days. One group headlining this year's XRIJF was Bela Fleck and the Flecktones, with bandleader/banjoist/composer Fleck putting together a sound that brings together classical, jazz, bluegrass, African music and Eastern European folk into a sound all their own. In 2010, composer Fleck was commissioned by the Nashville Symphony to write his first concerto for banjo, which he described as "one of the biggest challenges of my life." It took him six months to complete the piece, which he titled The Impostor, and he premiered it with the orchestra in September 2011. Also on this CD is Night Flight Over Water, which he wrote for Brooklyn Rider. — Ruth Phinney, program director, WXXI Classical 91.5 (Rochester, N.Y.)
LISTEN Bela Fleck: The Impostor
Before you go...
Thank you for choosing YourClassical as your go-to for your classical music. In addition to the variety of music streams we have, we're proud to offer features like the one you're reading right now. Help us continue to give you what you love by making a gift today, in support of YourClassical.