00:00
0
Sinfonia in A minor BWV 799
00:00
0
Biber sonata representativa
Imitation is everywhere: nature, art, fashion, music. It's how human beings learn as they grow up; it can be a form of homage or flattery; it can be a way to really emphasise a point. Music from the Baroque Period (1600-1750) employed imitation as a tool for expression illustrated by Belladonna Baroque Quartet in their program, The Art of Imitation.
Imitation in music could be one instrument copying another instrument exactly: same melodic line, same articulation and style, same character. However the imitation doesn't have to be exactly the same, rather like how two sisters can look enough alike that you can tell that they are related, but they aren't identical (Margaret, violin, and Rebecca Humphrey, cello, are sisters who look similar so it's easy to use them to illustrate this point visually during the program). The instruments in these pieces are always speaking to each other through imitation. Sometimes the imitation is polite — an instrument waits for the first instrument to finish their idea before they start their imitation. But sometimes the imitation is rude, and the instruments interrupt each other in their rush to imitate. This kind of imitation is called a canon.
Belladonna demonstrated three different ways that composers from the Baroque Period used composition to imitate something from real life. 350-400 years ago, people were less distracted by all the noise of technology that we have today and it was easier for them to be in touch with nature. Austrian composer Heinrich Biber wrote the sonata called "Animal" in which he incorporated animal sounds using effects with the violin bow. If you listen to the audio see if you can hear a frog, a hen, a cat, and a rooster. Belladonna brought recordings of these animals making their distinctive noises to play for the students for comparison sake.
A composer can also imitate human feelings using music. For instance, there are several tricks that a composer can use to show the difference between happy and sad. A happy-sounding piece is usually in a major key, it might be faster and have shorter notes, giving the piece a lighter mood. A sad-sounding piece is often in a minor key, perhaps slower, and if played on a string instrument the notes might be longer and legato, requiring longer bows, giving the piece a darker mood. Belladonna demonstrated this comparison by juxtaposing "When I am Laid in Earth" a melancholy, minor-key aria from Henry Purcell's Dido and Aeneas with a lively, major-key dance arranged by harpsichordist Barbara Weiss, based on the same aria melody. The two melodies one right after another had wildly different moods. Consonance and dissonance also play a part bringing out emotion in the music. Unison pitches or intervals that sound well together like thirds or fifths give the music a consonant sound, whereas intervals that rub up against each other, like seconds, give the music a dissonant sound. Dissonance was a characteristic often used by composers to communicate pain through the music.
Imitation in music can be used to describe events in human life. Renaissance composer William Byrd wrote The Battell chronicling soldiers experience on the battlefield. Listening to the four instruments — particularly the harpsichord — one can hear the steady drums keeping the marching beat, trumpet calls giving orders to the solders (Go left! Advance twice as fast! Be brave!), and cannons firing. In the last movement the soldiers are ordered to retreat; at first they march away in an orderly fashion, but as the piece continues you can hear them start to run faster in chaos as they hasten back to their homes. It's a proper story in three short movements and if you know what to listen for you can follow every element of the battle.
The instruments used by the Belladonna Baroque Quartet to teach the art of imitation are a special treat for the students. Whilst their violin and cello are of the Baroque style, they don't look much different from their modern counterparts, aside from the fact that the bows are a slightly different shape and the cello has no endpin (but is held between the knees of the cellist). The sound of Baroque stringed instruments is indeed distinct from the modern, due to gut rather than steel strings. However, particular attention is due more to the recorders and the harpsichord because they are something relatively new and fascinating to the average elementary student. It's not strictly true that the recorder is unknown. Plastic soprano or alto recorders are actually fairly prevalent in an elementary music classroom, and so most students are already familiar with them. But it comes as a surprise to them when Cléa Galhano shows off six beautiful wooden recorders from the big bass to the baby sopranino and teeny little garklein (German for "quite small") or sopranissimo (there are actually eleven sizes, but Galhano only brought six for this presentation). The garklein is so small that it is usually made in one piece and is incredibly piercing, though in a rather sweet way.
The special star of the show, however, is the harpsichord. An ancestor to the piano, it's probably a safe bet that the 99.9% of the students sitting in these concerts have never seen a harpsichord before and most never will again. The strings inside the harpsichord are plucked instead of hammered when a key is pressed, giving it an entirely different sound from the piano. Moreover, a harpsichord cannot accomplish dynamics in the same way as a piano. A pianist can use varying degrees of pressure on the keys and the pedals to manipulate loud and soft. A harpsichord has no pedals and no matter how light or hard a harpsichordist presses down on the keys the dynamics do not change. Instead, a harpsichordist uses more or fewer notes in a chord to achieve dynamic differences. If they want a really loud chord for instance, they would use a lot of notes and hold the chord down, perhaps arpeggiating the notes frequently to make the sound last longer. If they wanted the chord to be soft, they would use very few notes, playing them short, not drawing attention with any special effects.
Not only does the harpsichord have a unique 400 year-old sound, it's also very aesthetically pleasing. If you lift the lid and look inside this particular instrument (made in 1974 by Keith Hill), you would see beautiful, colourful paintings of curlicues, flowers, fruit, a parrot, and three, seemingly random, shrimp (see photo in the feature slideshow). Many harpsichords are decorated on the inside, often with an astounding level of detail — floral patterns and curlicues are popular — making them something lovely to look at as well as hear.
Imitation comes in so many different forms and fashions in music, as well as in life. It's a form of self-expression, a way to communicate, a method for education. It's used in music to show feelings and tell a story — whether it's soldiers on a battlefield or a mother rocking her baby to sleep with a lullaby. Each instrument can exactly imitate each other or the composer can chose to vary the imitation. However it's executed, imitation is definitely a useful tool to bring depth and character to a piece of music.
Audio
Tarquinio Merula: La Lusignuola (The Nightingale)
Alessandro Stradella: Sinfonia No. 22 in D minor
J.S. Bach: Sinfonia in A minor, BWV 799
Georg Telemann: Canonic Sonata excerpt
Heinrich Ignaz Franz Biber: Sonata violino solo representativa
J.S. Bach: Violin Sonata III, BWV 1005 — I. Adagio
William Byrd: The Battell
Schools
Groveland Park Elementary — Saint Paul, Minn.
Battle Creek Elementary — Saint Paul, Minn.
Eastview Elementary — Lakeville, Minn.
Susan Lindgren Elementary — Saint Louis Park
About the Classical MPR Class Notes Artists program
Now in its sixth year, the Class Notes Artists program at Classical MPR brings performers to elementary schools throughout the state of Minnesota to give educational concerts. Each performance includes a presentation about the Artists' respective instruments, as well as the style, technique, history, and traditions related to the music that they perform.
The Artists are selected for the quality of their musicianship, and for their interest in promoting music education. Over the next few months, the following Artists will collectively travel to 60 schools in four different geographical hubs.
Belladonna Baroque Quartet — Twin Cities
Excelsior! Trio — Northwestern Minnesota
L'unica Trio — Saint Cloud area
Lyz Jaakola — Twin Cities
Mill City String Quartet — Southwestern Minnesota
The Mirandola Ensemble — Twin Cities
Minnesota Percussion Trio — Twin Cities
Summit Hill Brass Quintet — Twin Cities
These performances are supported by Minnesota music education standards-based curriculum designed by Classical MPR's Curriculum Specialist. These lessons and activities are given to music teachers in advance of each Artist's visit, and are to be used as learning materials for before and/or after each performance.
Students at participating schools will also receive an MPR-produced compilation CD featuring the year's Artists, allowing students to experience a wide range of different musical styles and ensembles. The 2014-15 album, Bach, Birds, and Blues, is also available to stream online.
Classical MPR's goal for the Class Notes Artist program is to create authentic and transformative experiences for young pupils that will inspire their creative pursuits, and be a meaningful addition to what they are already learning from their music teachers.
Gallery
13 of 13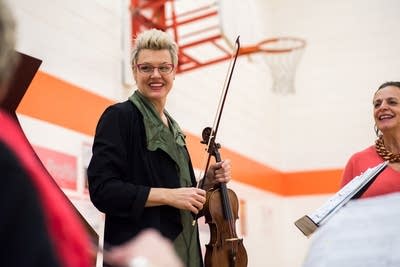 1 of 13
2 of 13
Love the music?
Donate by phone
1-800-562-8440
Show your support by making a gift to YourClassical.
Each day, we're here for you with thoughtful streams that set the tone for your day – not to mention the stories and programs that inspire you to new discovery and help you explore the music you love.
YourClassical is available for free, because we are listener-supported public media. Take a moment to make your gift today.
Your Donation
$5/month
$10/month
$15/month
$20/month
We can help you find classical music you'll love
Take a 2 minute quiz to share your taste

We'll recommend YourClassical programming just for you

Discover the power and joy of classical music