Meet Class Notes Artist: L'unica Trio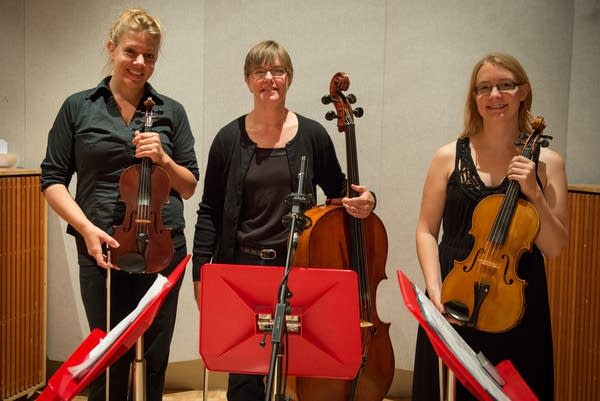 ---
Sinfonia in G minor BWV 797
3:06
---
"Raise your hand if you hear classical music every day," L'unica Trio asks every student audience at the beginning of their concert. Most of the children raise their hands, but really as L'unica goes on to prove, it should be every single one of them. Using a "reverse timeline," L'unica spends the first part of their performance revealing famous classical music samples from history that could easily be recognized by the general public outside of the concert hall, due to their use in movies, cartoons, adverts, and life events. Starting with the "Star Wars" theme and ending with Pachebel's Canon, (and touching in between on Copland's "Hoe-down," Tchaikovsky's "Sleeping Beauty Waltz," and Rossini's "William Tell Overture") the students get more and more excited as they find out how old these pieces that they know really are.
Once they've established that classical music really isn't as unknown as you think it might be — in fact, even pieces that are centuries old are familiar to most people — L'unica moves on to play some full pieces. A Bach 3-part invention that has been arranged for violin, viola and cello is first on the bill. Bach wrote his 2-part inventions and 3-part inventions (more accurately known as sinfonias) for his keyboard students to learn how to play cleanly and correctly 2 or 3 parts at a time, whilst achieving a cantabile style. These inventions translate nicely to a trio though, with each instrument on an individual part. The best way to think of it is like a conversation, but with all the instruments speaking at once. However most of the time the discourse is harmonious, rather than an argumentative as the instruments pass the main theme amongst themselves. You can hear this rendition by clicking the link at the top of the feature.
If the lesson of "classical music is all around us" is a big number one from the L'unica Trio, using music as a vehicle to convey emotion is big lesson number two. Composers have all sorts of elements that they employ to communicate emotion — dynamics, articulation, tempo markings — and it is the performer's job to interpret those whilst adding their own energy and effects unique their instrument. The Trio gave an excellent demonstration of just how this works using traditional gypsy dance piece called a "Czardas." Romantic, swaggering, mournful all rolled into one, it's the perfect kind of piece to show how big vibrato, glissando and rubato techniques convey the intensity of the emotion behind the notes — all at the solo violinist's discretion. The accompanying viola and cello support her by listening as she plays and copying her emotion and intensity.
The rest of the program has the students listening for something different each with piece. A Trio written specifically for violin, viola and cello by Beethoven is a lesson in wide dynamic ranges and the use of accents. A Tango by Leroy Anderson, demonstrates the traditional tango rhythm in the cello line whilst the violin and viola take the melody. The Trio like to close with a pop song arranged for string trio showing the pop music can be played on string instruments. The song "Stand By Me," originally composed in 1960 and released in 1961, was based on a spiritual "Lord, Stand by Me" and has been recorded by different artists over 400 times.
It definitely came as a revelation to some of the students that they knew as many pieces of classical music as they did. It was obvious by the commentary the snippets that they'd heard in advertising or in a Disney movie or a wedding were certainly older than they'd ever imagined. They learned that classical music is very versatile and when played with the right emotion and an energetic interpretation of the composer's notation it can be enjoyed both inside and outside the concert hall.
Audio
J.S. Bach: Sinfonia in G minor, BWV 797
Ludwig van Beethoven: String Trio in E-flat Major, Op.3 — I. Allegro con brio
Schools
Clearview Elementary — Clear Lake, Minn.
Lincoln Elementary — Saint Cloud, Minn.
Foley Elementary — Foley, Minn.
Mississippi Heights Elementary — Sauk Rapids, Minn.
Kennedy Community School — St. Joseph, Minn.
Talahi Community School — Saint Cloud, Minn.
Oak Hill Elementary — Saint Cloud, Minn.
About the Class Notes Artist program
Now in its sixth year, the Class Notes Artists program at Classical MPR brings performers to elementary schools throughout the state of Minnesota to give educational concerts. Each performance includes a presentation about the Artists' respective instruments, as well as the style, technique, history, and traditions related to the music that they perform.
The Artists are selected for the quality of their musicianship, and for their interest in promoting music education. Over the next few months, the following Artists will collectively travel to 60 schools in four different geographical hubs.
Belladonna Baroque Quartet — Twin Cities
Excelsior! Trio — Northwestern Minnesota
L'unica Trio — Saint Cloud area
Lyz Jaakola — Twin Cities
Mill City String Quartet — Southwestern Minnesota
The Mirandola Ensemble — Twin Cities
Minnesota Percussion Trio — Twin Cities
Summit Hill Brass Quintet — Twin Cities
These performances are supported by Minnesota music education standards-based curriculum designed by Classical MPR's Curriculum Specialist. These lessons and activities are given to music teachers in advance of each Artist's visit, and are to be used as learning materials for before and/or after each performance.
Students at participating schools will also receive an MPR-produced compilation CD featuring the year's Artists, allowing students to experience a wide range of different musical styles and ensembles. The 2014-15 album, Bach, Birds, and Blues, is also available to stream online.
Classical MPR's goal for the Class Notes Artist program is to create authentic and transformative experiences for young pupils that will inspire their creative pursuits, and be a meaningful addition to what they are already learning from their music teachers.
Gallery
1 of 1