Top Score
Daniel Licht's Music for "Dishonored"
---
---
Set in a Charles Dickens-like London, Dishonored tells a dark story of a plague-ridden, corrupt city and a man named Corvo. "Steampunk" mixes sci-fi with the industrial, steam-powered age, so naturally, Corvo has special powers.
Composer Daniel Licht wrote music to set the stage for the ominous tale, using traditional instruments in unique ways. You'll hear violin, but you'll also hear a lot of harmonics from that violin. Licht also enjoys recording instruments like vibraphone or xylophone, but using a bow (like a violin bow) to produce sounds from them rather than the traditional mallets.
Daniel is no stranger to scoring dark stories, as evidenced by his years of work on Showtime's series Dexter. And his two previous game scores belong to the popular horror series Silent Hill, scoring both Book of Memories and the Downpour iterations of the franchise.
Dishonored was a treat; I felt that the steampunk concept, the artwork, characters, story and the music all complemented each other well.
You can hear Daniel talk about scoring the Dishonored environment on the newest episode of Top Score from Classical MPR, also on iTunes.
Gallery
5 of 5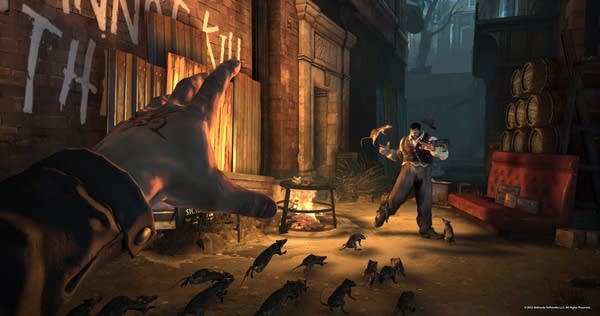 1 of 5
2 of 5