University of Minnesota students launch new music ensemble
When is the last time you listened to a new or contemporary music ensemble? The answer might vary depending where you live, with most new music ensembles based in major cities across the world. But an even more difficult question might be, when was the last time you listened to a student-led new music ensemble?
Although music institutions and departments are constantly adapting their course offerings to satisfy the needs of their students, there are often gaps to fill in this area. The University of Minnesota was no exception to this, until a group of students decided to take matters into their own hands.
The Contemporary Music Ensemble is a student-led ensemble project that was founded in 2022 at the University of Minnesota.
"Historically, the University of Minnesota School of Music has had ensemble activities specifically focusing on new music," say founders Koki Sato and Nate Krebs. "The CME aims to fulfill current and urgent student needs for such activities by providing the opportunity to learn and perform contemporary art music from the 20th and 21st centuries."
Sato, a third-year doctoral piano student, says the ensemble has been a dream of his since the beginning of his degree. Unfortunately, his plans were pushed back due to the pandemic, but that didn't stop him from reaching out to other students once in-person ensemble rehearsals returned to the university.
The ensemble aims to program music that is curated toward the students' performance interests while incorporating new works written by living composers, including composition majors at the university, and established canon works from composers in the United States and beyond. This process is done while maintaining a focus on diversity, as the ensemble "values a holistic and inclusive approach to its programming."
The ensemble, made up of more than 14 students who participate as performers, composers and administrators, had its first concert on Dec. 13, 2022. We spoke to Sato and Krebs, a first-year doctoral music composition student, to learn more about the ensemble and program.
What inspired you to establish the new music ensemble?
Sato: "Since the early stages of my music education, I have been fascinated by contemporary music and its potential in expanding the boundaries of classical music. When I found out that there were few new music activities (at least for performers) at the School of Music, I felt compelled to start an ensemble to fill the gap. My professional development over the course of my doctoral studies, such as my participation in the Klangspuren International Modern Academy, definitely inspired me to further pursue the idea of starting an ensemble."
Krebs: "While Koki did most of the work initially organizing the group around those ideas, I think a good portion of our performers share the sentiment. A core part of a performer's life in the 21st century often revolves around the performance and support of new and contemporary music. It's almost a necessity for many of us, just as much as it is a fun and creative outlet."
How did you go about recruiting students and what was their initial reaction to the ensemble?
Sato: "We sent out an initial call for members via the School of Music's mailing list, and we were pleasantly surprised by the number of responses we received. This made us certain that there was interest and enthusiasm for new music activities. Then we also reached out to individuals to fulfill our programming needs during the semester. Additionally, I am personally thankful and indebted to Nate and Louis Vajda (first year Master's wind conducting student), who offered to volunteer as administrators from the early stages of the ensemble's development."
Krebs: "For future semesters, we are already working on building up our roster, starting with current participants and expanding further into the existing student body at UMN. We're hoping that after our concert more students will be aware of the ensemble's existence and maybe become interested in joining it."
What are you hoping students will take away from participating in this ensemble?
Sato: "That there is a vast body of repertoire waiting to be performed! To me, there is not much difference in performing the repertoire from the common-practice period (the three centuries between roughly 1600 and 1910) and the 20th and 21st century. In fact, I like to play both, even though my friends sometimes tease me saying that I only play music that goes 'beep' and 'boop.' In reality, they are not disconnected from each other in the history of classical music. I think that as a performer, exploring the new music field is just as important, if not more important, as learning the traditional canon pieces we all study in school, in order to keep classical music alive for future generations to come."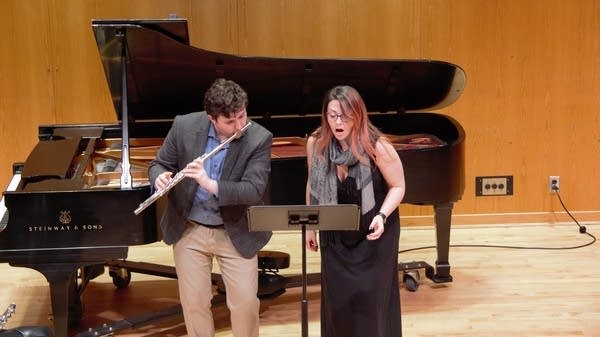 Can you talk about the program featured in your concert and how you selected the pieces?
Sato: "When we started programming for our inaugural concert, we at least had one piece, George Crumb's Vox Balaenae, that we knew we were going to use, as there was already a group formed to perform the piece. Inspired by a marine recording of whales, the piece employs a number of extended techniques to invoke the greatness of nature, from 'The Beginning of Time' to 'The End of Time,' as the first and last movements are respectively titled. Beyond its timbral exploration, the music reminds me of how integral the act of sound-making itself is to the music-making process. It's a reminder of the joy that making sound gives me as a pianist. Thinking of the times when we often couldn't make music during the height of the pandemic, which actually coincided with my idea to establish the ensemble, we started to put together a program of works that involve sound-making as part of their compositional components. Sound-making can be about physical sensation, emotional storytelling, intellectual pursuit, or even in some cases, political inspiration."
Krebs: "We also programmed a couple of relatively new pieces of repertoire. Our flute and soprano duo, Evan Fraser and Elena Stabile, respectively, were already working on a piece by American composer Kate Soper called Only the Words Themselves Mean What They Say. We offered to program the first movement of their piece as they continue to prepare for a full performance of the work. We also came across a piano, saxophone and electronic piece by Chilean composer Nicolás Kliwadenko. We picked this piece to accommodate two performers in the group, Will Gannon (piano) and Charlie Gannon (sax). We had some trouble at first finding a published copy, but Nicolás graciously provided us with the music and fixed media once he learned we planned on premiering it in the United States!"
What does this project mean to you personally?
Sato: "Quite literally, this project encapsulates everything I love about music, from selecting repertoire to learning exciting music, to collaborating with other people. It makes me incredibly happy that I get to be involved."
Krebs: "As a composer, I personally find it important to always look for new and emerging artists and works that should be heard by an audience. On one hand, it encourages the ongoing evolution and dissemination of new music, but it also allows us to support those living artists even as students. We alone won't be able to accomplish this overarching task, but we can at least serve as a model for it here at university."
As university students who will one day graduate and move on from this experience, what are your hopes and dreams for the ensemble moving forward?
Sato: "My hope is for the ensemble to be part of the curriculum at the School of Music. For instance, it could become one of its ensemble activities. I also hope that the ensemble will grow to serve the broader new music community beyond the School of Music, especially within the Twin Cities area. I am excited to see where it goes!"
---
Find out more about music featured in the New Music Ensemble's concert through the New Music Ensemble - Program Notes.