Raised in St. Paul, Grammy-nominated violinist/composer and educator Ariana Kim returned to the Twin Cities to debut PLUCKED, a project that explores the Asian diasporic experience through music and performance art by shining light on the Asian American Pacific Islander (AAPI) community of Minnesota and the United States.
The expansive program celebrated Asian-Minnesota artists and works, featuring Ariana Kim (violin and gayageum), Young-Nam Kim (violin), Tami Morse (harpsichord), Piyawat Louilarpprasert (video and electronics), Anna Hashizume (narrator), and Tim Lovelace (piano).
We spoke to Ariana prior to the performance about her experiences growing up AAPI in Minnesota and how PLUCKED came to be.
---
What was it like growing up AAPI in Minnesota?
Growing up AAPI in Minnesota was a beautiful and complex experience, one that was perhaps even more nuanced being mixed race.  My father immigrated to the United States from Korea before I was born, and my mother is a blonde-and-blue-eyed Ohioan.  In one sense I felt very Korean, taught to be proud and attached to the Korea that my father brought with him, and in another, I felt white, being raised in the beautiful Highland Park neighborhood of St. Paul. 
There were moments, of course, when my mother was asked from what country I was adopted, or when classmates teased me for eating dwenjangchigae (fermented bean paste stew) for lunch at school — to which I always replied "You should try some — it's the best!" — and others where I didn't feel quite like I fit in with the Korean community or other Asian kids who were first-gen on both sides of their families either. 
As time passed and I got older, I came to embrace both sides of my "halfie" self, acknowledging the complexities that go along with such an identity, though it is an ever-evolving journey.  After having spent most of my life in the U.S., I feel so fortunate to have had the time to live in the ROK for an extended period last year, soaking up as much Korean life as I could, leaning into the motherland in ways that I only knew about through family stories and short visits during my younger years.
What was the inspiration behind Plucked?
The inspiration behind Plucked came first from my deep dive into the study of the gayageum — a Korean zither-style instrument that's played by plucking the long silk strings with your right fingers — during my sabbatical in Seoul.  As I thought more about the verb itself, I was met with the image of immigrants themselves being 'plucked' from their homelands — either by choice or otherwise — and wanted to explore the Asian diasporic experience through music. I found myself asking:
What must it have been like for my father, at the age of 17, to leave everything he knew to board a plane all by himself with a one-way ticket to the United States?
What horror must it have felt like to be an American citizen of Japanese descent, being interned by a government they had chosen to trust?
How does one balance a pride, love and longing for their homeland while embracing an entirely new place and way of life?
For me, words cannot suffice to answer these questions, so I turned to my other mother tongue: music. This evening's program showcases music written by, inspired by or in honor of the AAPI community, particularly the Minnesota AAPI community.  It is often the performing arts that can communicate the most profound experiences and feelings in life; when words fall short, lawmakers refuse to act, actionable efforts are only human and our emotional cups are overflowing, music, poetry, visual art and artistic collaboration can transcend.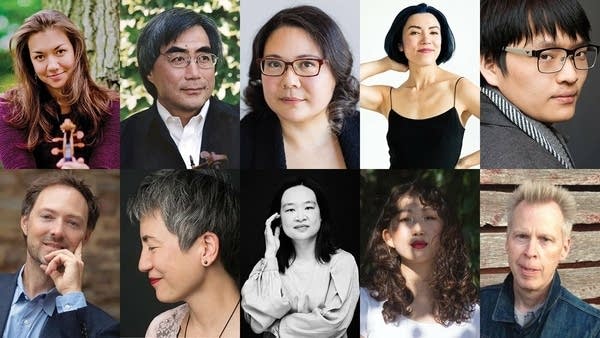 How did you come to collaborate with the artists of Plucked?
The other artists that I will perform with tonight are friends and colleagues — many that I've known for years, and one that I've met just this week — who were curious to embark on this project together.  Composers Tonia Ko, a Hong Kong-American and Piyawat Louilarpprasert of Thailand, are from my life at Cornell, both having completed their doctorates in recent years; Tim Lovelace, a longtime collaborative partner of mine, will join me on piano to present the Minnesota premiere of Soomin Kim's The Fairy and the Woodcutter, a reimagining of an old Korean folk tale through music. 
Tami Morse and Anna Hashizume are fellow Minnesota "halfies," coming from Japanese-American backgrounds who are brilliant artists bolstering the vibrant arts scene in the Twin Cities, and Steve Heitzeg — a beloved composer-activist based in St. Paul — has written a beautiful piece honoring the victims of the bombings in Hiroshima and Nagasaki during WWII; his piece features stones collected from the bomb sites in Hiroshima that will be played by Piyawat.  And last but certainly not least, my dad — Young-Nam Kim of the Chamber Music Society of Minnesota and the U of M — will join me in a performance of a piece that I wrote for the two of us, Apba Hagoo, Nah Hagoo.
What does Plucked mean to you personally?
The program has grown and evolved to be a set of vignettes, each one exploring a unique sound world whether through electronic manipulation, uncommon instrument pairings or storytelling through a musical lens.  Personally, this program has asked me to think mindfully about the curatorial process, starting from a small, kernel concept or sound, and finding ways to blossom meaningfully outward.  It is a rather demanding set of repertoire, not only switching between acoustic and amplified/live sampled violin playing, but switching instruments and genres throughout the night.  I look forward to doing my best to share the inspiration with the audience, and being ever present in the performance of each piece.
What do you the hope the audience will take away from this project?
I hope the audience takes with them the memory of a geographical, spiritual and sonic journey.  I imagine many of the pieces will be brand new or new-adjacent to most of the attendees, and I hope to bring them into the transcendent world we experience as performing artists and composers — hopefully with a new or renewed curiosity about the unique nature to which something we are all connected in some way or another: the Asian diasporic experience.
---
For more information, visit the official Liquid Music website or purchase tickets here. You can also follow Ariana Kim on her official website or her YouTube channel.
Love the music?
Donate by phone
1-800-562-8440
Show your support by making a gift to YourClassical.
Each day, we're here for you with thoughtful streams that set the tone for your day – not to mention the stories and programs that inspire you to new discovery and help you explore the music you love.
YourClassical is available for free, because we are listener-supported public media. Take a moment to make your gift today.
Your Donation
$5/month
$10/month
$15/month
$20/month
We can help you find classical music you'll love
Take a 2 minute quiz to share your taste

We'll recommend YourClassical programming just for you

Discover the power and joy of classical music