Listen: 'Proud to Be' celebrates the LGBTQIA community in classical music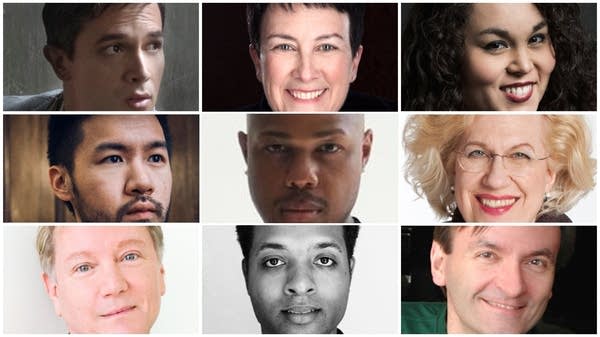 Pride Month is a wonderful time to celebrate our unique identities and to reflect on how pride and authenticity show up in our lives. This year, we asked classical musicians in the LGBTQIA community about their thoughts on Pride. The answers we got were incredibly diverse and thought-provoking. For some, pride means dignity, the opposite of shame; for others, it means surviving despite the odds.  All the artists we spoke to said authenticity and identity directly connected to their musicmaking. Explore this special series, Proud to Be, and help us celebrate the lives and accomplishments of LGBTQIA artists in classical music. 
Emmanuel Ceysson (he/him/his), harpist
French harpist Emmanuel Ceysson holds the post of principal harp of the Los Angeles Philharmonic and tours as an international soloist and recitalist. He was previously principal harp of the Metropolitan Opera Orchestra and the Paris Opera. He also teaches harp at the Mannes School of Music and is a visiting professor at the Helsinki Sibelius Academy. In his performances, he challenges the cliches often associated with the harp and pushes his instrument into thrilling new territory. "I consider myself as a human being with a lot of facets to myself," he says. "Of course, there is the gay man, but there is also the musician. … And so I express different parts of my life experience through music."
---
Jennifer Higdon (she/her/hers), composer
Pulitzer Prize- and three-time Grammy-winner Jennifer Higdon is one of America's most frequently performed living composers. This year alone, she will have world premieres of 11 works. In May, she was inducted into the American Academy of Arts and Letters, the highest recognition of artistic merit in the United States. She publishes all her music under her own publishing imprint, Lawdon Press, which she runs with Cheryl Lawson, her spouse of 41 years. She describes her relationship with Lawson as "absolutely everything." She also stresses how valuable it is to live as as an out lesbian: "For people who are younger who are not so sure about how visible they can be, I think it's important for all of us who are out … to show that, yes, it can be a safe way to live, but also it's important to be able to be yourself."
---
Mari Esabel Valverde (she/her/hers), composer/singer
Mari Esabel Valverde is a transgender Mexican-American composer and singer who lives in Texas. She has been commissioned by organizations that include the American Choral Directors Association, the Seattle Men's and Women's Choruses and Cantus. Forthcoming works include commissions for the Los Angeles Master Chorale and the Boston Children's Chorus. In 2016, she was the featured composer at the Gay and Lesbian Association of Choruses Festival, where her work Our Phoenix was premièred by six collective ensembles from the United States and Canada. She also sings in multiple professional ensembles and teaches singing and transgender voice training. For her, Pride is much more than a celebration in June: "For trans people, there is a concern for our survival and a feeling that we do not belong in public. And Pride is basically an attitude to reform that narrative. We do belong, indeed. We belong in spite of the odds."
---
Conrad Tao (he/him/his), pianist/composer
Conrad Tao is known worldwide for his dynamic performances and imaginative compositions. He performs as a soloist as well as part of the Junction Trio. He is the recipient of the Avery Fisher Career Grant, was named a Gilmore Young Artist in 2012 and won eight consecutive ASCAP Morton Gould Young Composer Awards. His first large-scale orchestral work, Everything Must Go, was premiered by the New York Philharmonic in the 2018-19 season. His Violin Concerto, written for violinist Stefan Jackiw, premiered in May with the Baltimore Symphony Orchestra. Living authentically feels like "a resonance in my gut and a softening in my heart," he says. "Being authentic means living fully, truly. It means sitting with your own complexity and knowing yourself."
---
Davóne Tines (he/him/his), bass-baritone/creator
As a Black, gay, classically trained performer, bass-baritone Davóne Tines blends many art forms and aesthetics to tell stories that resonate with humanity. "Pride means engaging in my own identity … in an ongoing process…," he says. "I think it's really wonderful when we have the opportunity to be intentional about self-reflection. … Professionally, this whole idea of continuing to excavate my own identity [and] then allowing that to feature in my work in a pretty direct way is what Pride means to me." He recently played the title role in the Detroit Opera revival of X: The Life and Times of Malcolm X, by Anthony Davis. Other recent and ongoing projects include Everything Rises, a multimedia collaboration exploring racial identity and classical music with violinist Jennifer Koh; Mass, a recital program about the liturgical mass in various traditions; and Vigil, a music film presented by Lincoln Center that pays tribute to Breonna Taylor. He is Musical America's 2022 vocalist of the year and was a winner of the 2020 Sphinx Medal of Excellence, which recognizes extraordinary classical musicians of color.
---
Sara Davis Buechner (she/her/hers), pianist
Sara Davis Buechner is a pianist and professor of music at Temple University. Assigned male at birth, Buechner won several international competitions and built a strong career before coming out as transgender in the late 1990s. In 1998, she made her "second debut," under the name Sara Davis Buechner. "I had no choice," she says. "If I wanted to keep playing the piano for people, I had to stand on the stage and be who I was in all my integrity and all my dignity … and make no more apologies." Although she faced discrimination early on, she has relaunched her career and regularly performs in Canada, Japan and the United States. She recently premiered an autobiographical theater show, Of Pigs and Pianos, detailing her journey through music and life as a transgender woman. "Pride is authenticity," she says, "and when you are authentic, you can communicate with people on the highest plane."
---
Mark Adamo (he/him/his), composer/librettist
Composer and librettist Mark Adamo is best known for his work as an opera composer, although he has spent the past decade composing chamber and symphonic works, too. In the early 1990s, he volunteered in an ad hoc hospice for people with AIDS. His 1994 work Late Victorians addresses the AIDS crisis. In 2021, the Santa Fe Opera gave the world premiere of The Lord of Cries; he wrote the libretto to a score composed by his spouse, John Corigliano. His Cello Concerto, Last Year, also received its world premiere in 2021. He says, "I think now, as our understanding of sexuality has broadened and deepened, Pride can not only define one set of communities but also build bridges to others … Pride can help all of us interpret who we are and who we can be."
---
Ahmed Alabaca (they/them/theirs), composer/conductor
Ahmed Alabaca is a Black nonbinary composer and conductor born and raised in San Bernardino, California. They compose orchestral works, as well as music for the stage and film. In May, the Florida Orchestra premiered their Ode to Liberty. They also serve as music director of the South Loop Symphony Orchestra, a community orchestra based in Chicago. Early on in their life, they turned to music as a refuge of peace and hope; their compositions often follow this theme. They say, "I remember all the folks being themselves who have made sacrifices so that I can even say that I'm nonbinary — strong people out here in our history and our present day that are doing it. … And that helps me fight through the anxiety and fight through the fear. I have a lot of friends that are composers that are also nonbinary, trans and queer. And I see them, and I'm like, 'Wow! Oh, I can do it, too!'"
---
Stephen Hough (he/him/his), pianist/composer
Stephen Hough is a pianist, composer and author. His performance career includes more than 70 recordings, 29 appearances at the BBC Proms, and concerts with top orchestras around the world. In addition to the frequent articles he contributes to news publications, he has published a novel and a book of essays. His memoir is forthcoming next spring. he also has composed many works, including pieces commissioned by Westminster Abbey, Wigmore Hall and the Berlin Philharmonic. He was knighted recently for his extraordinary contributions to cultural life. He recalls a time when being out was not safe and is incredibly grateful for the advances in LGBT rights. "We should never take something like this for granted," he says. "The fact that I can walk onto the public street and I can marry and can be open about this is an incredible gift."