Roses are red, violets are blue - here are weekend picks for fun things to do!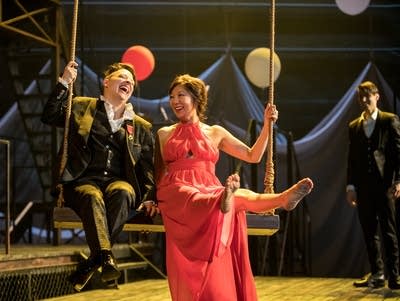 It's Valentines weekend, and love is in the air — and on Twin Cities stages.
Bridges of Madison County is in its final weekend at Artistry in Bloomington, and drawing raves for the gorgeous singing of Jennifer Baldwin Peden. The musical is by Jason Robert Brown (who also gave us the tear-jerker The Last Five Years.)
Caesar and Cleopatra might not be the poster couple for Valentine's Day, but Handel's Italian opera Giulio Cesare has some of his most beautiful music, and it's taken up by the Minnesota Bach Ensemble Sunday and Monday at MacPhail in Minneapolis. Early word is that it kicks asp.
"If Music be the food of love, play on," wrote Shakespeare in Twelfth Night — adding, "Give me excess of it!" There is plenty of new music in the Guthrie Theater's new production of Twelfth Night, written especially for the production by composer Sartje Pickett, and performed by an A-list cast of Twin Cities talent.
There's always romance at the movies, thanks to music. The Bemidji Symphony's Big Screen Rhythms program includes the epic sounds of Lord of the Rings, Harry Potter, and Pirates of the Caribbean. Meanwhile, the South Dakota Symphony is not only playing the score to The Wizard of Oz, they're showing the actual movie while they play along.
Before you go...
Thank you for choosing YourClassical as your go-to for your classical music. In addition to the variety of music streams we have, we're proud to offer features like the one you're reading right now. Help us continue to give you what you love by making a gift today, in support of YourClassical.