When you hear the term "film score," perhaps the themes from your favorite movie come to mind — the suspenseful bass melody from Jaws or the magical Hedwig's Theme from Harry Potter. These incredibly complex pieces of music are what drive our emotional responses when we watch a film.
John Williams, who wrote those themes, as well as the scores for Star Wars, Jurassic Park and so many others, is often the first film composer to come to mind. There's also Hans Zimmer, who scored Inception, Interstellar and Dunkirk, and Alexandre Desplat, who won Oscars for The Grand Budapest Hotel and The Shape of Water.
However, the startling lack of diversity at the Oscars has become a topic of discussion in recent years. And while we are starting to make headway in some Oscar categories, the award for best original score does not seem to be one of them. Even though the academy has given film-score awards for 84 years, only nine women and 11 black composers have been nominated — with only five winning.
There are important and compelling composers we should recognize for their influence on the world of film scores. This list aims to recognize and introduce less-familiar voices that have innovated the tradition of scoring for film, as well as some who are pioneering new ideas and styles.
There are countless scores by composers not listed here that can and should remain your favorites — they will always have a special place in our hearts — but we can acknowledge the musical accomplishments of these fantastic composers, too, some of whom might not be as well known to you as others.
Shirley Walker
Shirley Walker, who died in 2006, was one of the first female film composers working in Hollywood and is considered a pioneer for women in the film industry. She worked as a conductor or orchestrator on several films with Danny Elfman, Tim Burton and Hans Zimmer. She was one of the first female composers to earn a solo score credit on a major Hollywood film — 1992's Memoirs of an Invisible Man — and always wrote her scores entirely by hand. Her gothic, choral-driven score for the 1993 animated movie Batman: Mask of the Phantasm is among the finest in the Batman musical canon. She worked extensively in creating opportunities for aspiring composers in the film industry. The American Society of Composers, Authors and Publishers (ASCAP) created the Shirley Walker Award, which honors those whose achievements have contributed to diversity of film and TV music.
Angela Morley
Born in Yorkshire, England, Angela Morley was the first openly transgender person to be nominated for an Oscar. She was nominated in the 1970s for The Little Prince and The Slipper and the Rose. She also composed the score for the 1978 animated film Watership Down. She struggled to find feature film commissions, because most of her work was not high profile enough, but she worked in the music department on films such as E.T the Extra-Terrestrial, Home Alone and Schindler's List. She also composed for various TV series including the original Wonder Woman (1975-79). She died in 2009.
Quincy Jones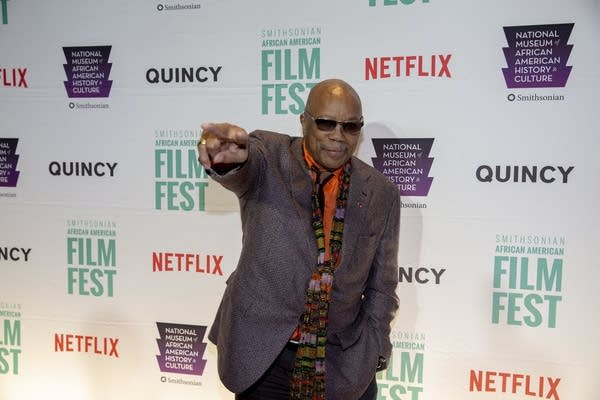 In 1969, Quincy Jones and his songwriting partner, Bob Russell, became the first African-Americans to be nominated for the Oscar for best original song. He composed the scores for many films, including In Cold Blood, The Italian Job and The Color Purple, which was nominated for best original score. In total, he has been nominated for seven Oscars. He also has been credited as a producer on more than 40 films, including Their Eyes Were Watching God and The Color Purple, and he worked with Michael Jackson, Ella Fitzgerald and Frank Sinatra as a music producer.
Rachel Portman
Rachel Portman is the first female composer to win the Oscar for best musical or comedy score, for 1996's Emma. She has written more than 100 scores for film and television, including The Manchurian Candidate, Because of Winn-Dixie and A Dog's Purpose. Her scores for Chocolat and The Cider House Rules were nominated for an Oscar. She also has written symphonic works and music for opera, including a commission for the BBC Proms in 2007.
Terence Blanchard
Considered to be "the most prolific jazz musician to ever compose for motion pictures," Terence Blanchard has consistently made powerful musical statements concerning painful and difficult American stories from the past and present. As a jazz trumpeter, he performs with his quintet, E-Collective, and uses his music to inspire young musicians and bring awareness to the staggering epidemic of gun violence in the United States. He composed scores for Their Eyes Were Watching God and Malcom X, and his score for BlacKkKlansman was nominated for best original score at the 2019 Oscars. He also scored the film Harriet, detailing the extraordinary story of Harriet Tubman, which comes out Nov. 1.
Kathryn Bostic
Kathryn Bostic is the first female African-American composer to be a member of the Academy of Motion Picture Arts & Sciences. She composed scores for Middle of Nowhere, Dear White People, Toni Morrison: The Pieces I Am and Clemency, which comes out Dec. 27. She won the African-American Film Critics Association (AAFCA) award for best music, for Middle of Nowhere. She also has written for television, theater and orchestra. The Pittsburgh Symphony Orchestra premiered her work The August Wilson Symphony, inspired by poems and plays of the renowned playwright.
Hildur Guðnadóttir
Icelandic composer Hildur Guðnadóttir entered the major Hollywood scene by performing solo cello on scores for The Revenant and Arrival. She won an Oscar for her score for the 2019 film Joker, and composed the music for the 2022 films Tar and Women Talking. She worked with composer Johann Johannsson on Sicario and wrote the music for the sequel Sicario: Day of the Soldado. She She won an Emmy for her score for the limited TV series Chernobyl.
Ramin Djawadi
Iranian-German composer Ramin Djawadi is best known for writing the music for Game of Thrones, which won two Emmys. But his work in film scores goes back to the early 2000s, with collaborations with Hans Zimmer and Klaus Badelt, before his first solo outing in 2004, Blade: Trinity. He also scored the first Marvel series film Iron Man, as well as Pacific Rim, A Wrinkle in Time and the TV series Westworld.
Herbie Hancock
A jazz pianist known for his work with the Miles Davis Quintet and his work redefining the jazz rhythm section, Herbie Hancock also composed for films. He was the first black composer to win an Oscar, for the score to 1986's Round Midnight, and composed the score for Death Wish, which receievd a Grammy nomination.
Mica Levi
A more recent voice in film scores is that of Mica Levi. Her first major score was for Under the Skin, and she won the award for best composer at the 2014 European Film Awards, tied for best score at the 2014 Los Angeles Film Critics Awards, and was nominated for the 2015 BAFTA Award for best film music, all at 27. Her next major film score was for 2016's Jackie, which earned her an Oscar nomination.
Erika Malpass is an intern at Classical MPR. She recently graduated from St. Olaf College in Northfield, Minn., with a bachelor's degree in music composition and film studies.
Love the music?
Donate by phone
1-800-562-8440
Show your support by making a gift to YourClassical.
Each day, we're here for you with thoughtful streams that set the tone for your day – not to mention the stories and programs that inspire you to new discovery and help you explore the music you love.
YourClassical is available for free, because we are listener-supported public media. Take a moment to make your gift today.
Your Donation
$5/month
$10/month
$15/month
$20/month
We can help you find classical music you'll love
Take a 2 minute quiz to share your taste

We'll recommend YourClassical programming just for you

Discover the power and joy of classical music