Classical Kids Storytime: 'KinderLute'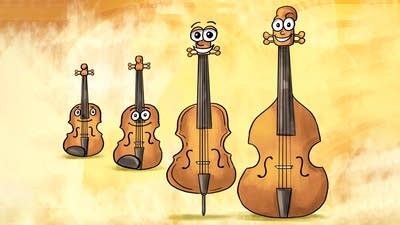 ▼ Download: KinderLute
Four friends — a violin, viola, cello and bass — are nervous about meeting their new owners. Will the young musicians learn to play properly and treat their string instruments with care? Find out in KinderLute, the latest episode of Classical Kids Storytime, featuring music by Samuel Coleridge-Taylor and illustrations by Eusebius Williams.
(See more of Williams' illustrations in the gallery.)
More: Other Classical Kids Storytime adventures
Podcast: Now available on iTunes!
Educators: Classical Kids Storytime meets Common Core Standards
YouTube
Playlist
Our telling of KinderLute includes excerpts from the following work and recording:
Samuel Coleridge-Taylor: Clarinet Quintet in F-sharp minor
Leipzig String Quartet
CPO 777905

Courtesy of CPO
Credits
Storyteller: Garrett McQueen
Authors: Cameren Anai Williams, Musiq Veneka Williams and Eusebius Locke Williams
Illustrations: Eusebius 'Cee' Williams
Producer: Valerie Kahler
Digital producers: Seiji Cataldo and James Napoli
Senior digital producer: Randy Salas
Program director: Julie Amacher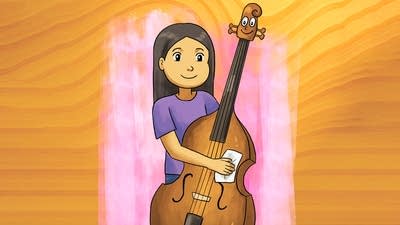 Before you go...
Thank you for choosing YourClassical as your go-to for your classical music. In addition to the variety of music streams we have, we're proud to offer features like the one you're reading right now. Help us continue to give you what you love by making a gift today, in support of YourClassical.