Classical MPR broadcasts of the Minnesota Orchestra's 2019-20 season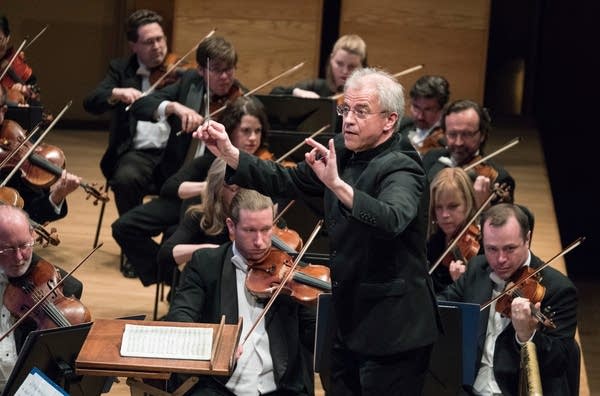 Update: The Minnesota Orchestra has canceled its concerts through April 28 as a preventive action against the spread of coronavirus.
---
Here is the Classical MPR live broadcast schedule for the Minnesota Orchestra's exciting 2019-2020 season. Click on the player below to listen live at the listed time and date.
SEASON OPENING WITH OSMO VÄNSKÄ
8 p.m. Friday, Sept. 20, 2019 / Orchestra Hall
Host: Melissa Ousley
Minnesota Orchestra
Osmo Vänskä, conductor
Juho Pohjonen, piano

RAUTAVAARA A Requiem in Our Time, for Brass and Percussion
GRIEG Piano Concerto
CARTER Three Illusions for Orchestra
ELGAR Enigma Variations

---
SAINT-SAENS VIOLIN CONCERTO
8 p.m. Friday, Sept. 27, 2019 / Orchestra Hall
Host: Melissa Ousley
Minnesota Orchestra
Osmo Vänskä, conductor
Benjamin Beilman, violin

VAUGHAN WILLIAMS Fantasia on a Theme by Thomas Tallis
SAINT-SAENS Violin Concerto No. 3
SHOSTAKOVICH Symphony No. 15

---
INON BARNATON PLAYS BRAHMS
8 p.m. Friday, Oct. 11, 2019 / Orchestra Hall
Host: Melissa Ousley
Minnesota Orchestra
Jader Bignamini, conductor
Inon Barnaton, piano

BRAHMS Piano Concerto No. 1
SHOSTAKOVICH Symphony No. 9

---
LEILA JOSEFOWICZ PLAYS STRAVINSKY
8 p.m. Friday, Nov. 1, 2019 / Orchestra Hall
Host: Melissa Ousley
Minnesota Orchestra
Juraj Valcuha, conductor
Leila Josefowicz, violin

WEBERN Im Sommerwind
STRAVINSKY Violin Concerto
STRAUSS An Alpine Symphony

---
GUARANTORS' WEEK: KEEFE, WAGNER AND BRAHMS
8 p.m. Friday, Nov. 8, 2019 / Orchestra Hall
Host: Melissa Ousley
Minnesota Orchestra
Nathalie Stutzmann, conductor
Erin Keefe, violin

BRAHMS Hungarian Dances No. 1, 4 and 5
DVOŘAK Romance for Violin and Orchestra
WAGNER Prelude and Liebestod from Tristan and Isolde
BRAHMS Symphony No. 2

---
VAUGHAN WILLIAMS' DONA NOBIS PACEM
8 p.m. Friday, Nov. 15, 2019 / Orchestra Hall

Host: Melissa Ousley
Minnesota Orchestra
Osmo Vänskä, conductor
Alban Gerhardt, cello
Goitsemang Lehobye, soprano
Dashon Burton, bass-baritone
Minnesota Chorale
Singers from 29:11

SIBELIUS The Swan of Tuonela
DEAN Cello Concerto [U.S. Premiere]
VAUGHAN WILLIAMS Dona Nobis Pacem

---
HANDEL'S MESSIAH
8 p.m. Friday, Dec. 6, 2019 / Orchestra Hall

Host: Melissa Ousley
Minnesota Orchestra
Nicholas Kraemer, conductor
Sherezade Panthaki, soprano
Daniel Moody, countertenor
Richard Croft, tenor
Benjamin Bevan, baritone
Minnesota Chorale

HANDEL Messiah
---
MUSICMAKERS WITH OSMO VÄNSKÄ AND THE MINNESOTA ORCHESTRA
8 p.m. Friday, Jan. 10, 2020 / Orchestra Hall

Host: Melissa Ousley
Minnesota Orchestra
Osmo Vänskä, conductor
Kevin Puts, Composer Institute director

---
MAHLER AND RAVEL
8 p.m. Friday, Jan. 17, 2020 / Orchestra Hall

Host: Melissa Ousley
Minnesota Orchestra
Simone Young, conductor
Tara Erraught, mezzo

MAHLER Blumine, from Symphony No.1
MAHLER Ruckert Lieder
RAVEL Pavane for a Dead Princess
RAVEL Suite No. 2 from Daphnis and Chloe
DEBUSSY Jeux, Poeme danse

---
BEETHOVEN, BACH AND BRITTEN
8 p.m. Friday, Jan. 31, 2020 / Orchestra Hall

Host: Melissa Ousley
Minnesota Orchestra
Paul Watkins, conductor and cello

BRITTEN Variations on a Theme of Frank Bridge
C.P.E. BACH Cello Concerto in A major
BEETHOVEN Symphony No. 4

---
BARTOK CONCERTO FOR ORCHESTRA
8 p.m. Friday, Feb. 14, 2020 / Orchestra Hall

Host: Melissa Ousley
Minnesota Orchestra
Karina Canellakis, conductor
Francesco Piemontesi, piano

DI CASTRI Lineage
RAVEL Piano Concerto in G major
BARTÓK Concerto for Orchestra

---
GRIEG AND RACHMANINOFF
8 p.m. Friday, Feb. 21, 2020 / Orchestra Hall

Host: Melissa Ousley
Minnesota Orchestra
Eivind Gullberg Jensen, conductor
Tine Thing Helseth, trumpet

CLYNE This Midnight Hour
GRIEG Selections from Lyric Suite and Three Songs
TOMASI Trumpet Concerto
RACHMANINOFF Symphony No. 2

---
TETZLAFF PLAYS SHOSTAKOVICH
8 p.m. Friday, March 6, 2020 / Orchestra Hall

Host: Melissa Ousley
Minnesota Orchestra
Kirill Karabits, conductor
Christian Tetzlaff, violin

ALI-ZADEH Fairy Tales
SHOSTAKOVICH Violin Concerto No. 2
PROKOFIEV Symphony No. 5

---
GERSTEIN PLAYS RACHMANINOFF: PIANO CONCERTO NO. 2
8 p.m. Friday, March 13, 2020 / Orchestra Hall

Host: Melissa Ousley
Minnesota Orchestra
Juanjo Mena, conductor
Kirill Gerstein, piano

RACHMANINOFF Piano Concerto No. 2
SHOSTAKOVICH Symphony No. 7, Leningrad

---
CANCELED: CAMERON CARPENTER AT NORTHROP
8 p.m. Friday, March 27, 2020 / Northrop, University of Minnesota

Host: Melissa Ousley
Minnesota Orchestra
Akiko Fujimoto, conductor
Cameron Carpenter, organ

NAZAYKINSKAYA Winter Bells
JONGEN Symphonie concertante for Organ and Orchestra
PROKOFIEV Cinderella Suite

---
VÄNSKÄ CONDUCTS SCHEHERAZADE
8 p.m. Friday, April 3, 2020 / Orchestra Hall
Host: Melissa Ousley
Minnesota Orchestra
Osmo Vänskä, conductor
Martin Grubinger, percussion

PÄRT Cantus in Memory of Benjamin Britten
AHO Sieidi, Percussion Concerto
RIMSKY-KORSAKOV Scheherazade

---
HADELICH AND HERAS-CASADO
8 p.m. Friday, April 10, 2020 / Orchestra Hall

Host: Melissa Ousley
Minnesota Orchestra
Pablo Heras-Casado, conductor
Augustin Hadelich, violin

WEBERN Passacaglia
BRITTEN Violin Concerto
BRAHMS Symphony No. 4

---
PARK AND AINOMÄE PLAY BRAHMS
8 p.m. Friday, May 1, 2020 / Orchestra Hall

Host: Melissa Ousley
Minnesota Orchestra
Klaus Mäkelä, conductor
Susie Park, violin
Silver Ainomäe, cello

BRAHMS Double Concerto for Violin, Cello and Orchestra
BRUCKNER Symphony No. 9

---
GERSTEIN PLAYS RACHMANINOFF: PAGANINI RHAPSODY
8 p.m. Friday, May 15, 2020 / Orchestra Hall

Host: Melissa Ousley
Minnesota Orchestra
Osmo Vänskä, conductor
Kirill Gerstein, piano
Minnesota Chorale

RACHMANINOFF Three Russian Songs
RACHMANINOFF Piano Concerto No. 1
RACHMANINOFF Rhapsody on a Theme of Paganini
STRAVINSKY Symphony of Psalms

---
ANTHONY ROSS, STRAVINSKY AND MOZART
8 p.m. Friday, May 29, 2020 / Orchestra Hall

Host: Melissa Ousley
Minnesota Orchestra
Michael Francis, conductor
Anthony Ross, cello

STRAVINSKY Suite from Pulcinella
DAUGHERTY Tales of Hemingway for Cello and Orchestra
MOZART Symphony No. 41, Jupiter

---
FEI XIE PLAYS MOZART
8 p.m. Friday, June 5, 2020 / Orchestra Hall

Host: Melissa Ousley
Minnesota Orchestra
Osmo Vänskä, conductor
Fei Xie, bassoon

FAGERLUND Water Atlas
MOZART Bassoon Concerto
SAARIAHO Ciel d'hiver
ENESCU Symphony No. 1

---
SEASON FINALE: VÄNSKÄ CONDUCTS MAHLER SYMPHONY NO. 9
8 p.m. Friday, June 12, 2020 / Orchestra Hall

Host: Melissa Ousley
Minnesota Orchestra
Osmo Vänskä, conductor
Minnesota Chorale
Minnesota Boychoir

MAHLER Symphony No. 9