Classical Kids Storytime: 'Old Mother Hubbard'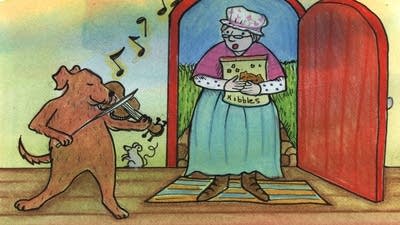 ▼ Download: Old Mother Hubbard
Click the player above or YouTube video below to listen, or download the story to your own device for easy playback at any time.
Once upon a time, Old Mother Hubbard went to the cupboard to give her dog, Sam, his dinner. But when she went there, the cupboard was bare, and poor little Sam grew thinner. So she went to get some food. But you won't believe the musical surprise that awaited when she returned.
Listen now to 'Old Mother Hubbard,' the latest episode of Classical Kids Storytime, featuring a variety of classical music and original illustrations by Nancy Carlson. (See more of her illustrations in the gallery.)
Classical Kids Storytime is supported by
Dentistry for Children & Adolescents.
More: Other Classical Kids Storytime adventures
Podcast: Now available on iTunes!
Educators: Classical Kids Storytime meets Common Core Standards
YouTube
Playlist
Our telling of Old Mother Hubbard includes excerpts from the following works:
Peter Ilyich Tchaikovsky: Serenade for Strings
Ukrainian Chamber Orchestra, conducted by Theodore Kuchar
Amadis 7143
Johann Sebastian Bach: Violin Partita No. 3
Ilya Kaler, violin
Naxos 570277-78
Joseph Haydn: Trumpet Concerto
Maurice Andre, trumpet
Stuttgart Radio Symphony, conducted by Hans Muller-Kray
SWR Music 10191
Isaac Albeniz: Leyendas
Norbert Kraft, guitar
Naxos 553999
Mikhail Glinka: Variations on a Theme by Mozart
Maria Graf, harp
SWR 10489
Courtesy of Naxos of America Inc.
Credits
Storyteller: Julie Amacher (with Randy Salas)
Story: Julie Amacher, Scott Blankenship and Valerie Kahler
Illustrations: Nancy Carlson
Producer: Valerie Kahler
Digital producer: Seiji Cataldo
Senior digital producer: Randy Salas
Program director: Julie Amacher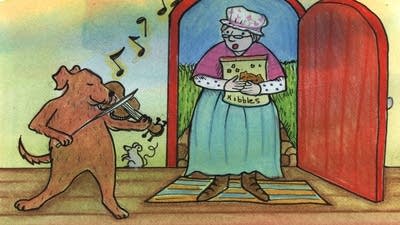 Before you go...
Thank you for choosing YourClassical as your go-to for your classical music. In addition to the variety of music streams we have, we're proud to offer features like the one you're reading right now. Help us continue to give you what you love by making a gift today, in support of YourClassical.