Poetry for a Winter's Day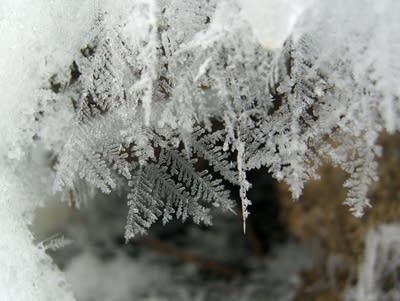 Performance Today featured several poems inspired by this season. We included these in the radio broadcast, but if there are others we should know about, please contact us here.
Winter Branches
by Margaret Widdemer

When winter-time grows weary, I lift my eyes on high
And see the black trees standing, stripped clear against the sky;

They stand there very silent, with the cold flushed sky behind,
The little twigs flare beautiful and restful and kind;

Clear-cut and certain they rise, with summer past,
For all that trees can ever learn they know now, at last;

Slim and black and wonderful, with all unrest gone by,
The stripped tree-boughs comfort me, drawn clear against the sky.

This poem is in the public domain.

Christmastide
by Christina Rossetti

Love came down at Christmas,
Love all lovely, Love Divine;
Love was born at Christmas,
Star and Angels gave the sign.

Worship we the Godhead,
Love Incarnate, Love Divine;
Worship we our Jesus:
But wherewith for sacred sign?

Love shall be our token,
Love be yours and love be mine,
Love to God and all men,
Love for plea and gift and sign.

This poem is in the public domain.

Cradle Song
by William Blake

Sleep, sleep, beauty bright,
Dreaming in the joys of night;
Sleep, sleep; in thy sleep
Little sorrows sit and weep.

Sweet babe, in they face
Soft desires I can trace,
Secret joys and secret smiles,
Little pretty infant wiles.

As they softest limbs I feel
Smiles as of the morning steal
O'er thy cheek, and o'er thy breast
Where thy little heart doth rest.

O the cunning wiles that creep
In thy little heart asleep!
When thy little heart doth wake,
Then the dreadful night shall break.

This poem is in the public domain.

A Winter's Tale
by D.H. Lawrence

Yesterday the fields were only grey with scattered snow,
And now the longest grass-leaves hardly emerge;
Yet her deep footsteps mark the snow, and go
On towards the pines at the hills' white verge.

I cannot see her, since the mist's white scarf
Obscures the dark wood and the dull orange sky;
But she's waiting, I know, impatient and cold, half
Sobs struggling into her frosty sigh.

Why does she come so promptly, when she must know
That she's only the nearer to the inevitable farewell;
The hill is steep, on the snow my steps are slow -
Why does she come, when she knows what I have to tell?

This poem is in the public domain.

Places [III. Winter Sun]
by Sara Teasdale

(Lenox)

There was a bush with scarlet berries,
And there were hemlocks heaped with snow,
With a sound like surf on long sea-beaches
They took the wind and let it go.

The hills were shining in their samite,
Fold after fold they flowed away;
"Let come what may," your eyes were saying,
"At least we two have had to-day."

This poem is in the public domain.

Wartime Christmas
by Joyce Kilmer

Let by a star, a golden star,
The youngest star, an olden star,
Here the kings and the shepherds are,
Akneeling on the ground.
What did they come to the inn to see?
God in the Highest, and this is He,
A baby asleep on His mother's knee
And with her kisses crowned.

Now is the earth a dreary place,
A troubled place, a weary place.
Peace has hidden her lovely face
And turned in tears away.
Yet the sun, through the war-cloud, sees
Babies asleep on their mother's knees.
While there are love and home--and these--
There shall be Christmas Day.

This poem is in the public domain.
Before you go...
For all we have to offer – the Piano Puzzler, Young Artists in Residence, and the weekly performances themselves – everyone at Performance Today is thankful that you join us each day for this comprehensive musical experience. As a public media program though, we can only do this with your support. Make a financial contribution today to continue to power this program.