Classical Kids Storytime: 'Goldilocks and the Three Bears'
▼ Download: Goldilocks and the Three Bears
What happens when an adventurous girl discovers a house in the woods owned by bears and filled with classical recordings?
Find out how her musical adventure unfolds in Goldilocks and the Three Bears, the latest installment of Classical Kids Storytime, featuring illustrations by acclaimed children's author Nancy Carlson. Along the way, we'll hear some wonderful melodies by Wolfgang Amadeus Mozart, Erik Satie, Giacchino Rossini and more. It's our classical twist on the classic tale.
Share the power of classical music with your little ones today! And be sure to explore the gallery below for more illustrations by Carlson.
Click the player above or YouTube video below to listen, or download the story to your own device for easy playback at any time.
More: Other Classical Kids Storytime adventures
Podcast: Now available on iTunes!
Educators: Classical Kids Storytime meets Common Core Standards
YouTube
Playlist
Maurice Ravel: Mother Goose Suite (excerpts)
Slovak Radio Symphony Orchestra, Kenneth Jean


Joseph Haydn: Symphony No. 82 (The Bear) (excerpts)
Stuttgart Radio Symphony Orchestra, Jans Muller-Kray


Giacchino Rossini: William Tell Overture (excerpts)
Zagreb Festival Orchestra, Michael Halasz


Erik Satie: Gymnopedie No. 1 (excerpt)
Klara Kormendi, piano


Wolfgang Amadeus Mozart: Serenade No. 10 (Gran Partita)
Octopus Wind Ensemble


Courtesy of Naxos of America Inc.
Credits
Storyteller: Steve Seel
Writer: Steve Seel
Illustrations: Nancy Carlson
Producer: Valerie Kahler
Digital producer: Seiji Cataldo
Senior digital producer: Randy Salas
Program director: Julie Amacher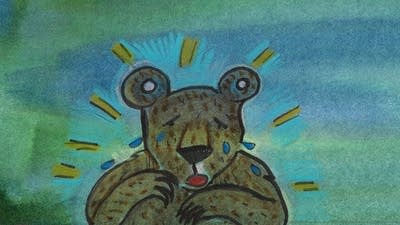 Before you go...
Thank you for choosing YourClassical as your go-to for your classical music. In addition to the variety of music streams we have, we're proud to offer features like the one you're reading right now. Help us continue to give you what you love by making a gift today, in support of YourClassical.