Navigating Joburg: Thoughts on music, race and culture on the last day of the Minnesota Orchestra's South African tour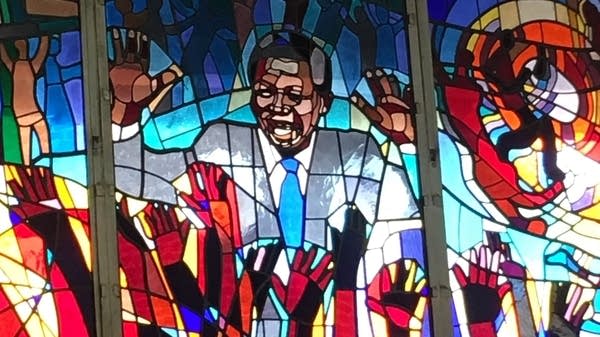 I am walking through an enormous security gate, following maestro Osmo Vänskä, concertmaster Erin Keefe and a half dozen other associates of the Minnesota Orchestra, most in dark suits and high heels. Over our heads, electrified wires protect the perimeters of the grounds. We pass by a security guard and proceed onto an impeccable lawn where every blade has been shorn to uniform length and fertilized to a roaring green. We have been invited for a reception at the personal residence of the chargé d'affaires of the U.S. Mission in South Africa, an embassy afternoon event, before the orchestra's evening performance in Johannesburg. Keefe and two fellow players have brought their instruments to perform a short piece as part of the day's program. We walk across the lawn in the sunlight, looking for an event tent or maybe a staff member jogging over to greet and direct us. We head toward the stately mansion, surrounded by lesser satellite buildings. There's an empty volleyball court off to our right (or maybe badminton?), sculpted hedges and elegant black lampposts that cradle white bulbs with fine cages, like the setting of a pearl ring. What is obviously absent, however, is any evidence of a reception. It's just us walking across somebody's lawn in formal wear. We stop in the shade. Calls are made. The bus driver is asked to return to pick us up again: We are at the wrong address. I am uncertain if we have simply arrived at the wrong entrance of a sprawling estate or if we have essentially broken into a walled compound, led by a woman armed with a violin.
The reception serves South African wines, and hands out tiny pins with the South African and American flags waving back-to-back. The actual American flag is flapping overhead, ropes clanging against the pole. I invite myself to chat with a black South African couple standing at a high table. She's a fashion designer; he teaches theater. Both have studied in the States. He's fumbling a little with the pin, unsure exactly how to affix the thing to his jacket. "Oh, here," I take the pin and remove the tiny backing. I take a peek at Kevin Smith, the now-former president of the orchestra, to see which side he's wearing it on — left. "May I?" I pass the post through the buttonhole of the theater teacher's jacket and secure it with the plastic back. "That is why I love Americans," he announces.
Appetizers are passed. The crowd is ushered into a room with a microphone where the Minnesota Orchestra is officially welcomed by the embassy as the first professional U.S. group to tour South Africa. Both Smith and Vänskä are asked to say a few words. Smith describes the tour as "musical diplomacy," which is a phrase I like. But I am increasingly distracted from the program by the nauseating suspicion that I have just seriously screwed up. Putting a pin on a stranger's jacket — was that totally out of line? Paternalistic even? If I fumbled for a moment with my earring and a man I'd never met before took it out of my hands to push it through my earlobe, I'd feel both invaded and insulted. "That's why I love Americans." Was that an ironic comment I took at face value, too daft even to realize I was being rebuked?
Touring internationally entails a lot of delicate social considerations; at least it has for me. I've heard some orchestra members talking about the challenge of striking the right tone, too. How does an institution engage in musical diplomacy with a country where classical music is often considered white people's music, the domain and tradition of destructive colonizers? These are not questions posed in the abstract, at a historical remove. Apartheid ended in South Africa in the early '90s. Land reform debates are raging in the news. Even just driving to and from orchestral engagements, it's easy to see how inequitably resources are distributed. Not too far from the booming business center of Johannesburg, roofs are made of corrugated tin and refuse water runs in rivulets down dust pathways between shack homes. Black or colored communities live in these places, still plainly segregated. The New York Times reported last year that "apartheid has essentially persisted in economic form." Race issues are everywhere in South Africa, and they're not shrouded in conversations about class and access as they often are in the United States.
Still, South Africa is one of my favorite places to travel to. Visually, it's a stunner. The creative community is playful, collaborative and ambitious. The frankness with which social problems are discussed makes me want to be braver in my own conversations. The choirs are insanely good, and the street food is cheap and awesome. It's a place that consistently confuses me, which is part of why I keep returning to try and figure it out. There are 11 official languages. There are a lot of rich South African families who live in gated communities, laced with barbed wire, and a lot of poor families who live in shantytowns. Some people will tell you the country is Nelson Mandela's Rainbow Nation. Some people will tell you that's all marketing garbage. Some people will try to steal your phone — while you're talking on it. Which means if you're an orchestra hoping to demonstrate a spirit of cultural exchange and inclusion on a South African tour, you've got your work cut out for you. Which South Africa, exactly, are you hoping to exchange with?
The orchestra has done a lot of thoughtful work at this very tough job. Performances have included music in Sotho, Zulu and Xhosa. The orchestra's concert in Soweto — a black township that had been an epicenter of apartheid resistance — made clear that this tour wouldn't cater only to white, affluent South African audiences. The Gauteng Choristers were asked to perform with the orchestra, alongside the Minnesota Chorale. And, along the way, the musicians rehearsed with local students, visited schools and performed free outdoor concerts, too.
For their efforts, tour organizers have been rewarded by some pretty incredible moments. The concert halls have been packed. Faces light up in surprise when the orchestra plays the South African National Anthem. (A young student with gold teeth and red headphones around his neck told me that listening to it gave him goosebumps.) As evidenced by the clip below, some songs brought the crowd to its feet.
Vänskä personally advocated for this tour — a highly unusual trip for an orchestra to make. Years ago, he'd been asked to visit South Africa to work with a youth orchestra. He was deeply moved when he saw where and in what conditions the players lived. Vänskä is Finnish, and he speaks English in a deliberate, metered way, deploying a swift gesture to serve when a word escapes him. Thinking back on one young trumpeter, Vänskä asked himself, "How can he practice his instrument in this place? Living in these things, these things which are not houses?" I've heard Vänskä tell the story a couple of times. At least once his voice broke. He knew then, "I will bring my orchestra here." Now, years later, he has.
Vänskä is intense when he talks and intense when he listens. You'd want him as your judge if you were making a legitimate claim and would not want him as your dad if you were coming home after curfew. If a barista at a crowded Starbucks told you there was a conductor somewhere in the shop, you'd be able to pick him out right away. But he also has a self-deprecating charm that flashes through the gravitas. Knowing he can come off as stoic, or even gruff, he told me he sometimes wears a T-shirt that says, "I'm Not Angry This Is Just My Finnish Face." Then, in a Cookie Monster voice he told a pretend orchestra in front of him "Beautiful!" In a master class with aspiring South African composers, he counseled, "Try to be positive." He doesn't like seeing conductors lead their orchestras through only two bars and then stop to call out flaws. "You have to jump in and show. A good conductor should lead from the front." But, he warned, "The more you speak in front of an orchestra, the more the players hate you." And a deliberate, authoritative presence must be maintained at all costs. "If you start to hesitate in front of an orchestra …" he shook his head with a small smile, suddenly the charismatic villain in a Bond film where the orchestra has been programmed to explode at the first sign of hesitation.
Before leaving the embassy reception where I was sweating over my possible lapel pin faux pas, I found the theater teacher and apologized. He waved me off warmly, either in forgiveness or as a dismissal of my concern as wasted worry. I felt like I'd won a prize.
Back on board the tour bus, I looked for a seat near Vänskä's. I wanted to ask him a question. On the way into the reception, I'd seen him stoop to pick up a bolt on the side of the road. "Do you still have that bolt?" I asked, wondering why he'd pocket such an object. Keefe, the concertmaster and also Vänskä's wife, replied, "He's constantly picking up nails and putting them in the garbage." To this Vänskä added, simply, "They are not in the right place." The idea that Vänskä's sense of order was calibrated to the level of a bolt — a bolt in South Africa where people are pirating electricity with loops of cable, where there is always something on fire in the distance, where it can be argued that entire cities are misplaced by crazy, cruel apartheid-era laws — did not seem strange to him. "You don't want to have a flat." He pantomimed one hand piercing the other and performed the cartoon sound, "Psssssshhhht."
We traveled quietly for a while, most faces turned to see the end-of-day light on the buildings of Johannesburg. The orchestra's final performance in South Africa would begin in a few hours, and I think most members of the larger touring party were feeling some degree of tour fatigue. But the performers and organizers also seemed to be enjoying that feeling of a hard-earned win, the satisfying kind of exhaustion. South Africa isn't an easy place to navigate, and the orchestra managed to find a right place within it.
Minnesota musician and writer Dessa explored South Africa and tagged along with the Minnesota Orchestra on its recent tour. Throughout the trip, she posted to social media using the hashtag #DessaInSAfrica. Those posts are collected here on ClassicalMPR.org, too. Dessa's new album, Chime, is available now, and her new book, My Own Devices, will be out Sept. 18.
Twitter: @Dessadarling
Instagram: @Dessa