At age 6, after only four years of playing marimba, percussionist Jisu Jung won the Grand Prize in the Cheongju Music Association Competition.
Since then, Jung has won numerous competitions and performed as a soloist with many professional orchestras throughout Korea. She captured the Grand Prize at the 2003 Korea-US National as well as the CBS Youth Music Competitions in 2007.
Jung has performed as a soloist with the Oradea-Rumania and Eurasian Philharmonic Orchestras, Gyeonggi State Philharmonic Orchestra, Suwon City Youth Orchestra and has been invited to perform at the Percussive Arts Society International Convention (PASIC) in November 2013.
As an orchestral musician, she has performed with the Buchen City Orchestra in Korea and the Peabody Symphony Orchestra in Baltimore, Maryland. Jung has also attended the Brevard Music Center as a scholarship student.
Jung graduated from the Seoul National Arts High School before coming to the United States to study with Robert van Sice at the Peabody Conservatory of The Johns Hopkins University with a full scholarship.
Adams Marimba courtesy of Marimba Rental, LLC.
Downloads
Download MP3 of Johann Sebastian Bach: 'Allemande from Lute Suite in e minor, BWV 996'

Download MP3 of John Cage: 'In a Landscape'

Download MP3 of Eric Ewazen: 'Northern Lights'

Download MP3 of Takatsugo Muramatsu: 'Land'

Download MP3 of Jacob Druckman: Fleet, Gently Swelling, and Relentless from 'Reflections on the Nature of Water'

Gallery
6 of 6
1 of 6
2 of 6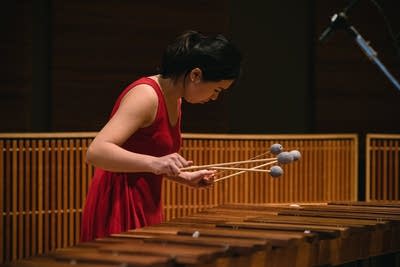 Love the music?
Donate by phone
1-800-562-8440
Show your support by making a gift to YourClassical.
Each day, we're here for you with thoughtful streams that set the tone for your day – not to mention the stories and programs that inspire you to new discovery and help you explore the music you love.
YourClassical is available for free, because we are listener-supported public media. Take a moment to make your gift today.
Your Donation
$5/month
$10/month
$15/month
$20/month
We can help you find classical music you'll love
Take a 2 minute quiz to share your taste

We'll recommend YourClassical programming just for you

Discover the power and joy of classical music