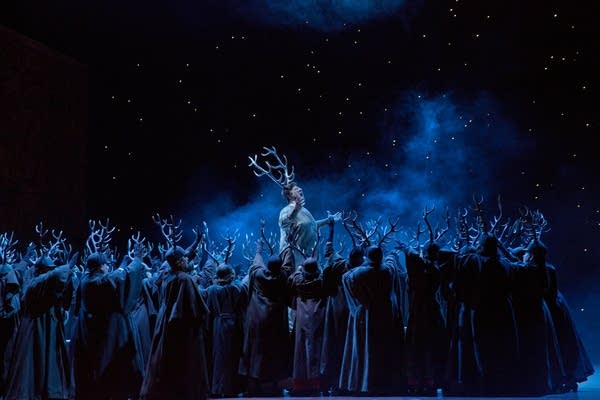 Tune in at noon for a live broadcast of Giuseppe Verdi's Falstaff from the Metropolitan Opera. James Levine conducts Robert Carsen's acclaimed production, the first new Met Falstaff since 1964.
Classical MPR's Rex Levang shares these eight facts about the opera to enhance your enjoyment of it.
Falstaff is Giuseppe Verdi's last opera, completed when he was 79 years old. It's based on Shakespeare, and was premiered in 1893.
It's one of only two comedies that Verdi wrote. The other one is an early work, largely forgotten.
Shakespeare was one of Verdi's literary idols. Verdi's other Shakespeare operas are Macbeth, Otello — and a King Lear, which he contemplated but never carried out.
To many Shakespeare lovers, The Merry Wives of Windsor, in which Falstaff appears, is second-tier Shakespeare — the "real" Falstaff is the character who appears in the two Henry IV plays.

Nonetheless, Verdi's plot line comes from The Merry Wives, not Henry IV. He's not alone in this: the same plot has also been used for operas by Salieri, Balfe, Nicolai, and Vaughan Williams — and it made an important imprint on Strauss's Der Rosenkavalier.
Falstaff is famous as a man who's fond of food and drink. Among the beverages mentioned in Verdi's Falstaff: sherry, wine from Cyprus, beer, mulled wine, and acquavitae (distilled spirits).
The Italian libretto to Falstaff is by Arrigo Boito. He leaves most of the characters' names unchanged, but not all. Ann Page becomes "Nannetta," and when Mr. Ford assumes the identity of Mr. Brook (get it?), Boito Italianizes the name, but keeps the wordplay, calling him "Signor Fontana."
One of the plot lines in Falstaff is the romance between the two young sweethearts, Nannetta and Fenton. Boito said their story should be present, but never dominate — "like sugar sprinkled on a tart."
At one point, the lovers hide behind a screen and kiss — audibly. The kiss is notated in the libretto like this: (*)!
Verdi ends Falstaff with a fugue: a cheeky ending for a comic opera, since the fugue form is often considered rather cerebral. The text: "Everything in the world is a joke... But he who has the last laugh, laughs best."
Gallery
14 of 14
1 of 14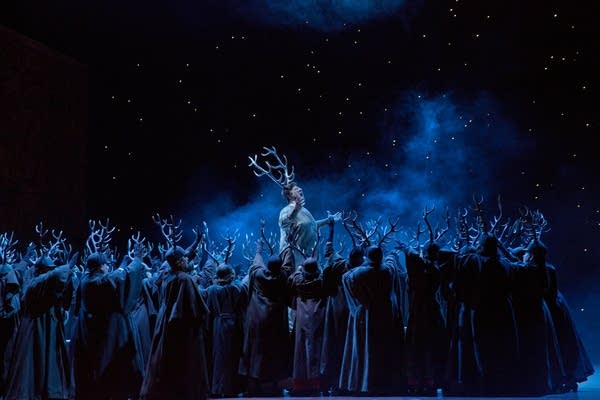 2 of 14