School Spotlight highlights outstanding Minnesota school- and student-music ensembles during the academic year. Through this feature, Classical MPR hopes to expose listeners to the great music being made by young musicians across the state, and to generate more support for music education.
Today's feature audio is from the Spring 2013 Concert of Minnesota Youth Symphonies. The Symphony Orchestra, led by Manny Laureano played the following selections:
7:15 a.m.
Nicolai Rimsky-Korsakov: Capriccio Espagnol
7:15 p.m.
Igor Stravinsky: The Rite of Spring
The Twin Cities may be experiencing a crisis when it comes to our world-class Minnesota Orchestra, but on the bright side our youth orchestras are thriving and producing fantastic concerts featuring extremely talented and dedicated young musicians. Since 1972, Minnesota Youth Symphonies (MYS), has been fostering young musicians who want a great orchestral learning experience. Led since 1988 by co-artistic directors Manny and Claudette Laureano, the organization has seen many artistic triumphs and honors over time, and competition for a spot in an ensemble has risen: All students must go through a rigorous audition process every summer; having been in an MYS orchestra previously is no guarantee of re-admittance. The four orchestras, Symphony, Repertory, Philharmonic and Strings meet most Saturdays at Highland Park High and Middle Schools throughout the academic year, putting on a fall, winter and spring concert, now held at Benson Great Hall at Bethel University.
The Symphony Orchestra (which is the top ensemble) in particular has had its fair share of exciting opportunities. Such professionals as Jorja Fleezanis, -- former concertmaster of the Minnesota Orchestra -- and Doc Severinsen, have performed with the orchestra. Symphony also was the first orchestra to ever perform for the Super Bowl when it was held in Minneapolis in 1992. In 2000, it was one of five youth orchestras from across the United States to participate in the National Youth Orchestra Festival in Sarasota, Fla.
The literature and the rigor of rehearsal for Symphony reflects that of a fine collegiate ensemble. This 100-piece ensemble rehearses for three hours on Saturdays, spending time in sectionals and sight-reading as well as working on music for the upcoming concert. The list of past literature is impressive in its length as well as its level of difficulty, some examples include: Berlioz: Symphonie Fantastique; Gershwin: Rhapsody in Blue; Mahler: Symphonies 1-3; Rimsky-Kosakov: Scheherazade and of course Stravinsky's The Rite of Spring. Click the audio link above to hear the MYS Orchestra performing Rite of Spring in its Spring 2013 concert.
Every fall, Symphony also has a Symphony Solo Competition for members of the orchestra to compete for a chance to perform a concerto movement at the Spring concert. Last year's winner was bassoonist Sarah Tako, who performed the Mozart Bassoon Concerto. Click the link at right to hear this piece.
If you want to hear the Symphony Orchestra, as well as the Repertory, Philharmonic and String Orchestras for yourself, MYS has a concert coming up at Benson Great Hall on the Bethel University campus on Sunday, Nov. 10. Follow this link for more information.
Make sure to tune in to Classical MPR at 7:15 a.m. and 7:15 p.m. and watch for a feature on Tuesday, Nov. 12, to learn about our other fine local youth orchestra organization, Greater Twin Cities Youth Symphonies (GTCYS).
Gallery
1 of 1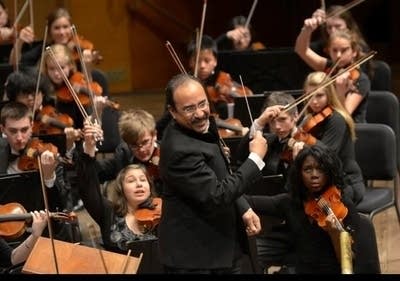 Love the music?
Donate by phone
1-800-562-8440
Show your support by making a gift to YourClassical.
Each day, we're here for you with thoughtful streams that set the tone for your day – not to mention the stories and programs that inspire you to new discovery and help you explore the music you love.
YourClassical is available for free, because we are listener-supported public media. Take a moment to make your gift today.
Your Donation
$5/month
$10/month
$15/month
$20/month
We can help you find classical music you'll love
Take a 2 minute quiz to share your taste

We'll recommend YourClassical programming just for you

Discover the power and joy of classical music