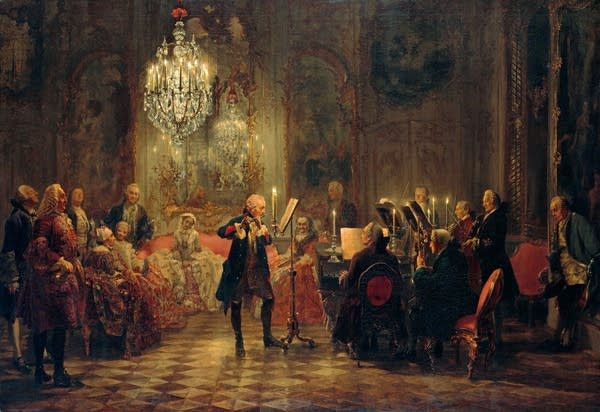 What is classical music? You know it when you hear it — or you think you do — but the more precisely you try to answer the question, the more elusive the answer gets.
One of the first things you learn when you're introduced to classical music is that the term "classical" most properly describes music composed from about 1750 to 1820. That includes the work of Haydn and Mozart, but only most of Beethoven. It doesn't include Bach — or Wagner. It definitely doesn't include Debussy or Copland, though you'll hear plenty of all of those artists on Classical MPR and other classical music stations.
The term "classical music" first began to appear in the early 19th century, and gained popularity among music lovers who regarded the period from Bach (technically, a Baroque composer) to Beethoven as a shining era in music history. The later 19th century ultimately became known as the Romantic Era, but when it came to telling the general public what their local orchestras were playing, Berlioz and Brahms were slipped in under the broad "classical music" rubric. Eventually, 20th-century composers from Stravinsky to Stockhausen crowded under the umbrella as well.
Musicologists can stay up all night talking about the shape and trajectory of classical music, debating questions like the importance of the score, the role of improvisation, and the nature of musical form. Where you come down on these questions determines who precisely you think falls into the broadly defined genre of "classical music." Renaissance troubadours? Frank Zappa? Duke Ellington? Yes, no, maybe?
Everyday enjoyment of classical music doesn't require you to strain your brain with such fine distinctions, but it definitely helps to understand that classical music is a living tradition that's being defined and redefined every day. Though Bach, Mozart, Beethoven and their contemporaries will always have pride of place in the world of classical music, the long history of what we now consider classical music didn't begin with them and certainly didn't end with them.
The classical music tradition lives on in composers writing scores for performance by orchestras, for chamber ensembles, for solo performers — and also in unexpected places. Even if you never listen to "classical music," you're constantly hearing music that's been influenced by the classical tradition, from precisely composed video-game scores to Beatles songs influenced by avant-garde composers to heavy-metal guitarists stealing chords (maybe without even knowing it) from Richard Wagner.
I've just joined Classical MPR as a digital producer; you'll be seeing my byline here, and soon you'll be seeing the bylines of writers I'll be recruiting to contribute to our coverage. Previously, I was arts editor at the Twin Cities Daily Planet; here at MPR, I'll also be working with student music journalists who will be writing for our Local Current blog.
My goal is to expand our coverage of the wide world of classical music in a manner that will surprise you — in a good way. Every day, we want to give you something new to think about, talk about and share. I'll be looking for fresh writers' voices and new perspectives from classical musicians, composers and listeners. If you're a writer and you'd be interested in contributing, please let us know!
Many of you are lifelong classical music enthusiasts, and some of you are new listeners or casual fans. It's my goal to help make our site a place for all of you to visit and connect with our hosts and with other members of the classical music community. We'll be sure to keep you up to date on classical music news, and we'll share views that we hope you'll find stimulating and provocative. However well you know classical music, we want to help you know it better — and hear it in a new way.
What do you want to see on our site? Please let us know by leaving a comment below!
Gallery
1 of 1