Osmo Vanska's Farewell Speech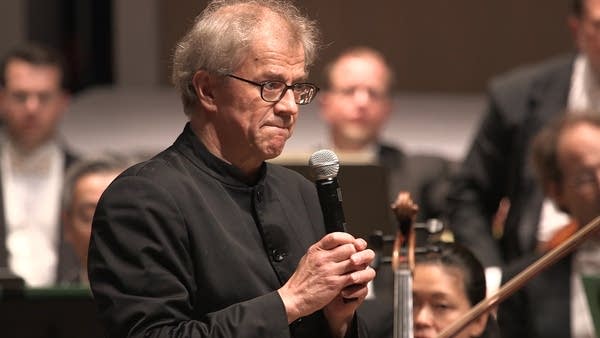 At the conclusion of the Musicians of the Minnesota Orchestra's performance of Stravinsky's Suite from The Firebird, Ted Mann Concert Hall erupted in thunderous applause.
Three-and-a-half minutes later, the applause subsided. Osmo Vänskä, the now-former music director of the Minnesota Orchestra, turned to the audience to express his thoughts.
In a speech that was frequently halted by powerful emotions, Vänskä expressed his gratitude and provided context for the encore. He also asked the audience to refrain from applauding at the end of the piece. Here's what Vänskä had to say:
"Thank you very much.
"This might be the last time I have a chance to conduct this great orchestra. I don't know what to say. I am going to miss you all, very, very much.
"And I'm going to miss these great players so much that I don't know even yet. Thank you. Thank you, everybody.
"I thought that I would like to leave you with one piece; of course, Sibelius. He wrote it for a play. And there's a story behind the piece: A young woman is sleeping and is dreaming and is very happy to see there is a guy who is inviting her to dance. She accepts. They start to dance, and it goes well.
"Then the tempo is getting faster, and even faster, and then the young lady would like to stop, but at that time, the guy is just getting faster and faster and doesn't want her to leave, squeezing more and more and more, and the tempo is getting faster and faster, wilder and wilder.
"And then there's a moment when this lady understands that she's not dreaming anymore. It's reality, and she's dancing with the dead. And at that moment, she understands that that's her time. She dies.
"After that, we need only three church bells coming from the violin at the end.
"So the piece is Sibelius' Valse Triste from the play, Death.
"And I would like to add one more thing: You have been a great audience tonight. You have given so much applause; thank you for all of those. I ask you to hold your applause after this encore. I have to say that the situation here is terrible and the orchestra is in so terrible and almost hopeless situation right now, and that situation doesn't need any applause."
The Musicians of the Minnesota Orchestra performed Valse Triste. When the piece ended, Vänskä retrieved the flowers from the conductor's podium and, grasping the hand of Concertmaster Erin Keefe, left the stage in silence.
Gallery
4 of 4
1 of 4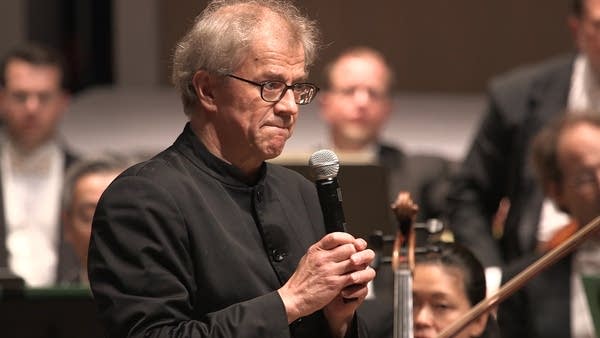 2 of 4