Wagner's Gotterdammerung from the Met
With "Götterdämmerung" ("Twilight of the Gods"), the Metropolitan Opera presents the conclusion of Richard Wagner's mighty "Ring" cycle. It's a mythic story, told over the course of four operas, beginning with the creation of the world, and ending with the destruction of Valhalla.
By a quirk of scheduling, this final opera is actually the first one that we'll hear on the radio (or view in high definition in movie theaters). Later on this season, we'll hear two operas from the "Ring," with the complete cycle no doubt to be presented in some future season.
As all of this scheduling franticness suggests, mounting the "Ring" is no easy task. Standard repertory operas are big; almost everything about the "Ring" is bigger. It calls for a big orchestra, big voices, a big scenic department, and a big commitment from its audience members, who are expected to devote long hours to intent contemplation of Wagner's drama.
(In the composer's day, the only way to do that was in the opera house. Nowadays we can listen on the radio, while doing laundry, or see an HD transmission, while eating popcorn — no doubt Wagner would be aghast.)
The story of the "Ring" is based on Norse mythology, with a big dose of medieval German epic. But Wagner tweaked and telescoped so much that the "Ring" can really be considered his original creation. The beginning shows the gods in their strength and confidence — but by this point in the cycle, their power is gone, as the title suggests.
Prior to this opera, we've seen how gods and dwarves have set a vicious circle of violence and deceit into motion, which they're now powerless to control. In "Götterdämmerung," it's left to mortal heroes to struggle with the same forces — with no better luck than the gods had.
The ways of interpreting the "Ring" are numerous: political, psychological, ecological, and more. But its mysteries and its challenges haven't stopped opera houses from staging it, or music lovers from being fascinated by it.
You can experience the fascination for six hours this Saturday, starting at 11 a.m. Central, and ending just before "A Prairie Home Companion."
(Speaking of which: Did you know that Wagner briefly considered moving to Minnesota? That did not come to pass, but if you listen to the Met, followed by Garrison Keillor, perhaps you will experience the combination that Wagner only dreamed of.)
Gallery
14 of 14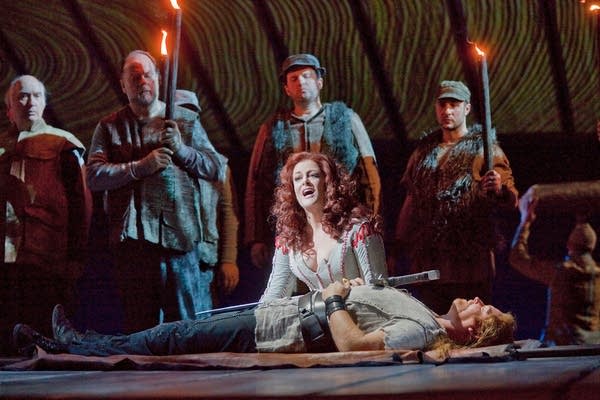 1 of 14
2 of 14