Balkan Music at the U April 22
---
Rumen Baliozov, Second Rhapsody
6:07
---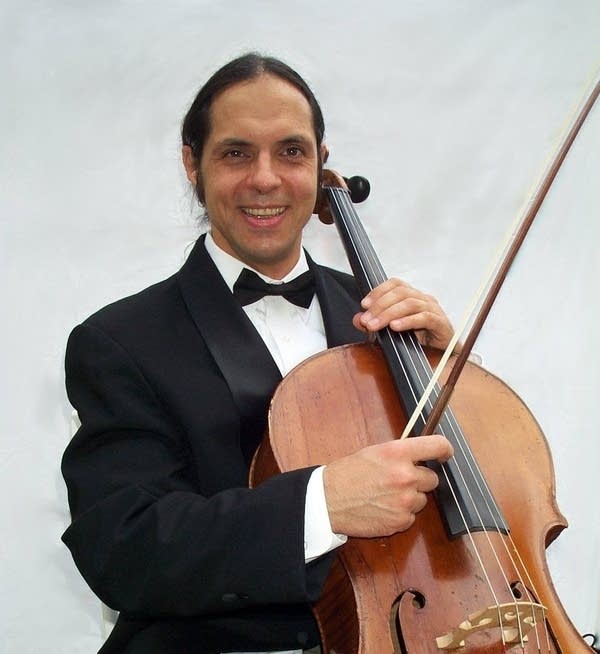 Dr. Nickolai Kolarov is one busy cellist. He just returned from giving a lecture at The Julliard School in New York and he is now busy practicing and organizing the seventh in an annual series of concerts of Balkan music at the University of Minnesota for tonight.
Nickolai graduated from the Bulgarian State Academy of Music in Sofia. He came to the United States to study with Nina Gordon in Missouri and later earned his doctorate at the U.
Since coming to the US, he has made it his mission to introduce audiences to music from the Balkans.
He tells me "When I relocated to the United States I realized that my vocation was to bring people and cultures together in the melting pot of Minnesota. Actually, I prefer to say cultural quilt because the separate pieces that make the whole still retain their character and beauty. I hope that by appreciating differences from their own music, people can see their own culture from a new and deeper perspective."
His study of classical music and folk music from Bulgaria - plus being from the region - informs his approach to music as far-reaching in styles, language and sound as the Balkans themselves - but united by a similar emotional sensibility.
Nickolai Kolarov continues, "The "Balkanicus" series of concerts is my attempt to show a different side of the Balkan culture - the modern chamber music from this region. While the contemporary music of the Balkan countries is often performed in Western Europe, the American public knows Balkan music mainly through the numerous tours of folk groups and are just starting to notice this new classical music."
You can listen to a few pieces online now.
The Seventh Annual Balkanicus concert is Friday, April 22, at 8:00 at Ultan Hall at the University of Minnesota School of Music. Albania, Bulgaria, Turkey and Romania are all represented and given their American premier. Performers are Pat O'Keefe, clarinet; Jill Dawe, piano; Fernando Meza, vibraphone; John De Haan and Philip Zawisza, tenor and bass as well as Nickolai Kolarov playing his cello.
Gallery
1 of 1