Rhapsody in Black
Bernice Johnson Reagon sings to unite us all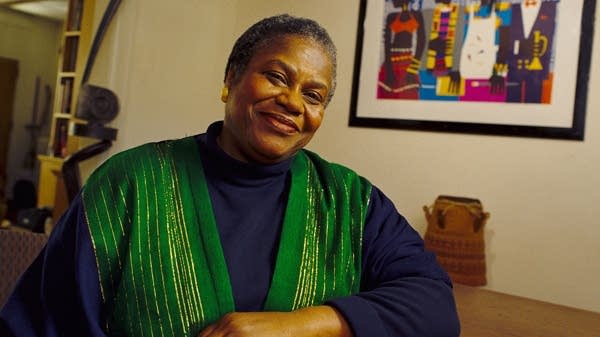 ---
---
Song leader, composer, scholar and social activist Bernice Johnson Reagon understands firsthand the power and function music has to unite people. Her life through music exemplifies that notion.
Musical selections from Bernice Johnson Reagon
Bernice Johnson Reagon - 'Amazing Grace'
Reagon's introduction to gospel happened when she was 12. "I enjoyed and needed that experience," she said. "The music of the church was an integral part of the cultural world into which I was born." Listen to Reagon's performance of 'Amazing Grace' from a Smithsonian Folkways recording in 1965.
VocalEssence and Sweet Honey In The Rock - 'Ella's Song'
Reagon formed a strong musical connection with three other Black women from a workshop in 1973, and they started singing together. Their performances overwhelmed people with their power and inspiration, and thus the group Sweet Honey in the Rock was formed. The group is still active today, made up of new members. Listen as the Grammy-nominated a cappella vocal ensemble Sweet Honey In The Rock joins VocalEssence chorus in a performance of "Ella's Song," at the Ordway Center in St. Paul, Minnesota.
Sweet Honey in the Rock - 'Give Your Hands to Struggle'
Reagon's view of music changed during the civil rights movement, when she began to sing and write songs that were relevant to the cause. "Although I was not consciously aware of it, this was one of my earliest experiences with how my music was supposed to function," she said. In 1961, Reagon was arrested at a nonviolent protest and while in jail realized the full power of music's ability to unite people. Listen to her song, 'Give Your Hands to Struggle,' one of her many compositions dedicated to fighting for freedom.
Credits
Host: Tesfa Wondemagegnehu
Producer: Dan Nass
Writers: Andrea Blain and Scott Blankenship
Additional music selections: Jeffrey Yelverton
Executive Producer: Julie Amacher