What happens when a happy-go-lucky wanderer takes over a village bakery? Find out in the hilarious tale The Merry Prankster, the latest episode of YourClassical Storytime – featuring music by Richard Strauss, illustrations by Mia Jennings and narration by Valerie Kahler.
---
YourClassical Storytime is supported by Minnesota College Savings Plan
---
More: Other YourClassical Storytime adventures
Educators: YourClassical Storytime meets Common Core Standards
Podcast: Listen to YourClassical Storytime in your favorite podcast portal, including these:
Google     Apple     Stitcher     Spotify     RadioPublic
Video
Playlist
Thanks to Reference Recordings for providing the following music for this episode:
Till Eulenspiegels lustige Streiche, by Richard Strauss, arranged by Franz Hasenöhrl
©1954 by
Performed by Chicago Pro Musica
From The Medinah Sessions (RR-2102)
Courtesy of Reference Recordings
Credits
Narrator: Valerie Kahler
Story: German fairytale, adapted by Valerie Kahler
Producer: Valerie Kahler
Digital producer: Jeffrey Yelverton
Social media producer: Inés Guanchez
Senior digital producer: Randy Salas
Program director: Julie Amacher
Gallery
Gallery
9 of 9
1 of 9
2 of 9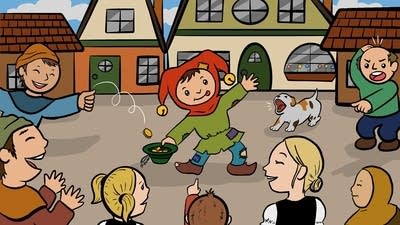 Love the music?
Donate by phone
1-800-562-8440
Show your support by making a gift to YourClassical.
Each day, we're here for you with thoughtful streams that set the tone for your day – not to mention the stories and programs that inspire you to new discovery and help you explore the music you love.
YourClassical is available for free, because we are listener-supported public media. Take a moment to make your gift today.
Your Donation
$5/month
$10/month
$15/month
$20/month
About YourClassical Storytime
YourClassical Storytime is supported by the Minnesota Waldorf School. Find out more at mnwaldorf.org.
Listen to YourClassical Storytime in your favorite podcast portal, including these:
About YourClassical Storytime
We can help you find classical music you'll love
Take a 2 minute quiz to share your taste

We'll recommend YourClassical programming just for you

Discover the power and joy of classical music